Riding a motorcycle is one of the best experiences one can have in a lifetime. Though, there are numerous dangers involved while enjoying the ride on the road, and thus, wearing a protective gear is a must. Some take this for granted but a helmet and other motorcycle protection gears can be the difference between life and death. So, whether you are a beginner or pro, get the best motorcycle helmet and this will reduce chances of death 37%.
---
SAVE TIME: Directly Go Our Recommend Top 5 Motorcycle Helmet list
---
How to find quality motorcycle helmet?
Don't wait till you learn a lesson. Statistics show that motorcycle accidents are 27 times more disastrous than car accidents. With such notions, we decided to create this review to help motorbike lovers ride safely wherever they go. There are many brands that make high quality and diverse models to fit each and every persons taste. So, how to find the best motorcycle helmet for the money? Read carefully and learn one or two things before looking at our top motorcycle helmet reviews at the bottom.

What type of motorcycle should i buy?
Full face helmets
As its name states, the helmet covers your whole face. This helmet offers one of the best protection as it covers every part of your head. It is notable of features like the chin and face shield. Its downside is that it has less airflow and hearing is on the low side when wearing it.
Modular helmets
This is one of the best types of helmets. It brings together features of open face and full face helmets. Mostly used on the streets, it's ideal to wear when riding with friends and you can put on glasses when wearing this helmet.
Motocross/off-road helmets
This form of helmet is mainly applied in motocross competitions. It is well designed with features such as the visor portions and long chin for added protection. You can wear glasses as well when putting on this kind of helmet.
Open face helmets
This helmet covers the other parts of the head but partly on your face. This is because it comes without the lower chin bar. It is usually used on the streets and requires additional protective shield for protection from things like wind and dust.
Half helmets
This is one of the least safe types of helmet in the market. It is prohibited for use in other places due its lack of safety. The helmet features a normal front design similar to other helmets but with no lowered rear. It is mostly applied by road racers ad rockers.
Expert always recommend to use full face helmet for better safety. Modular helmet also good specially who wants full face and open face both option.
How to identify the coolest motorcycle helmets?
Best fitting motorcycle helmet!
Head size, fit and comfort– To begin with, a helmet should meet the safety standards. But acquiring a motorcycle helmet that doesn't fit well on your head and is not comfortable can be a waste of resources and time. Thus, the first thing to look at should be the size and comfy of your helmet.
Helmets are worn for long period of hours during a ride and should fit you properly. Hence, get a helmet that is of a right size, fits you well and is comfortable to wear.
Related: If you love welding then here is the list of good welding helmets.
Safest motorcycle helmet!
Certification and testing– Secondly, a helmet should meet all the standards of safety. The United States department of transportation (DOT) has underlined some measures that all helmets should meet before being used.  Thus, it's important to check whether the helmet you're purchasing meets this standard by checking the DOT label at the back of the helmet.
Cool design motorcycle helmets!
Design– The design of the helmet is not that important but can be very appealing. Choosing a helmet that is attractive, good shape, style, color and weight can be of usefulness to you. You wouldn't wear something that you don't feel cool with. With this mind, just go for the helmet that gives you that personal appeal and style.
Best helmet for motorcycle riding!
Type of ride and location– What kind of ride do you love most? Do you prefer feeling the wind or not? Where do you mostly ride the motorbike from? Is the place dusty or not? These are some of the questions that you should answer before obtaining your new helmet. If you love experiencing the wind as you ride, an open face helmet can be good for you.
But if the area you ride the motorcycle is very dusty, you need a full face helmet. Thoroughly consider such factors before buying a motorcycle helmet and you will be on the safe side.
High visibility helmet!
Visibility– How clear is the helmet of your choice? The best motorcycle helmet is meant for protection and comfort as you ride your motorcycle. Getting a helmet that obscures your way is a hindrance. Check out and see if the helmet you're purchasing is very clear. This is because a few helmets are created with some shields which may cause it not to be very clear and use of glasses can apply in such situations.
Best ventilated motorcycle helmet!
Ventilation– The motorcycle helmet should be well ventilated to provide smooth flow of air in and out. A very hot helmet with less circulation of air can turn out to be really uncomfortable.  Choose a helmet that is well ventilated for greater comfort when using it.
Most advanced motorcycle helmet?
Extra features– What additional features do the helmet has? If you need a more sophisticated helmet, there are those with extra features such as Bluetooth, and dual visor. Such features have lead to more creativeness and functionality of helmets. With the Bluetooth feature, you can receive your call as it has speakers inside.
In addition, the dual visor feature provides protection from UV and a swell your face in the situation of an accident.
Top brand motorcycle helmets!
With so many helmets brands in the market, picking the best can be confusing. Pick a brand that is well known with proven products over a long period of time. Brand such a HJC, AVG, Shark, Bell and Shoei, among others are some of the best.
Cheap motorcycle helmets?
Price– Don't just go for the highly priced brands, look out for features and start choosing from there. With your budget, you can get a great helmet as they start from $40 to $700 or even more. Purchase a helmet that has all the features that you want and it should fit your riding style. As well, consider its level of safety so that you acquire a helmet that will be very protective in case of an accident.
Helmet Warranty
Warranty– Last but not least, look at a warranty of the helmet. If the helmet has a warranty, you can be guaranteed replacement in case something happens unexpectedly or has some defect. Furthermore, the warranty implies that the manufacturer is very certain with their product and you shouldn't worry about its quality.
Benefits of wearing a motorcycle helmet
It lowers traffic accidents.
Secures your eyes ad face from things like the wind and dust.
Provides the best protection from foreign objects like insects and other particles.
Assist in decreasing disastrous injuries.
Protects your eyes from sharp light of other vehicles on the road.
Raises the comfort standard by lowering the noise from wind.
Drastically reduces the healthcare costs for road accident hurts.
Provides great protection from cold and hot weather conditions.
How to use the helmet well
Know how to place the helmet right on your head. This is by getting the right fit which will give you comfort.
Secondly, you've to strap on the helmet immediately you wear it. Almost every helmet comes with a strap on which ensures that the helmet remains on your face whatever the condition.
Always keep the flip on. This mostly applied for the full face helmets.

The flip helps to secure your face from things like dust, objects or wind from hitting your face.
Our Recommend Top 5 best motorcycle helmet reviews
A helmet can be the difference between you returning to your family safe or being injured. An accident is not something planned to occur as it just happens. Why wait to be a victim when you can make efforts to somehow secure yourself in advance. Below are some of the best motorcycle helmet that we think are very good for you. Read keenly and pick one that most suits you.
Best full face helmet – Fuel Helmets review (Our top pick)
The fuel helmet SH-FF0015 is one of the best face helmets in the market. This well designed helmet with a black gloss finish is lightweight and comfortable to wear. It is made with a thermoplastic shell which is a strong and durable material. At a very inexpensive cost, the fuel SH-FF0015 helmet is DOT certified and thus very good for protecting you as you take your ride along a busy highway.
In addition, it features dual vented diffuser which offers a lot of air circulation in and out of the helmet.  With a quick release shield, you don't have to manually open the face shield. Unlike other high quality helmet models, it has a removable cheek pad for quick and easy cleaning of the helmet. When you buy this motorcycle helmet; it is brought in a scratch resistant helmet bag that ensures you receive it when it's in good care.

Check Price
Pros:
The helmet is really lightweight ad comfortable to wear.
It has a chin strap for a great fit.
It comes with a great ventilation system that keeps you fine in hot weather.
It comes at a very favorable price.
It is very easy to clean with the removable cheek pads.
Cons:
If you breathe very fast, the face shield can fog up which is a bit dangerous.
When at high speed, you hear a lot of wind noise.
Best street bike helmet – 1storm helmets review
This is one of the best motorcycle helmet at just a fair cost. The 1Storm motorcycle street bike helmet is very ideal for use on the streets. It has a great design that is lovely finished with a glossy UV protection. Furthermore, the helmet comes with an advanced modular and dual lens design for added protection of the face.
As well, you don't have to worry about the quality of the material as it's made from lightweight durable Aerodynamic thermoplastic alloy shell. When it comes to safety, you've nothing to worry about as its DOT approved. Other features include a removable and washable padding for easy cleaning of the helmet.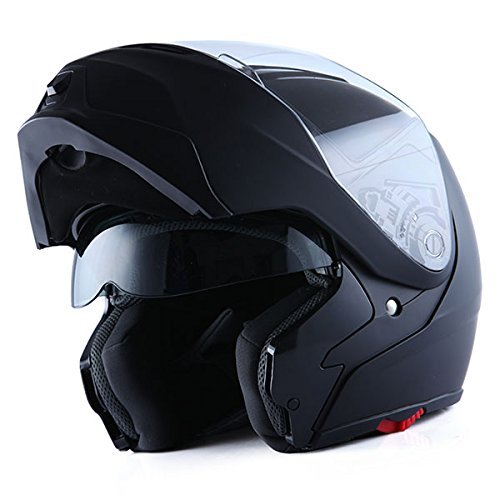 Check Price
Pros:
Has an excellent face guard opening system.
Available at a very favorable cost.
The design is very awesome and one of a kind.
The helmet is very safe as its DOT certified.
Has a wide range of colors to pick from.
Has visor changes to lower the glare.
Cons:
Made with plastic materials which are of low quality.
It is a bit louder ad receiving a call maybe not effective with the Bluetooth feature.
Not very protective.
The helmet is a somehow big and can't fit properly on small heads.
Most comfortable motorcycle helmet – Vega helmets review
The Vega X888 is one of the best full face helmets in the market. This stylish helmet comes packed with great features that will make your riding experience one to remember. Firstly, it has 9 different shield options which are just amazing at a great price. It has unique features of wick-dri anti-microbial fabric comfort fit liner that holds the head very exceptionally.
When it comes to safety, the helmet meets all the DOT regulations and thus it's safe to use. Other features include; Vents at the mouth, chin and forehead for free circulation of air. On purchase, you receive a one year manufacturer defect warranty

Check Price
Pros:
Has great ventilation for free circulation of air.
It's very protective with 9 different face shields.
Comes with a one year warranty.
Its DOT certified and thus a great safety helmet.
Wonderful design for great comfort.
Cons:
It's a bit big for some heads.
Not very clear as the peripheral vision is to some extent messed with.
Not really the best quality.
Best Bluetooth motorcycle helmet – HJC helmets review
HJC is one of the top brands when it comes to creating quality helmets. The matte black finished model comes with a Bluetooth feature that allows you to receive or call someone when riding. It addition, it has an advanced channeling ventilation system that allows free air circulation in and out of the helmet.
The helmet is made with lightweight polycarbonate shell hat is comfortable to wear on your head. As well, it has high quality shield that protects you from UV and other damages. One of the unique features of this best motorcycle helmet is that it has a single button one handed chin for face shield release.

Check Price
Pros:
It is DOT certified and ideal for safety.
Available in different colors.
Has a button chin bar and face shield release for easy operation.
Great ventilation for airflow.
Cons:
When used in the morning, face shields can fog up.
Best modular helmet – IV2 helmets review
The quick access modular helmet comes with some amazing features that make it to be exceptional. It has easy to open vents that allow free movement of air in and out of the helmet. In addition, the IV2 is well designed and meets all DOT requirements making it a great pick to use for protection when riding. This motorcycle helmet is sturdily constructed and very durable with the fiber reinforced and ABS thermal plastic composite shell.
Other key features include a single press button flip up modular for quick change from open full to open face. In addition, it has an anti-scratch dual inner sun visor that is easy to use. This helmet is as well lightweight and has easily removable and washable interior.
Pros:
Meets the DOT standards which means it's very safe.
Great air circulation with 10 venting outlets.
Easy to use with one flip up button when you want fresh air.
Has a sun visor for resisting scratches and any foreign injury.
Cons:
It becomes a bit noisy when at high speed.
Not the ideal size for every person.
Not very comfortable to wear for long hours.
Conclusion
Having the right protective gear when riding a motorbike is a safety precaution. A helmet can save you a great deal in case of an accident. Therefore, purchasing the right helmet for your safety is as well important. You can do this by reading various online reviews and hearing from past users. Don't just throw your bucks without knowing the strengths and weaknesses of the helmet. The tips we've provided you can guide you on landing the quality motorcycle helmet. Besides, you can choose from our top 5 pick which was well researched before being listed.
When it comes to choosing the best motorcycle helmet, there is a wide range of types and brands to choose from. But don't let this scare you as you can always find the best motorcycle helmet for your riding style and budget.
Motorcycle helmets are meant to offer you protection in case of an accident. For this reason, there is no such thing like the best motorcycle helmet. Instead, you need to figure out which helmet is fitting, comfortable, light, durable, and safe.
In this post, we've compiled some of the best motorcycle helmets that you can select from. There are full-face helmets, modular/flip-up helmets, off-road helmets, and open face helmets. Choose the one that you're comfortable with and it should suit your riding style.
FAQ
Question: Should I buy a cheap or expensive helmet?
Answer: The price is not of great importance. Instead, you should look for good fitting and proper ventilation. It is certified that every helmet provides equal protection to users. Nevertheless, the size may differ. Select a motorcycle helmet that is comfortable on you. All helmets serve the same purpose, but the comfort level varies from one helmet to another.
Question: After what period should I replace my motorcycle helmet?
Answer: If you have not been involved in any incident that can jeopardize the impact protection of your helmet, then you can replace it after 5 years. This suggestion is from the consensus of helmet manufacturers and the Snell Memorial Foundation after learning the effects on a helmet from regular use. Helmet degradation is normally brought about by usual wear and tear, body fluids, cosmetics, and hair oils. Other substances are paints, fuels, and cleaners. These can affect the liner material and the overall performance of the helmet.
Question: Is there any motorcycle law in place?
Answer: Yes, there is. If you're a motorcycle rider and fail to wear a helmet, you can be charged for this. If you're riding a bike without a helmet, the police may ask you to pay a receipt and vow not to repeat the same mistake ever again. Also, if you paint or stick something on your helmet, the police may raise a non-compliant issue which should be settled before you can be allowed to use the stickers or paint on the helmet.
Question: What type of helmet should I choose – full face or Standard helmet?
Answer: No matter the type of motorcycle helmet that you want to get, the first thing to consider is if it can protect you from an accident or not. After determining this, then you should go ahead and select a helmet according to your type of driving. If you're the kind of a biker who involves in racing or off-road riding, you need a full-face headgear to provide maximum protection from bike crash and get rid of death up to 95 percent. While if you love riding for long hours via your favorite roads, then a standard design will be the safest option as it can be changed easily from full-face to open face helmet for comfort.
Still, have a question after reading this Best motorcycle helmet? Comment below.