Direct Action started in Poland, but it has now expanded into the US market making it easier for users to access their backpacks. They offer different models of backpacks which include Dust, Ghost, and Dragon Egg. For now, we're going to review the Direct Action Dragon Egg MK II backpack. Read this Direct Action Dragon Egg Review to know more about this backpack.

Check Today's Price
Related: Similar Pricing – 5.11 Rush 72 Tactical Large Backpack 
The Direct Action Dragon Egg backpack is a great pack for hunting, hiking, law enforcement, and multipurpose use. Featuring a 25-liter capacity, this pack is great for a 2-day hike and serves the needs of tactical guys. The pack is durably constructed to withstand tough outdoor conditions as it is made of 500D Cordura nylon, which is also water-resistant. These Direct Action Dragon Egg backpacks are great for everyday use.

Technical Specifications of the DRAGON EGG Tactical Backpack
| | |
| --- | --- |
| Features | DIRECT ACTION Dragon Egg |
| Application: | 2-day backpack / EDC |
| Material: | 100% Cordura 500D |
| Combat Vent System: | Yes |
| Hydration compatible: | Yes |
| Paracord drag handle: | contains (2) 2.5m cords |
| Fabric: | Water-resistant coated Cordura 500D |
| water-resistant construction: | Yes |
| adjustable shoulder and sternum straps: | Yes |
| Lightweight and versatile: | Yes |
| Durable, water-resistant coated: | Yes |
| Compatibility: | Unique laser-cut MOLLE/PALS system |
| Padded sleeve compartment (Laptop/Tablet): | 9.5 x 15 inches |
| Total Capacity: | 25 Liters / 1526 cubic inches |
| Main compartment dimensions (WxHxD): | 27 x 48 x 18 cm / 10.6 x 19 x 7 inches |
| Weight: | 3.57 pounds |
Continue reading to find out more about this excellent low-profile tactical backpack.
Direct Action Dragon Egg Review 2023
Construction
The Direct Action Dragon Egg tactical backpack is made from 500D Cordura nylon that is coated on the inside to resist water. Also, it has reversed YKK zipper that functions well and strong buckles made by Duraflex. It is designed to carry more than 25 liters as the Molle/Pals webbings can be used to hang more items on the pack. The user has the option of choosing from 13 colors, which makes the pack suitable for different activities.
Related: Similar made from nylon material –  5.11 Rush 24 tactical bag review
Storage
In this Direct Action Dragon Egg Review, we have found that this is one of the most versatile backpacks that you will find on the market as it offers a wide range of storage options.
The main compartment – the main compartment is large enough to store items that you need on a day trip. Inside the compartment, there is a mesh pocket and a compartment for hydration bladed.
Organizer compartment – you can also call it the front compartment and it features several pockets and compartments that allow you to carry a lot of items for easy accessibility.
Back compartment with padded sleeve – this is behind the CVS and can be used to keep the laptop and hydration bladders. It is very convenient and safe.
Sunglasses pocket – just above the Molle panel, there is Velcro for patches and a pocket lined with soft material, where you can keep handheld electronics, sunglasses, or other small items.
Side pockets – these pockets are meant for keeping water bottles and they have a strap for adjusting their capacity and the Velcro prevents empty pockets from opening.
Hydration exit – below the handle of the backpack there is a small exit for the tubes of the hydration system.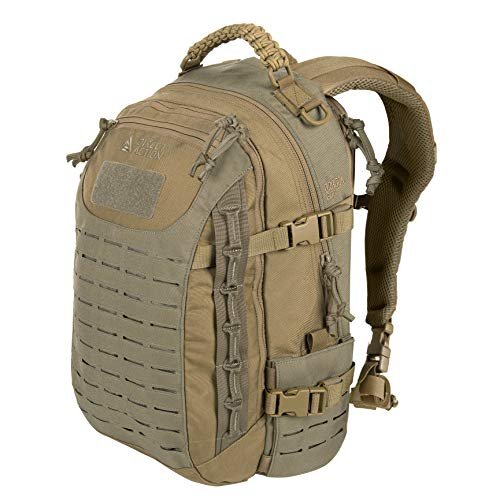 Check Today's Price
Handle
It features a versatile handle that is made of a braided paracord attached to two D-rings and allows for an easy and secure grip. Additionally, the paracord can be united in case of an emergency and be utilized as a rope.
Related: If you need the lightest backpack, read this Best Ultralight Backpack Review
CVS load-bearing system
The Combat Vent System (CVS) and load-bearing system are made up of the back ventilation, waist belt, and shoulder straps. The back ventilation is made up of foam panels with recesses and openings covered with a layer of mesh. CVS is stronger and harder than normal mesh, however, it is very comfortable and works to reduce the contact surface between the pack and back. The Cordura finish prevents damage when the pack is placed on the ground.
The waist belt is made up of two pieces of webbing – a large buckle and various regulators. On the other hand, the shoulder straps come with several accessories such as an elastic band, a quick-release system, a D-ring, and a piece of webbing.
Related: Mountaintop Backpack Review article
Summary: Why buy DRAGON EGG MK II Backpack – Direct Action?
Enough capacity for a day hike
Well organized for proper storage of items
Tactical and lovely design
Sturdily made with a lot of compartments
The PALS/MOLLE on the sides and front provide more storage options
The backpack is water-resistant thus keeps items inside safe
Versatile backpack with the two webbing straps on the bottom of the pack
The paracord can be unwoven and used for emergency
Multipurpose backpack as it can carry a wide range of items
Cons of the Dragon Egg Tactical Backpack
The backpack is uncomfortable when fully packed
It is not ideal for taller people as the straps are short and close
The mesh on the shoulder straps wears off quickly
Who is the best suited for this?
The Direct Action Dragon Egg backpack is suitable for a person looking for a multipurpose backpack with a good combination of internal organization and external carry options. This is a perfect bag for daypack usage and outdoor activities like hiking and hunting.
Who is not suited for this

?
This is not an ideal backpack for formal settings due to its design. Moreover, this backpack shouldn't be worn by taller people as they may find it uncomfortable.
Conclusion
The Direct Action Dragon Egg MK II backpack is a nice bag for EDC or tactical use. It has enough space for storing items for a 2-day trip and it is well made to defy tough conditions. Besides, it is very well-organized and lightweight, so, it won't be a burden to carry around.
However, the pack is not ideal for taller people and formal use. Apart from that, this is a good bag that you can fully rely on even if it rains while you are out there. The Direct Action Dragon Egg backpack is great to have.
FAQ
Question: Which one is bigger – Dragon Egg MK II or Ghost MK II?
Answer: Ghost MK II is bigger than Dragon Egg MK II as it has a 28 plus 3.5-liter capacity while Dragon Egg has a capacity of 25 liters. Ghost MK II is ideal for a 3-day trip while Dragon is good for a 2-day trip.
Question: Where are the Direct Action backpacks made?
Answer: They are made in Vietnam then transported to the US. Note that the packs are made with US-made fabric components and they are only assembled in Vietnam.
Still, have a question after reading this Direct Action Dragon Egg Review? Comment below