Are you looking for the best multimeter from the best brand? The Fluke 87-V is one of the most versatile and preferred multimeters among professional electricians and technicians in the industry. The unit performs all the major functions that you can desire in a top-end digital multimeter. Furthermore, it is durably made to last long, very accurate, reliable, and fast in operation. Read this Fluke 87V Review to know more about this true RMS multimeter.
Related: Similar temperature storage -40°C to + 60°C: Fluke 115 Digital Multimeter Reviews
The Fluke 87-V multimeter is one of the top Fluke multimeters, built with a solid design and it's trusted for professional use. It is also a True RMS DMM suitable for troubleshooting electrical and electronic systems. The unit features all the test ranges, with the inclusion of an auto-touch function, exceptional dual resolution, and capacitance. These are just a gist of what you will find out with this Fluke 87V Review 2023.
Technical Specifications Of The Fluke 87V Digital Multimeter
Features

Fluke 87V

Display:
Digital 6000 counts updates 4/sec.
19,999 counts in high–resolution mode
Analog 32 segments, updates 40/sec
Frequency 19,999 counts, updates 3/sec at > 10 Hz
Operating Temperature:
–20 °C to + 55 °C
Storage Temperature:
–40 °C to + 60 °C
DC Voltage:
Maximum voltage:1000 V
Accuracy: ±(0.05% + 1)
Maximum Resolution: 10 µV
AC Voltage:
Maximum voltage: 1000 V
Accuracy: ±(0.7% + 2) True RMS
AC bandwidth: 20 kHz with low pass filter; 3 dB @ 1 kHz
Maximum resolution: 0.1 mV
Resistance:
Maximum resistance: 50 MΩ
Accuracy: ±(0.2% + 1)
Maximum resolution: 0.1 Ω
Capacitance:
Maximum capacitance: 9,999 µF
Accuracy: ±(1% + 2)
Maximum resolution: 0.0
1 nF
Frequency:
Maximum frequency: 200 kHz
Accuracy: ±(0.005% + 1)
Maximum resolution: 0.01 Hz
Duty cycle:
Maximum duty cycle: 99.9%
Accuracy: ±(0.2% per kHz + 0.1%)
Maximum resolution: 0.1%
Diode:
Range: 3 V
Resolution: 1 mV
Accuracy: ±(2% + 1)
Duty cycle range:
Accuracy: Within ±(0.2% per kHz + 0.1%)
Temperature measurement:
–200.0 °C – 1090 °C
–328.0 °F – 1994.0 °F
excluding probe
Humidity (without condensation):
0% – 90% (0 °C – 35 °C)
0% – 70% (35 °C – 55 °C)
Vibration:
Per MIL–PRF–28800 for a Class 2 instrument
Batteries:
4 AA batteries required. (included)
Battery Life:
Alkaline: ~400 hours typical, without backlight
Warranty:
Lifetime
Price:
Check Today's Price
Digital Multimeter Fluke 87V Review
Construction
The Fluke 87V parts are designed and built in the USA. This means that you're getting a top-rated piece of equipment that meets all the set standards. For instance, the unit is approved by many agencies such as TUV, VDE, UL, and CSA. Besides, the multimeter is made using robust plastics that can put up with the tough industrial environment.
Apart from the durable construction, the unit has a sturdy carrying case and holster. Other notable features include the properly spaced buttons to the uncluttered selector dial and the secured jack inputs.
Display
One of the unique features of the Fluke 87-V you can see in this Fluke 87V Review is its dual display. It comes with a dual display of 6, 000-count and a 20, 000-count. The former updates 4-times a second while the later updates 3-times a second. This is means that it provides a very high resolution. When there is a slight chance of even millivolt are registered precisely, while the 32-segment, analog-like bar graph updates at 40-times every second to provide a wonderful overview in virtually real-time.
The display is backlit and has a dual brightness function, where a single press is for turning the light on and a double press is for making the light brighter.
Related: Similar display – Fluke 117 Review article
True RMS
Just like many high-end Fluke multimeters, the 87-V model also has a True RMS function. This provides a dose of safety when speaking discussing accuracy and precision. Actually, multimeters with True-RMS have indicated much more accurate readings than the units without True RMS. So, if you're a pro and require a reliable multimeter, then this is the gadget for you.
Function and performance
The Fluke 87-V is very versatile in performance and that's why it is recommended for professional use. Apart from measuring the DC/AC voltage, current, frequency, capacitance, continuity, and diode test, it has a built-in thermometer that easily allows the user to take temperature readings.  It is also safe and reliable to use.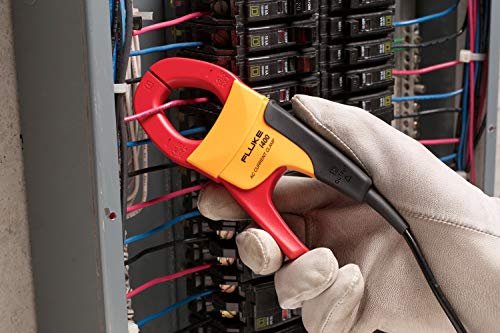 Check Today's Price
It has a unique function for precise voltage and frequency measurements on adjustable speed motor drives and other noisy devices. The optional magnetic hanger is not only easy to install but allows you to view while freeing your hands for other jobs.
Auto and Manual Ranging
Even though most of the multimeters have either auto or manual ranging, the Fluke 87-V features both. If you're a beginner, you can select the auto-ranging for easy use, while if you're a pro and want to narrow down to certain tests, then manual ranging is the best option. For quick outcomes, pick auto-ranging so that you can use it on the go. To make sure you experience the best of this product, make sure to read and follow the Fluke 87V manual.
Related: More advanced features having multilingual function – Read Fluke 289 Multimeter Review
Auto-shutoff
This is a very crucial feature as it saves you from wasting the battery and your money in the long run. When your device remains idle for more than 15-minutes, the unit will turn-off itself automatically. But if you're performing a function that takes more than 15-minutes, then it will recognize this and won't turn-off itself. Leaving on a multimeter for long can make unresponsive and this function helps to eliminate that.
Auto-hold function
When you get busy while in the field and have no time to write down the last reading, you can simply press the auto-hold function and write the reading later. This function requires that you note down the last reading or value before overwriting it with a new one. With such a function, no reading will pass you no matter how busy you're.
Related: If you are looking for a multimeter with a manual hold button, check the Fluke 323 Review
Audible warnings
Some may find this to be a nuisance but it is very important for your own safety. For all the wrong things that you do, the unit will sound an audible warning to alert you. Therefore, if you hear a warning, just make sure that you respond to it as required. Confirm with the user manual to detect the meaning of the audible warning.
Protection
The Fluke 87-V multimeter is a safe device to use as it is CAT III 1000V, CAT IV 600V safety rating. This implies that you can utilize it on 3 phase service supplies in the industry. Besides, it is also water, oil, and dirt resistance. Since the jack inputs are set in a module-type configuration that includes a rubber O ring gasket, this helps the device be splash resistant. It can put up with cold, hot, and humid environments.
Furthermore, the circuit board is well designed with durable traces and PCB parts of the greatest quality. The board has a metal shield on the rear which helps to secure both the electronics and the very close environment.
Lifetime warranty
The Fluke 87-V comes with one of the best warranties on the market. With the same lifetime warranty as Fluke 179 true ems multimeter, this is a testament that the unit is durable and reliable in performance.
Summary: Why buy Fluke 87-V Digital Multimeter?
Well-built to withstand wear and tear
Offers accurate and reliable results
Outstanding battery life
It is quick and responsive
Backlight screen for reading results even in poorly lit areas
Safe to use as it is CAT IV 600V rated
Dual display resolution of 6000 or 20, 000 counts
Great for professionals who deal with HVAC on a daily basis
Lifetime warranty
Cons of the Fluke 87V Industrial Multimeter
Quite expensive
The display is not of ideal size. It should be slightly bigger
It is somehow heavy
Conclusion
The Fluke 87-V multimeter is outstanding and unique. It is very effective in performance and performs a wide range of functions. Also, it is accurate, convenient, reliable, versatile, ease of use, and safe of use. This tool is ideal for professionals, more so those who deal with HVAC units.
If the best is what you're looking for, then this is the right multimeter to add to your toolset. The Fluke 87V price might be costly but definitely worth every penny. This is a tool that will last for many years to come and you can always rely on it to deliver precise and quick results. On top of that, the manufacturer offers a lifetime limited warranty. Maybe you will miss the chance of getting the best multimeter if you did not take the chance of reading this Fluke 87V Review.
FAQ
Question: Can beginners use this multimeter?
Answer: This depends on your experience with a multimeter. If you're totally a new beginner and have no idea how multimeters work, then you will find it challenging to use this gadget. But if you're experienced using DMMs or are an expert, then you will find it easy to use.
Question: Can I measure temperature with the Fluke 87-V True RMS DMM?
Answer: Of course, you can. This unit can measure the room temperature without any extra probes. Simply connect the thermocouple that is included in the box when you want to measure the temperature of a certain object.
Still, have a question after reading this Fluke 87V Review? Comment below.