The Fenix TK20R LED flashlight is one of the most popular Fenix flashlights on the market at the moment. This USB rechargeable flashlight is durably made to last long and it is very powerful. With a maximum of 1000 Lumens and a throw distance of 310 meters, this is a nice flashlight for the military, search and rescue team, policemen, hunters, and emergency responders. Read this Fenix TK20R Review to know more about this product.
Related: Fenix UC30 Review: USB Rechargeable LED Flashlight
If you want a flashlight that you can count on at all times, then the TK20R is the most ideal tactical light for you. The LED flashlight is powered by either 18650 rechargeable battery or two CR123A batteries. It uses a CREE XPL HI V3 LED bulb, which can operate for more than 50, 000 hours. Moreover, the flashlight is sturdily made out of aircraft-grade aluminum with a hard-anodized anti-abrasive finish, which protects the flashlight from rusting. These are just the gist of what you will find out in this Fenix TK20R flashlight article.
Technical Specifications of the Fenix TK20R LED Flashlight:
Features

Fenix TK20R

Lumens:
1000 lm
LED:
CREE XPL HI V3 LED
Maximum Beam Distance:
339 yards / 310 meters
Battery Run Time:
Turbo: 1000 lumens / 1 hr 50 min
High: 350 lumens / 4 hr 20 min
Mid: 150 lumens / 11 hr
Low: 10 lumens / 160 hr
Uses Cree XP-L HI V3 LED with a lifespan of 50,000 hours
Maximum Beam Intensity:
24,000cd
Waterproof:
Yes. (IP68, 1m submersible)
Supported Battery:
1 x 18650 (inclued), 2 x CR123A
Warranty:
5-year
Price:
Check Today's Price
Featuring a USB charging port, this flashlight is very convenient to use as you can easily recharge it without removing the battery. Additionally, the reverse polarity protection prevents you from inserting the battery the wrong way. These and many other features that we're going to discuss below make this flashlight a must-have for outdoor lovers.
 Fenix TK20R Review 2023
Durable construction
This is a key component of any flashlight that this Fenix TK20R has gathered. If you're an outdoor lover like me or a tactician, then you know the importance of having a flashlight that you can rely on at all times. This is because it may accidentally fall as you chase a deer or even crash on a rock as you climb uphill. For this reason, you need a light that can put up with all this wear and tear and that's where a durable LED flashlight such as the Fenix TK20R is needed.
The Fenix TK20R rechargeable flashlight is sturdily made of durable aircraft-grade aluminum with type III hard-anodized anti-abrasive finish. Moreover, it has a toughened ultra-clear glass lens with anti-reflective coating. The TK20R is rated as IP68, which means that you can immerse it in water up to 1 meter for 30 minutes or less. Besides, it is also impact resistant thus it can defy the tough outdoor conditions.
With such a durable construction, this is a flashlight that you can depend on when all odds are against you as you can also utilize it as a weapon when attacked using the hard strike bezel.
Extremely bright
The Fenix TK20R is among the most powerful Fenix flashlights on the market. Featuring the CREE XP HI V3 LED bulb, this flashlight can produce a maximum of 1000 Lumens. This is when it is in the turbo mode or strobe mode. The LED has a lifespan of 50, 000 hours, which means that you will use it for at least the next 4 years or more.
Not only is the flashlight bright, but it also covers a great distance of 310 meters and that's why law enforcers, the military, survivalists, and other outdoors people love it.
Versatile light
As a hunter or law enforcer, you need a flashlight that will last for more than 12 hours. And for a flashlight to stay on an entire night, you need one with different light modes so that you can cycle through them according to use. That's what you get when you purchase the TK20R LED flashlight. It has a low mode that runs for 160 hours, a medium mode that runs for 11 hours, a high mode that runs for 4 hours 20 minutes, and a turbo mode that runs for 1 hour 50 minutes.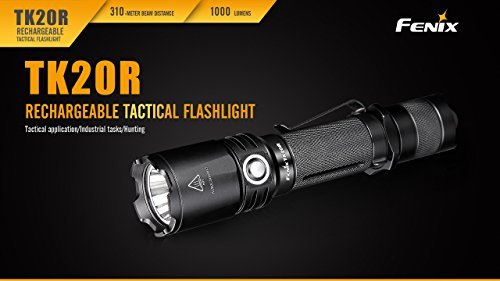 Check Today's Price
The low mode can be used while in the tent or for checking maps while the turbo mode can be turned on if you want the brightest mode. Strobe mode is for disorienting assailants or it can also be used for search and rescue missions.
Convenient flashlight
One of the unique features of the Fenix TK20R rechargeable flashlight that it features a standard USB port for recharging. This is very convenient as you don't have to remove the batteries in order to recharge the flashlight. All you simply need to do is to connect a USB charging cable to the flashlight and recharge the battery. And in case you insert the battery in the wrong way, the reverse polarity protection function will prevent your batteries from being damaged.
Compact and firm
With such a powerful light output, you might think that this is a big light, but no it isn't. The Fenix TK20R LED flashlight is compact but still very powerful. Additionally, it has a firm grip that helps users to hold it tightly even when being chased or when the hands are sweaty or wet.
Easy to use
Turning on or off the flashlight is very simple as it has the tactical tail cap switch that is very easy to access even in the dark and the side switch for cycling through different light modes.
Additional features
Apart from the amazing features that we've gone through, this LED flashlight also comes with overheat protection, digitally regulated output, and low-voltage warning that help in the overall performance of the LED light.
What we liked about the Fenix TK20R USB Rechargeable Flashlight
Built to last long
Battery level indicator
Water-resistant up to 2 meters for 30 minutes
Easy to use with the easily accessible tactical switch and side switch
Reverse polarity protection prevents the battery from damage
Overheat protection prevents the flashlight from becoming very hot
Excellent throw that reaches up to 310 meters
Impact-resistant
Outstanding run time of 160 hours on 10 lumens
Convenient to charge as it features a USB charging port
5-year limited warranty from Fenix.
What we didn't like about Fenix TK20R Rechargeable LED Tactical Flashlight
Some users have complained that the light stays on when the USB charger is plugged in
The belt clip on the flashlight is not very durable or well-made for its function. It is better if you get a more durable and easy to use belt-clip.
The flashlight cannot tail stand
Conclusion
We have found out now in the Fenix TK20R Reviews that the Fenix TK20R is a quality and durable flashlight with excellent brightness. That's why it is loved by all outdoor enthusiasts such as the military, law enforcers, hunters, hikers, backpackers, and even for everyday carry. In addition, the flashlight is built to defy tough conditions as it is dust and water-resistant. With features like reverse polarity protection, overheat protection, digitally regulated output, and low-voltage warning, this is a flashlight that you can rely on all the time.
At such a great price, you get a flashlight that covers more than 300 meters when in its brightest mode and can be used in all weather conditions. Together with the 5-year warranty, this Fenix TK20R tactical flashlight is a great flashlight to invest your money in as you will use it for many years to come.
FAQ
Question: Can I turn on this flashlight using the side switch?
Answer: No, you can't. The Fenix TK20R usb rechargeable flashlight can only be switched on through the tactical tail cap switch. The work of the side switch is for cycling through the different light modes which include low, medium, high, turbo, and strobe modes.
Question: Can the flashlight memorize the strobe mode?
Answer: No, it can't. This flashlight is designed in such a way that it only memorizes the previous brightness setting but not the strobe-mode. This is a design decision on all Fenix flashlights. Also, the strobe can be easily activated when the flashlight is turned on.
Still, have a question after reading this Fenix TK20R Review? Comment below.