The Nitecore P30 is one of the most versatile Nitecore flashlights. It features a sturdy and stylish construction. The device boasts of an astonishing 1000 lumens that enable it to cover more than 676 yards. As a result, you can use this tactical flashlight for advanced tasks like hunting, hiking, law enforcement, and construction. However, it has a broader range of light output levels that allow you to use it for basic lighting needs, such as searching for lost coins in the backyard. Read this Nitecore P30 Review to know more about this.
Related: Similar 1 hour run time on high – Nitecore HC65 headlamp Review
Additionally, the Nitecore P30 LED torch is simple to use and can withstand the test of time. This is because it is waterproof and impact resistant. If you want to have one of the best versatile LED tactical torches on the market at a favorable price, then pick the Nitecore P30 tactical torch.
Technical Specifications of the Nitecore P30 Flashlight:
| | |
| --- | --- |
| Features | Nitecore P30 |
| Lumens: | 1000 lumens |
| Max Candela: | 95500 |
| Beam Distance: | 618 meters |
| Run Time on High: | 1 hour |
| Run Time on Low: | 680 hours |
| Includes: | 120V AC/ 12V DC adapter, USB cord, removable pocket clip, and nylon holster |
| Batteries: | 1 x 18650 or 2x CR123A |
| Length: | 141.5 mm / 5.57 in |
| Weight: | 11.2 ounces |
| Modes: | 5 light output levels and 3 special modes |
| Price: | Check Today's Price |
Throw LED Flashlight Nitecore P30 Review 2023
Sturdy construction
One of the first things that you will notice about the Nitecore P30 tactical torch is its robust construction. The light is made of aero grade aluminum with a hard-anodized finish. This is important for such a light as it was made with the hunter in mind. Chasing after a deer in the woods may cause your torch to accidentally, and that's why you need a sturdy device that can defy such harsh conditions.
Cree XP-L HI V3 LED
With the ever-changing technology, having a powerful flashlight that you can count on even upon impact is crucial. The Cree XP-L HI V3 LED technology is reliable and durable. It also produces outstanding maximum lumens of 1000 with a beam distance of 618 meters. With such brightness, you can spot a deer from a distance and take action in advance without chasing it away.
Related: Same Cree LED used – See Nitecore P12GT Review
Multiple mode selection
Whether you want a light mode for reading the map or for searching a lost person, this unit offers you five brightness levels and three unique levels. The lowest output uses 1 lumen and runs for 680 hours. The second-lowest output level uses 70 lumens and runs for 17 hours. Other lumens include medium with 220 lumens, high with 400 lumens, and turbo with 1000 lumens. The unique modes are strobe, SOS, and location beacon mode.
Related: New Version of P12 LED Tactical Flashlight
Waterproof and impact resistant
Apart from offering different light output levels, the Nitecore P30 LED flashlight can put up with severe outdoor conditions like rainfall, dust, and dirt. It comes with a waterproof rating of IPX8, which means that you can submerge it in water up to 2 meters for 30 minutes. Additionally, it is shockproof and can resist dropping from 1.5 meters or lower. Such features show how durable this unit is and how it can perform flawlessly even when the conditions are not favorable.
Rechargeable battery and power indicator
The flashlight allows you to be flexible as you can either use the CR123A batteries or one 18650 rechargeable battery. You will have to buy the 18650 battery as the package comes with 2X LumenTac PTC CR123A batteries. Besides, it has a power level indicator that alerts you on battery status. Therefore, you can replace or recharge your batteries in good time before heading out in the dark.
Related: Similar rechargeable batteries – Nitecore NU25 Reviews
Easy operation
This may not be your usual sleek and compact flashlight, but it is also fun and easy to operate. Thanks to the tactical tail cap switch that enables you to turn on the flashlight instantly for momentary-on or constant-on. Besides, it has a side switch that allows you to cycle through the different output levels. Moreover, it automatically memorizes the previous light output level when you turn on the light.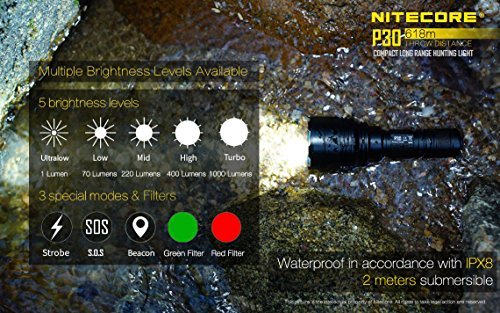 Check Today's Price
Furthermore, you will have an easy time handling this device as it comes with a firm grip for secure holding. However, the manufacturer didn't include a pocket clip, which may be a challenge for many people.
Compact and lightweight
Apart from producing high lumens of 1000, the P30 tactical light is also compact and lightweight. Weighing 165 grams without battery, this is a device that you can easily travel with or add to your survival items without being a burden. Besides, you can use it as a gun mount, and it will not add weight to your rifle during hunting.
Versatile device
The Nitecore P30 LED torch is suitable for different lighting needs such as hunting, hiking, search & rescue missions, during a blackout, dog walking, security, and much more. Also, the light can be used as a defensive weapon, a locating tool, and reading maps. This is a truly versatile unit that you can use for different lighting needs.
Aside from being versatile, the Nitecore P30 is safe and secure to use with functions like electric reverse polarity protection, high efficiency constant current circuit, and advanced temperature regulation module.
Warranty
Nitecore is a dependable brand with a rich history. They offer the buyers of this device a 5-year warranty from the date of purchase. As a result, you can rest assured that you will have your torch replaced or repaired if it has a defect in material or workmanship.
Summary: Why buy this Nitecore P30 Flashlight?
Robust construction for longevity
Excellent brightness that covers up to 618 meters
A versatile device with five output levels and three special modes
Easy to use with the dual tactical switch
Waterproof rated up to IPX8.2 meters
Can resist an impact up to 1.5 meters
Security weapon with the strobe mode and strike bezel
Powered by rechargeable batteries
Firm grip for proper handling
Cons of Nitecore P30 LED Tactical Flashlight:
You will have to buy a separate charger to recharge the batteries
It throws farther, wider, and brighter, making it less suitable for everyday carry
Doesn't feature a pocket clip for attaching to your pocket or backpack
Summary
The Nitecore P30 LED tactical flashlight is a durable and reliable flashlight for all of your lighting needs. Whether it is using it in a construction site, for hunting, offering illumination when there is a blackout, or for general purpose, this is a device that won't let you down.
It is excellently made for everyday use and has all the features that you can desire in a versatile LED tactical light. Apart from offering illumination, you can also utilize it as a weapon. However, it is slightly large for comfortable carrying, but this shouldn't be an issue as it is a plus in all other areas. I hope, you have gotten a clear idea after reading this Nitecore P30 review article.
FAQ
Question: Is this flashlight ideal for tactical use or home use?
Answer: You can use this device for both tactical and home use. It is sturdily built to put up with hard outdoor conditions. Moreover, it offers exceptional brightness to users as its maximum throw covers more than 618 meters. As a tactical flashlight, it also comes with a strike bezel and strobe light output for disorienting attackers.
The lower light levels are not very bright; hence, suitable for your home lighting needs.
Question: How do I charge the batteries?
Answer: First of all, you should not charge the included CR123A battery. It is a single-use battery. Therefore, you will have to acquire another battery set, such as an RCR123A battery. Besides, the device also runs on 18650 battery, which is rechargeable as well. However, you cannot charge the batteries directly from the flashlight. You will have to remove them and recharge them with an external charger.
Still, have questions after reading this Nitecore P30 Review article? Comment below.