If you've never dropped your house keys in the backyard at night, then you don't know the importance of always having a flashlight. A quality flashlight will not only save you when you drop keys in the dark or light your path, but it will also act as a defensive weapon. After using different flashlights for my outdoor activities, I have come to love the Surefire product, G2X Pro torch. Read this Surefire G2X Pro Review to know more about this.
Related: Similar dual output tail switch – Surefire 6Px Pro Review: LED 320 lumens flashlight
The Surefire G2X Pro 600 Lumen flashlight is sturdily designed to match the needs of security guards and law enforcement professionals. It is also compact and lightweight, making it portable. So, you can carry it to your favorite destination by sliding it in your pocket or backpack. The torch is also easy to use with the dual-output tail cap click switch.
Technical Specifications of the Surefire G2X Series LED Flashlight:
| | |
| --- | --- |
| Features | Surefire G2X Pro |
| Lumens: | 600 lumens |
| Type of Bulb: | LED |
| Weight: | 6.4 ounces |
| Weatherproof: | Yes |
| Battery: | 2 CR123A batteries required. (included) |
| Price: | Check Today's Price |
You can use the Surefire G2X as an illumination tool with its bright 600 Lumen or as a protection tool with the strike bezel. The light beam is smooth and without dark spots like some other flashlights.
Related: Similar battery – Surefire Tactician Dual-Output Maxvision Beam Review
Here's a detailed review of this excellent tactical flashlight:
Surefire G2X Pro Review 2023
Robust construction
If you're an outdoor enthusiast, law enforcer, military personnel, or a security guard, you want a flashlight that you can depend on at all times. That's what you get when you invest in the Surefire G2X Pro light. This flashlight features a sturdy nitrolon body with an anodized aluminum bezel. As a result, it is robust and can defy harsh outdoor conditions that law enforcers and outdoor enthusiasts face. The hard aluminum bezel is ideal for attacking an intruder or breaking the glass.
Virtually indestructible LED
Another notable feature of this flashlight is the virtually indestructible LED emitter. Unlike incandescent bulbs, LEDs are durable and can last for more than 100, 000 hours. The Surefire G2X Pro features a regulated LED that produces a maximum light output of 600 lumens and a low output of 15 lumens. For the brightest light, you can turn on the high lumen, while for extended runtime, you can turn on most the economical 15-lumen mode. However, some people will not like this flashlight as it only offers two light outputs.
Dual-output tail cap click switch
Using the G2X flashlight is fun and fast. Even a new flashlight user will have an easy time turning on/off the light. The flashlight comes with a dual-output tail cap click switch. The switch is located at the end of the torch and lacks proper protection, which means that you can accidentally turn it on. All the same, the switch is easy to use by merely pressing once to turn on momentary-on low, and click another time for constant-on low, then return to off and click for high lumens.
Related: Looking for a flashlight with 9 light output levels, read Surefire UDR Dominator Review [Ultra High Variable Output LED]
Compact and lightweight
What I love most about this flashlight is its weight and design. The Surefire G2X Pro flashlight is lightweight and compact in design. Therefore, you will not have issues slipping the torch into your pocket, purse, backpack, or even drawer. Besides, it has an ergonomically shaped body that is simple to handle. The grip is also firm as the flashlight's surface is rugged. So, if you find yourself chasing something in the wild, you can relax, knowing that it won't easily slip out of your hand.
Ease of storage
As an EDC flashlight, the Surefire G2X Pro flashlight will exceed your expectations as it has everything that you can desire in a tactical flashlight. Above all, it is simple to keep as it is compact and lightweight. As stated earlier, you can keep it in your pocket, purse, pouch, or backpack. Nevertheless, the flashlight doesn't feature a pocket clip; thus, some people may find it undesirable to keep.
Different flashlight options
The G2X pro flashlight offers users with two light output options, which are high lumens of 600 and low lumens of 15. If you want the brightest illumination, then you will switch to the high lumen, but for extended runtime, the low lumen is the best.
Related: Surefire Titan Plus Review
Impact-resistance
Using a flashlight is always challenging as you can drop it quickly or even crash it on a wall. For this reason, having a flashlight that you can count on when this happens is vital. The good news is that the Surefire G2X pro flashlight features an O-ring and gasket sealing that prevents water and dust from entering the unit. So, in case you accidentally drop the torch, you can rest assured that it will continue to function well.
Related: More advanced features with Intellibeam technology – Surefire Guardian Flashlight Review
Water-resistance
The G2X Pro is not your ordinary light, as you can entirely rely on it in all severe conditions. Apart from resisting impact, the flashlight can also resist water. This means that you can use the torch while it's raining, and it will not fail to work. Although, many users have complained that the water-resistance rating is not disclosed, which poses a challenge as you don't know what amount of water it can handle. However, some users have explained that the customer care rated Surefire flashlight to have a waterproof rating of around IPX-4, which is excellent for most flashlights.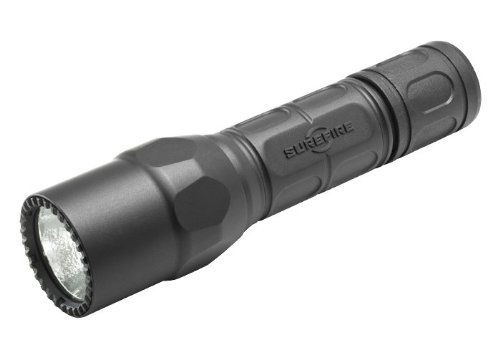 Check Today's Price
Warranty
One thing that usually separates the best brands from mediocre ones is the warranty. Most top flashlight brands offer a warranty. That's the same case with Surefire flashlight. Not only does this increase confidence in the buyer, but it also makes them trust the products they offer. When you purchase the Surefire G2X Pro torch, Surefire will cover your flashlight in case of a defect in material or workmanship.
Summary: Why buy Surefire G2X Pro Flashlight?
Compact and lightweight design
Sturdily made to last long
Excellent illumination with a maximum of 600 lumens
Impact-resistance
Water-resistance
Intuitive design for ease of use and storage
A powerful and durable LED bulb
Choice of 6 colors to choose
Dual tail cap click switch for ease of use
Strike bezel for protection and breaking glass
Anti-roll design
Cons of the g2x pro Surefire
Several users have complained that the flashlight overheats.
The ratings for impact-resistance and water-resistance are not disclosed, which is a challenge to users as they don't know how much the light can handle.
It only has two light outputs that may be a hindrance to some individuals.
Summary
The Surefire G2X Pro flashlight is a quality unit for individuals looking for a compact and lightweight torch. Due to its sturdy construction and outstanding performance, the Surefire G2X Pro will withstand anything that you throw at it in the wild or at home. The robust nitrolon polymer body and hard-anodized finish protect it from adverse weather conditions. It also gives the user two output levels to choose from.
If you want to carry it daily to work, school, or as you perform your activities, the Surefire G2X Pro flashlight won't be a burden at all. What's more, it comes with backing from Surefire, so you can relax knowing that your investment is secure. I hope, you have got a clear idea after reading this Surefire G2X Pro Review post.
FAQs
Question: Is this a 10-inch or 5.2-inch flashlight?
Answer: Even though the description says that the Surefire G2X Pro is 10-inches, it is not. The flashlight is 5.2-inches, and it shouldn't be advertised otherwise. Some people find this as petty marketing skills since most people love normal 5.2-inches.
Question: Can I use this flashlight as a defensive weapon?
Answer: Of course, you can. Not only does this LED light come with a bright maximum output of 600 Lumens, but it also has a strike bezel that you can use to hit an assailant. However, some may argue that it is small and not efficient for attacks. But having something that you can protect yourself with is better than having nothing at all.
Still, have questions after reading this Surefire G2X Pro review article? Comment below.