Picking the right flashlight for your job or purpose is essential. A flashlight meant for reading or blackout is not the same as a flashlight built for hunting or search & rescue. That's why a brand like Surefire offers different tact flashlights for different purposes. In this Surefire UDR Dominator review, we're going to look at one of the brightest and most versatile Surefire flashlights on the market. This is the Surefire UDR Dominator 2, 400 Lumen flashlight.
Related: Similar body construction – SureFire x300 Ultra Review
The torch is powerful and portable. It is built for the most demanding tasks such as search & rescue missions, military operations, maritime applications, and border security.
Technical Specifications of the Surefire UDR Dominator Tactical Flashlights:
| | |
| --- | --- |
| Features | Surefire Dominator FlashLight |
| Lumens: | 2400 lumens |
| Specific lumen outputs are: |  2400,1275, 675, 350, 180, 100, 50, 28, 14. |
| Body: | High-strength aerospace aluminum body, |
| Switch: | Three separate pushbutton head switch |
| Weight: | 5.35 lbs. |
| Battery: | Li-ion rech. or twelve 123A |
| Runtimes: | High – 2400 lm/ 2.25 hours, Low – 14lm/22.75 hours |
| Price: | Check Today's Price |
Made of a high-strength aerospace aluminum body with Mil-Spec hard-anodized finish, the flashlight is extremely durable and can be relied on to deliver in all conditions. It also runs on one lithium-ion rechargeable battery but accepts 123A batteries. Using the luminous CBT-90 LED assembly, the flashlight produces an outstanding 2, 400 maximum lumens for excellent brightness.

Using the flashlight is simple as it has three pushbutton switches and a selector ring for accessing the different light modes. Aside from that, it has an O-ring and gasket sealing for preventing substances from destroying the flashlight components.
Surefire UDR Dominator Review 2023
Without wasting any time, let's look at the Surefire UDR Dominator features, pros, and cons so that you can make an informed choice in the end.
Robust construction
The Surefire UDR Dominator flashlight is Surefire's most potent searchlight/spotlight. It is built for advanced outdoor use; thus, it features the best materials. The body of the flashlight is made of high-strength aerospace aluminum alloy with Mil-Spec hard-anodized finish for durability. This means it will work in all the harsh conditions that you operate without any issue.
State of the art LED
For such a powerful flashlight, it is only okay if it has one of the best-LED technologies on the market. That's the case with the Surefire UDR Dominator. It is equipped with a virtually indestructible LED emitter, a microprocessor that is regulated to maximize output and runtime. So, even if you spend a lot of money on this flashlight, you will be confident that it will last and perform at a high level for several years.
Related: Surefire DBR Guardian Rechargeable flashlight
Precision reflector and coated tempered window
Additionally, it also comes with a precision reflector that creates an extended-range beam. Aside from that, it has a glazed, tempered window that resists impact and thermal shock. All of these work together with the LED to produce a strong and smooth white light beam that reaches far and wide.
Variable output
The Surefire UDR Dominator 2400 lumen flashlight comes with a variable output. You can choose from the lowest 14 lumens to the highest 2400 lumens. Depending on the type of battery that you're using, you will get the same number of lumens but different runtimes. The lowest lumen has an extended runtime of 54 hours, while the highest lumen has a runtime of 2.5 hours.
Extremely bright light
At a maximum of 2400 Lumens, this is an extremely bright light that is enough to blind you for several minutes if shone in your eyes. That's why this spotlight is also great as a defensive weapon as it also has a strike bezel for hitting an attacker. The brightest light beam reaches up to 931 meters, which is fantastic.
Related: If you are looking for a lightweight keychain flashlight, check this Surefire titan plus tactical LED light article
Using the flashlight is fun and easy, as it comes with a clear and intuitive user interface. It has an 11-position selector ring for picking one of the 9 light output levels and three different pushbuttons for accessing constant-on, momentary-on, and MaxBlast light output levels.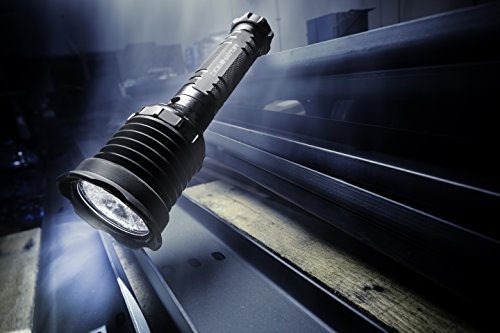 Check Today's Price
O-ring and gasket sealed for weather-resistance
Another great attribute of this flashlight is its gasket sealing and O-ring. These offer flashlight protection by preventing dust, water, and dirt from entering the unit. As a result, the flashlight can be utilized in all weather conditions without any fear.
Related: Surefire G2X Pro Review [600 lumen led Flashlight]
Fuel gauge (3-color LED indicator)
The battery level indicator will notify you if your battery is full or not during charging. It also shows you the battery status. Green means it is filled up, amber means it is low, and red means it needs charging. The best part about this battery is that it doesn't heat up even when used on a higher output level for long. This is because it has thermal regulation.
Powered by one Li-ion battery or twelve 123A disposable batteries
Different cells determine different runtimes. If you want the most extended runtime, then you will turn to 123A batteries as they will last for at least 54 hours on 14 low lumens while 30 hours on the same 14 low lumens when powered by Li-ion rechargeable batteries. And for the best runtime on the highest mode, you will still have to use the 123A batteries to give you at least 2.5 hours of use. However, for convenience, you will have to use the Li-ion rechargeable batteries.
Extra-long lanyard
When you're not using the flashlight, you can securely wrap it around your neck or shoulder using the extra-long strap. Additionally, it has a removable lanyard ring that is held in place by the tail cap and offers the rear sling attachment point. So, you can also attach a sling if you want to.
Related: If you need a versatile pocket flashlight, read this Surefire tactician flashlight review
Summary: Why buy this Surefire UDR Dominator Tactical Flashlight?
Durable construction for longevity
Quick recharge time of fewer than 2 hours
9 output levels
Easy to use with the selector ring and three pushbutton switches
Battery level indicator
O-ring and gasket sealed for weather-resistance
Precision reflector creates a broad beam
Easy to carry, as it has an extended lanyard
Powered by two different batteries
Cons of Surefire Dominator LED Light:
It is costly
The flashlight is quite heavy and not suitable for everyday carry
The pushbutton can be tricky to identify when wearing gloves
Conclusion
The Surefire UDR Dominator is a real tactical flashlight as it can be used for almost anything. From hunting deer to hiking, and for search and rescue missions, this is a potent flashlight. It is constructed from one of the best materials on the market and anodized to prevent things like water, dust, and dirt from interfering with the performance of the flashlight.
Even though the flashlight is highly-priced, it lives up to its price. For instance, it has 9 light output levels to choose from, and it produces an excellent light beam of 2, 400 lumens. Besides, it has a strike bezel for protecting yourself from an assailant after temporarily blinding them.
Imagine a beam that covers up to 931 meters? This is very outstanding, and you can use it to find a lost person deep in the forest. I hope that we've covered everything that you need to know about this super powerful flashlight and made your work easier. All the best in your quest to find the most powerful and versatile flashlight on the market! I hope, you have got a clear idea after reading this Surefire UDR Dominator review post.
FAQ
Question: Which batteries should I insert if I want to use the brightest modes for a while?
Answer: Both the li-ion rechargeable battery and 123A are fantastic and perform outstandingly. But if you want your flashlight to run on the brightest output for long, then you will have to run it on Li-ion batteries instead of the 123A batteries.
Question: What accessories does this flashlight come with?
Answer: The Surefire UDR Dominator comes with lots of accessories that make your work easier. These include a lithium-ion rechargeable battery, an AC wall charger with international adapters, 12VDC car charger, twelve 123A lithium primary batteries with battery carrier, shoulder sling, lanyard/sling ring, owner's manual, and protective bumpers for the head & tail.
Still have questions about this Surefire UDR Dominator review article? Comment below.