Sometimes, all you need is a small LED flashlight that you can quickly move around with. The Fenix E15 LED flashlight is one of such flashlights. It is compact in design but durable enough to withstand anything that you throw at it. The torch is ideal for indoor use, but it is still suitable for outdoor applications such as camping, dog walking, hiking, and much more. Read this Fenix E15 Review to know more about this product.
Related: Best Fenix Flashlight Review [Best-Selling Flashlights list]
The Fenix E15 pocket flashlight is easy to store as you can slide it in your pocket or attach it to your keychain. Additionally, it is robustly built to give you many years of use. Regardless of its small size, the Fenix E15 flashlight is sturdy and produces maximum Lumens of 450. Apart from that, operating the light isn't an issue as you're only required to twist the head, and there you go.
Technical Specifications of the Fenix E15 450 Lumen Flashlight:
| | |
| --- | --- |
| Features | Fenix E15 flashlight |
| Lumens: | 450 lm |
| Beam Distance: | 132meters |
| Modes: | 4 |
| Body: | Aircraft-grade aluminum |
| LED: | Cree XP-G2 R5 White LED |
| Waterproof: | IPX-8 waterproof rating (underwater 2 meters for 30 minutes) |
| Included: | Key chain, Spare O-ring |
| Weight: | 1.0 oz. (29g) |
| Battery: | One 16340 Li-ion battery or one CR123A battery |
| Price: | Check Today's Price |
Whether you're looking for an EDC flashlight for your home needs or want a compact tactical flashlight that won't weigh you down as you go camping, the Fenix E15 Review will suit most of your lighting needs.
Fenix E15 Review 2023
Constructed from durable aircraft-grade aluminum
Unlike most EDC flashlights, the Fenix E15 450 Lumen torch is well-made to withstand the test of time. t features a durable aircraft-grade aluminum body with a premium type III hard-anodized anti-abrasive finish. The knurled design offers a firm grip, which ensures that the light doesn't slide out of the hands of the user when they are wet or in a tense situation. Likewise, the Fenix E15 LED flashlight comes with a high-efficiency total reflection lens that is not only robust but as well as helps to provide brighter illumination.
Uses Cree XP-G2 R5 White LED
Another impressive feature of the Fenix E15 EDC flashlight is its Cree XP-G2 R5 LED. Not only is this LED durable and bright, but it can also defy impact. Moreover, it will run for more than 50, 000 hours, which is outstanding for such a small flashlight. So, if you properly maintain this LED light, then you can bet that you will use it for several years to come.
4 light modes
The E15 LED flashlight may be small in size, but this doesn't mean that it performs less. Using the Cree XP-G2 R5 LED, the Fenix E15 provides 4 light modes that are accessible through the twistable switch. It has a choice of four light modes, which include low, medium, high, and turbo. Depending on which battery you use, you will get a different number of Lumens and run times. The low light mode is best for an extended period of use, while the medium mode is ideal for searching for lost items. The high mode and turbo mode are great for lighting a dark room or path. Also, the turbo mode can be used to blind an assailant temporarily.
One-handed operation
Isn't it fun to know that you can use a flashlight with just one hand? Yes, the Fenix E15 LED flashlight can be operated using only one hand. Even though this is quite challenging and you will have to practice a little, it is fun knowing that you can use your flashlight straight from the pocket. All you need is to master how to twist the switch with one hand, and you're good to go.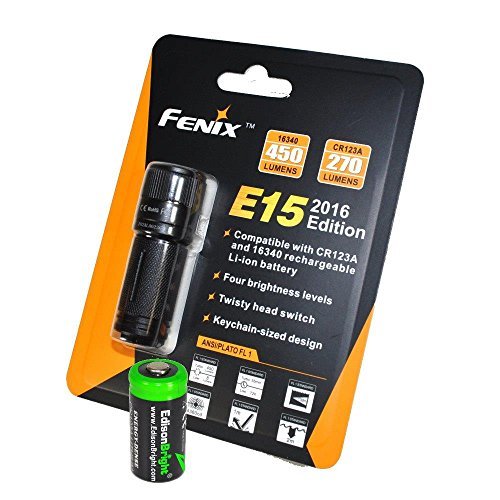 Check Today's Price
The twistable switch is for turning on/off the light and for cycling through the 4 light modes. You don't have to bother using two switches like with other high-end Fenix models as it only comes with one.
Powered by either CR123A or 16340 Rechargeable batteries
Finding CR123A batteries in most remote areas is a pain in the ass. For this reason, Fenix has given you two battery options, which are either using the CR123A lithium battery or 16340 rechargeable Li-ion battery. The ability to use a rechargeable battery drew me to this flashlight. I have owned many quality EDC flashlights in the past, but my biggest issue has been batteries.
Besides, the type of battery that you use determines how long the light will stay on and the level of brightness you will get. For the brightest light mode, switch to 16340 rechargeable Li-ion battery that produces a maximum of 450 Lumens. While for the best run time, you will have to change to CR123A, which runs for 72 hours in the lowest mode.
Impact-resistant and waterproof
Most EDC flashlights are not built to withstand extreme conditions, but the Fenix E15 torch will sustain severe weather. First of all, it waterproof rated to IPX-8. In short, this means that it can be submerged into water up to 2 meters for 30 minutes. For such a small flashlight, this is very awesome. Additionally, it is impact resistant up to 1 meter. So, if you unintentionally drop the light, you can relax, knowing that it will still function as required.
Safe operation
Of course, the Fenix E15 is safe to use as all other Fenix flashlights. Fenix doesn't take chances and ensures that all of its flashlights are up to standards with innovative features. The Fenix E15 LED flashlight comes with reverse polarity protection that avoids damage when you install the battery in the wrong way. Also, it has over-heat protection that helps to regulate the temperature of the flashlight. Furthermore, it has an intelligent drive circuit that improves battery performance.
Warranty
I have been using Fenix for many years without any disappointment. This tells you just how reliable Fenix is. But if you have doubts about the brand, Fenix has you covered with a limited lifetime warranty. Hence, if the device comes with a defect in material or workmanship (which rarely happens), they will repair it or give you a replacement.
Summary: Why buy Fenix E15 Flashlight?
Sturdy construction
Astonishingly bright for its size
Impact-resistant up to 1 meter
Easy to store
Waterproof to IPX-8 rating
4 light modes for versatile use
Excellent runtime of 72 hours
Easy to use the twistable switch
Outstanding beam distance of up to 132 meters
Limited lifetime warranty
Cons of the e15 Fenix
Quite challenging to use as you will need two hands to twist it to turn on
Conclusion
The Fenix E15 450 Lumen flashlight may be small in size, but it performs at a high level. It has a sturdy casing for severe outdoor conditions; therefore, you can entirely rely on it to deliver. Featuring 4 light modes, you can use this flashlight for almost anything. From lighting up a dark path to searching for lost keys in a room, and lighting up your tent in the woods, this torch won't disappoint. It is the ideal EDC for hunters, hikers, anglers, and preppers. I hope, you have gotten a clear idea after reading this Fenix E15 Review post.
FAQ
Question: Does this flashlight come with a push-button?
Answer: No, it doesn't. The Fenix E15 LED flashlight doesn't feature a push-button like other high-end Fenix flashlights. However, it comes with a twisting head that is turned to switch on/off the light and cycle through the four light modes. This is exceptional, considering that E15 is a small and compact torch.
Question: Does this flashlight come with a strobe mode?
Answer: No, it does not. So, if you're looking for a more advanced flashlight with a strobe mode and SOS mode, then you should look at the more expensive Fenix models. Nevertheless, this unit comes with 4 light modes, with the inclusion of a turbo mode. The turbo mode is extremely bright and uses up to 450 Lumens.