If you love to keep things simple but elegant, then you will like the Fenix LD02 V2.0 70 Lumen flashlight. The Fenix LD02 LED EDC flashlight is sleek and stylish. Featuring a pen-like design, you will have an easy time keeping the light when not using it. Read this Fenix LD02 Review to know more about this Fenix light.
Related: Streamlight Stylus Pro Reviews: LED PenLight with Holster
The Fenix LD02 70 Lumen torch may be small in size but still performs at exceptionally well. It is run on either one AAA lithium battery or Ni-MH battery. The penlight also has 3 light modes and one UV light for versatility. The light modes are accessible through the tail cap switch.
Technical Features of the Fenix ld02 v2.0 70 lumen EDC Penlight flashlight:
Features

Fenix LD02

Lumens:
70 lumens
LED:
Cree XQ-E HI LED (90-CRI/3000K warm white light)
Supported Battery:
One AAA alkaline (included)
Maximum Beam Distance:
48 meters
Maximum Beam Intensity:
580cd
Battery Run Time:
High: 70 lumens/ 40 min
Mid: 25 lumens/ 2 hours 40 min
Low: 1 lumen/ 75 hours
Waterproof:
Yes (IP68, 2m/dustproof)
Included:
Spare O-ring, AAA (Alkaline) Battery
Price:
Check Today's Price
Besides being small in size, the Fenix LD02 V2.0 is sturdily constructed to defy harsh conditions. Both the head and switch are of stainless steel construction. The body is also dustproof and waterproof. On top of that, you can operate the flashlight using just one hand.
Related: Coast G20 Reviews [Inspection Beam Penlight LED Flashlight]
Because of the remarkable features that the Fenix LD02 V2.0 comes with, it is a beautiful torch for outdoor activities, indoor use, and for everyday carry. You will never feel a burden carrying this flashlight as it only weighs 0.8 oz. Moreover, it is very tiny that even an assailant will confuse it for a pen.
Fenix LD02  Flashlight Review in 2023
 Durable construction
Regardless of whether the flashlight is small or big, you have to pick a sturdy light that won't spoil after a short while. The Fenix LD02 LED flashlight is small in size, but it doesn't mean that it is fragile. It features a durable high-strength oxidation-resistant aluminum and stainless steel body. The surface is rugged to offer a firm grip to users. It also has a pocket clip for secure storage of the flashlight when not in use.
Related: Fenix E15 Review [450 lumens Rechargeable EDC led flashlight]
Versatile flashlight
One of the unique features of Fenix flashlights is its versatility. Fenix offers multiple light modes on almost all of its flashlight models, to ensure that users can perform several functions with one unit. The Fenix LD02 V2.0 is no exception as it comes with 3 light modes. The light modes are low, medium, and high. The lowest light mode can run for more than 75 hours, and the highest light mode can cover at least 48 meters.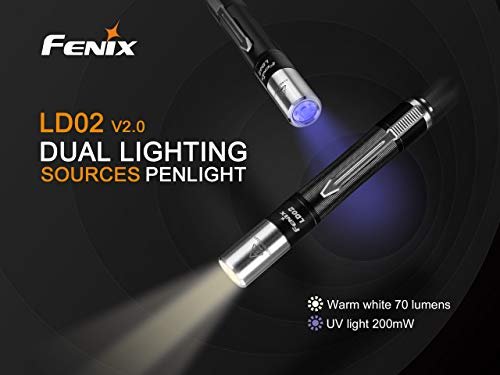 Check Today's Price
Additionally, the penlight utilizes Cree XQ-E Hi LED 3000k warm white light with a lifespan of 50, 000 hours.
Related: Streamlight Microstream Reviews: Ultra-compact Pen flashlight
Anti-counterfeit authentication
A unique feature of the Fenix LD02 flashlight is the 200mW ultraviolet LED for identification and currency inspection. So, if you're a business person who handles a lot of cash, you will not be duped with fake notes as the UV light will help you to differentiate original and counterfeit notes.
Powered by one AAA alkaline or one Ni-MH battery
Some batteries can be hard to find, and that's why it is always convenient to have two or more battery options. Fenix LD02 V2.0 70 Lumen flashlight enables you to use either one AAA alkaline battery or one Ni-MH battery. AAA batteries are easy to find, unlike CR123A batteries. The battery that you pick is vital as it determines how long the light stays on and what level of brightness you get. Go for the AAA alkaline battery if you want a longer run time, while the Ni-MH battery is excellent if you want an extremely bright light.
Waterproof and dustproof
Apart from being durable and versatile, the Fenix LD02 V2.0 penlight is also suitable for severe conditions as it is both waterproof and dustproof.  It can be submerged in water up to 2 meters for 30 minutes. Moreover, it can resist impact up to one meter. So, if you drop it unintentionally as you run away from an attacker, you can rest assured that it will still function correctly.
Reverse polarity protection
Wrong battery placement is prevalent, especially when in a hurry or a dark place. Therefore, knowing that your flashlight has a feature that will protect it from damage if you install the battery in the wrong way gives you peace of mind. Similar to many other Fenix flashlights, the Fenix LD02 also has reverse polarity protection.
Digitally regulated output
Not all flashlights can maintain constant brightness over a long period. But this is not the case with the LD02 V2.0 70 Lumen flashlight as it has a digitally regulated output. This means that the torch maintains constant brightness over a long period. So, you can turn on the light that you want without getting distracted.
One-handed operation
If you've ever been in a tricky situation before, then you understand the importance of having a flashlight that is easy to use. Swiftly turning on your torch can save your life. The Fenix LD02 70 Lumen flashlight is one of the simplest flashlights to use. It is of an ideal length, and turning it on/off is straightforward. You can operate it using one hand.
Compact and lightweight design
Apart from its ease of use, this flashlight is also small and lightweight. It weighs 0.84 oz. Which means you can easily keep it in your pocket without feeling its weight. Furthermore, its compact design makes storage hassle-free, as it doesn't take up a lot of space. The pocket clip makes it even more convenient as you can attach it to your belt or pocket.
Warranty
Fenix is one of those brands that you can buy without worrying about the quality or durability of their products. For the many years that I have been using Fenix flashlights, I have never had any issue. I have owned Fenix PD35 for more than 4 years now, and I have never had any complaints. Nevertheless, Fenix stands behind their products by backing them up. The Fenix LD02 flashlight comes with a lifetime limited warranty.
Summary: Why by Fenix LD02 Flashlight?
Robust construction for longevity
Compact and lightweight for ease of use and storage
UV light for detecting fake notes
Reverse polarity protection prevents damage
Maintains constant brightness with the digitally regulated output
Limited lifetime warranty
Cons of the Fenix LD02 EDC flashlight
Not powerful enough to cover a larger area or a very dark path
The yellow tint makes the light less bright
Conclusion
Fenix boasts of different flashlight sizes and designs. From simple everyday carry flashlights to powerful searchlights, Fenix has everything for everyone. The Fenix LD02 V2.0 EDC flashlight is a portable and versatile LED flashlight. Due to its small and convenient size, this flashlight can perform various tasks, and it is easy to transport. It has 3 light modes with a UV light mode that allows the user to detect fake notes.
Despite its small size, the LD02 V2.0 LED flashlight is durably made to withstand daily wear and tear. It is also sold by a re-known brand (Fenix); thus, you can entirely depend on it to deliver. With a limited lifetime warranty, this is a good investment. I hope, you have gotten a clear idea after reading this Fenix LD02 Review post.
FAQ
Question: Is it okay if I use a lithium-ion battery on this flashlight?
Answer: No, it's not. Lithium-ion battery such as 10440 is not compatible with this flashlight. You should either use one AAA alkaline battery or one Ni-MH battery.
Question: Can I attach this flashlight to my keychain?
Answer: No, you can't. The Fenix LD02 V2.0 flashlight only comes with a pocket clip for attaching to your belt, pocket, or backpack. So, if you're looking for a flashlight that you can connect to your keychain, then you should look somewhere else.
Still, have questions after reading this Fenix LD02 Review article? Comment below.