Currently, there are few guns that come with illumination. The short and cheap guns usually have no illumination which is mostly found on high-end and long guns. Whether its laser or LED illumination, having a light on your firearm can make a huge difference. This is important when if you are chasing a thug in the dark or even a deer. The laser or led illumination will identify the target for you and where you can possibly hit it. In this Streamlight TLR 6 review article, you will learn why you should buy this modern weapon light.
Streamlight so this need and has come up with flashlights that offer gun users light. The flashlight is mounted on the rail lock system of the gun and switched on. The weapon light is durably made from a polymer which is a durable and reliable material. It has three lighting modes which include laser only, LED illumination only, and Led and Laser light. In addition, the flashlight has a parabolic reflector that produces a balance of beam and peripheral illumination. Another version of this Streamlight is tlr 4. You can also check those features.
Technical Features of the Streamlight TLR 6
| | |
| --- | --- |
| Features | Streamlight TLR 6 |
| Lumens: | 100 lumens |
| Run Time: | 1 hour (LED only or LED/laser combo); 11 hours (laser only) |
| Type of Bulb: | LED |
| Style: | For Glock 42/43 |
| Operating temperatures: | -20 to +120 Degree Fahrenheit |
| Batteries: | 2 CR123A batteries required |
| Batteries Included?: | Yes |
| Battery Cell Type: | Lithium |
| Average Battery Life : | 11 hours (laser only) |
| Water-Resistant: | IPX4 (1m impact resistance tested) |
| Warranty: | Limited lifetime |
| Item Weight: | 1 lb |
| Product Dimensions: | 5.63 x 2.5 x 3.63 in |
| Price: | Check Today's Price |
When the tlr 6 torch is switched to laser, the light can run for 11 hours. While if it's switched to LED light, it can function for just one hour. It also uses 2 lithium batteries.  The C4 LED bulb has 50, 000 hour lifetime and 640-660m red laser. Installing the device on your M&P shield 40 and M&P shield p subcompact gun is very simple. With a weight of fewer than 1.27 ounces with batteries, this flashlight is an excellent weapon torch for outdoorsmen, hunters, anglers, military, and law enforcers. During use, it shuts off automatically after 10 minutes to save on battery power.

Modern light Streamlight tlr 6 review
Polymer construction
Three lighting modes
Light/laser module
Ambidextrous switching
Removable cover
Contoured housing
Parabolic reflector
10 minute auto shut-off feature
Weighs 1.27 ounces with batteries
Measures 2.34×0.85×1.58 inches
Windage and elevation adjustment screws
C4 LED illuminator
Maximum 100 lumens
One hour runtime on LED
11 hours runtime for laser only
Laser
50, 000 hour lifetime
2 CR 1/3 N lithium batteries included
Check Price On Amazon
Pros:
Durable construction
First of all, the Streamlight tlr 6 light is sturdily built. It is made from a polymer material which is a long lasting and strong material. It can withstand impact from one meter away from the ground. Also, the material is able to resist crushing and suitable for use in combats and in line of duty. The impact resistant has been tested and proven. Furthermore, it is IPX4 water resistant. This means that the torch can function in different weather conditions without any problem. The housing of the weapon light is contoured to easily fit on the gun and help the user illuminate their target or in their path.
Related: Streamlight TLR 3 Review
Uses C4 LED bulb
Led technology took the market by storm. Today, it is widely used in almost every flashlight being created. This Streamlight torch has a C4 LED bulb which is very powerful. It has a 50, 000 hours run time and it produces bright light in different weather conditions. The C4 LED has a maximum of 100 lumens, 2, 000 candela peak beam intensity, and 89-meter beam distance. All of these contribute to a powerful illumination from this tlr 6 LED light. In addition, the parabolic reflector creates a balance of beam and peripheral illumination. The laser on the device offers long range targeting and it can last up to 11 hours when lit only. On the other hand, LED illumination only lasts a maximum of one hour.
Related: Provides brighter light – Streamlight TLR 1 Weapon Mount Tactical Flashlight Light
Powered by 2 lithium batteries
Another important feature of the Streamlight tlr 6 torch is that it uses 2 lithium batteries to run. Lithium batteries run for longer hours than alkaline batteries. They are also more durable and reliable. Installing the batteries is very simple as they can be put in while light remains mounted on a gun. There is no need to re-sight laser after battery change. To save on battery while in use, the flashlight has an automatic 10 minute shut-off. The lithium ion batteries have a storage life of 10 years. The removable cover can is for simple attachment and removal.
Easy to use
One of the best things about this Streamlight tlr flashlight is that it is very easy to use. The ambidextrous switching that it comes with makes lighting or change to different light modes to be easy and quick. It has laser only, Led illumination only and laser & Led combination.   The light or laser module is created for forwarding and backward compatibility. Also, it has a windage and elevation adjustment screws mounted in brass bushings for long life and dependable zero retention of laser. The design of the torch is compactly designed to securely attach to the trigger guard of M&P shield 40 and M&P shield 9 subcompact handguns.
Lightweight and compact design
With so many flashlights on the market, people normally prefer lightweight and compactly designed lights. No one wants a flashlight that will weigh them down as they take their target or something of the sort. The Streamlight tlr 6 light weighs just 1.27 ounces with batteries. Without batteries, it weighs just under 1.12 ounces. Such a weight isn't a burden when installing on your gun.
Simple installation on M&P shield 40 and M&P shield 9
There is no hard time setting up the tactical torch on the M&P shield 40 and M&P shield 9 subcompact handguns. The housing is split down the middle and secured together by three screws. To set up the torch on an unloaded gun: you will have to open the battery compartment and remove the batteries, get rid of the three screws that secure the housing halves together.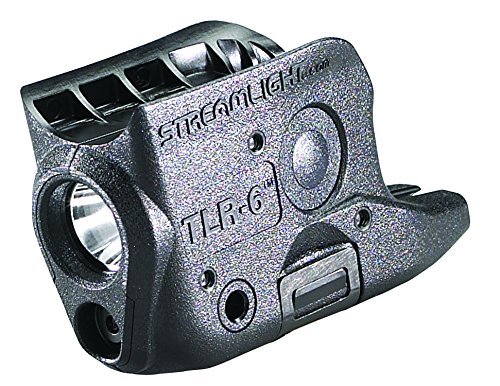 Check Price
With the torch in one half of the housing, fit the two housing halves over the Glock trigger guard. Ensure that the housing is well aligned on the pistol and set up the three screws you removed initially. Place the batteries in and close the battery compartment.
Weatherproof
This flashlight is made with quality materials that make it survive in different weather conditions. It is IPX4 rated. This means that it is not resistant to water but its splash resistant. Also, the flashlight can function in different conditions like dust, snow, smoke or extremely hot or cold.
About Streamlight
From 1973, Streamlight has been offering outdoor enthusiasts, fishermen, hunters, sports lovers, law enforcers, shooters, and campers, different types of lights. So, the brand can be relied on to provide quality and long lasting flashlights. They know what clients want and that's why they have some of the best lights on the market. I hope, you have gotten a clear idea after reading this Streamlight TLR 6 Review post.
Conclusion
A weapon light should be sturdily built like the Streamlight tlr 6 LED light. It is also easy to set up with outstanding features that make gun users have a simple time using it. The laser light is used for long range shooting while led light is for lighting a larger area. It uses 2 lithium batteries and has a maximum of 100 lumens. Outdoor enthusiasts, as well as law enforcers, can use this light in the hour of need.
I hope you've found this Streamlight TLR 6 Review to be informative and helped you know more about the Streamlight tlr 6 LED/Laser flashlight.