The Fluke 289 data logging with a NIST-Traceable calibration certificate multimeter is built for professional use. It offers accurate and precise measurements which is important, especially when dealing with HVAC equipment. Additionally, the professional-grade tool provides results in TrendCapture graphical form through a 50, 000-count display and can as well as communicate information wirelessly to PCs and smartphones. Read this Fluke 289 Review to know more about this true rms multimeter.
Related: Similar temperature storage -40°C to + 60°C: Fluke 117 Multimeter Review
Technical Specifications Of The Fluke 289 Multimeter
Features

Fluke 289

DC volts:
Range / resolution: 50.000 mV, 500.00 mV, 5.0000 V, 50.000 V, 500.00 V, 1000.0 V
Basic accuracy: 0.025%
AC volts:
Range / resolution: 50.000 mV, 500.00 mV, 5.0000 V, 50.000 V, 500.00 V, 1000.0 V
Basic accuracy: 0.4% (True-RMS)
DC current:
Range / resolution: 500.00 μA, 5000.0 μA, 50.000 mA, 400.00 mA, 5.0000 A, 10.000 A
Basic accuracy: 0.05%
AC current:
Range / resolution: 500.00 μA, 5000.0 μA, 50.000 mA, 400.00 mA, 5.0000 A, 10.000 A
Basic accuracy: 0.6% (True-RMS)
Resistance:
Range / resolution: 50.000 Ω, 500.00 Ω, 5.0000 kΩ, 50.000 kΩ, 500.00 kΩ, 5.0000 MΩ, 50.00 MΩ, 500.0 MΩ
Basic accuracy: 0.05%
Frequency:
Range / resolution: 99.999 Hz, 999.99 Hz, 9.9999 kHz, 99.999 kHz, 999.99 kHz
Basic accuracy: 0.005%
Temperature (excluding probe):
Range / resolution: -200.0°C to 1350.0°C (-328.0°F to 2462.0°F)
Basic accuracy: 1.0%
Capacitance:
Range / resolution: 1.000 nF,10.00 nF 100.0 nF, 1.000 μF, 10.00 μF, 100.0 μF, 1000 μF, 10.00 mF, 100 mF
Basic accuracy: 1.0%
Battery type:
6 AA alkaline batteries, NEDA 15A IECLR6
Battery life:
100 hours minimum, 200 hours in logging mode
Temperature Operating:
-20°C to 55°C
Temperature Storage:
-40°C to 60°C
Connectivity:
Optional infrared connector via Fluke ir3000 FC
Auto/touch hold:
Yes
Reading Memory:
Yes
Shock:
1 meter drop per IEC/EN 61010–1 3rd Edition
Vibration:
Random vibration per MIL-PRF-28800F Class 2
Wireless connectivity (optional):
Yes
Price:
Check Today's Price
Without wasting much time, let's get down to its features, functions, pros, and cons.
True RMS Fluke 289 Review
Construction
Made in the USA, expect the Fluke 289 to last for a very long while. The unit is sturdily made of hard plastic and has a holster integrated into it. Moreover, it has plastic kickstand, which is not very sturdy. It is advisable that you get a sturdy carrying case as the display is quite delicate and may crush in case it drops accidentally on the shop floor.
Display
This is one of the best displays that you will find on the market. It is a full dot matrix, quarter VGA type, which allows it to build graphs. Additionally, it has a 50, 000-counts, which is a high resolution as well. One of the unique things about the display is that you can get multiple readings at once such as MIN/MAX/Average, together with the live readout.
Related: If you are looking for a unique clamp multimeter, read this Clamp Meter Fluke 323 Review
Another great feature of the display is the zoom function on the graphic mode that enables you to zoom right into the graph and receive outstanding resolution. Besides, the bar graph is also very responsive and quickly picks up fast-changing signals. However, the display uses up a lot of battery power and also ghosting appears on quickly changing digits.
Data logging and TrendCapture
These two functions make this multimeter to stand out from the rest. This is because it makes it possible to track voltage or resistance, record it, and then quickly display it in graphical form. There are two options for data logging which are at regular timed intervals or in event log format. Presently, logging needs an optional current probe, but you can log many ranges.
True RMS
This is a very important feature for professional electricians and technicians as they want nothing less than accurate and precise results. The cheaper units do not usually provide 100% accurate results and that's why it is highly recommended that you always go for the best to get the actual results. The True RMS ensures that accurate values are obtained on non-linear loads or complex signals.
Related: If you are looking for a multimeter that uses 9 V Alkaline batteries, check this Fluke 115 Compact Multimeter Review
Excellent battery life
The Fluke 289 uses a lot of power as it runs on 6 x AA alkaline batteries. These batteries can power on the unit for more than 100 hours and 200 hours in logging mode. Unlike other multimeters, this one comes with a sleeping mode which helps to conserve battery power. When the screen stays idle for 5 minutes, it will fall to sleep but not turn off. For this to occur, you will have to turn on the automatic shut off mode.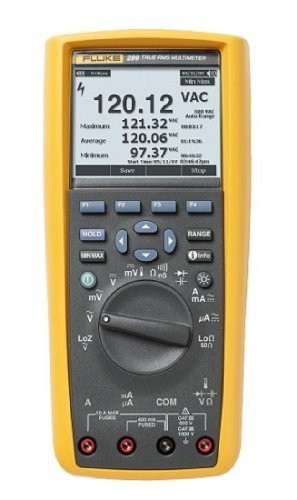 Check Today's Price
Not every person knows English or is comfortable using English. Some people understand other languages better and this unit helps them to reset the unit to a language they are much comfortable with. However, the default language is English.
Auto-power off
This is synonymous to many Fluke multimeters. The automatic power-off function helps to save the battery and money in the long run. When you leave your unit idle for more than 15-minutes, it will automatically turn off in order to save the battery. But if you're performing a function like continuity which takes more than 15-minutes, the unit will detect this and it won't turn off itself.
Related: Has same auto-shutoff function – Fluke 87-V Multimeter Review
Ease of use
This might be an advanced Fluke multimeter but it is not as challenging to use as many people think. This is because it is well-labeled and simple to operate. It also features soft keys, scroll buttons, and easy navigation control access to secondary functions. If you're a newbie, then you may need time to fully comprehend it or simply follow the user manual. But if you're an expert or have experience using digital multimeters, then you will have an easy time with utilizing this unit.
Additional functions
The Fluke 289 multimeter is a very versatile unit that performs a wide range of functions. Some of the extra functions that you will not find on many Fluke multimeters include low ohms, low-pass filter, low impedance voltage, min/max mode, smoothing mode, and NIST calibration. Of all these functions, NIST calibration is the most special one. NIST-traceable calibration simply certifies that your meter is functioning to the manufacturer specifications.
Protection and safety
As with Fluke multimeters, the Fluke 289 is strong on the outside and has some exceptional features that protect users during usage of the unit. This DMM has a high-quality probe leads with finger guards and sharp ends. It is designed for the bench and has some delicate circuitry. Also, input overload protection and input selection are amazing. Another excellent safety feature is the optical interface which stops electrical continuity and protects your computer, for instance, in case of a voltage spike.
On top of that, the unit is CAT III 1000 V/ CAT IV 600 V safety rated. This means that it is safe to use for both home and industrial applications.
Warranty
The Fluke 289 multimeter is a high-end device that offers the user with accurate and reliable results all the time. If you're a professional commercial electrician, this is a good investment as it also comes with a limited lifetime warranty. This means that you're fully protected against defects in material and workmanship, and as long as you don't violate the warranty terms.
Similar: Fluke 179 Multimeter Review
Why buy Fluke fluke 289 true RMS multimeter?
Robust construction
Wide range of functions
True RMS unit
Clear display for easy reading
Multilingual menu
Field upgradeable and expandable meter
Real-time clock for automatic time stamping
Temperature function
Extremely accurate and reliable
Data logging and TrenCapture functions
Measures all electrical ranges
CAT III 1000 V/ CAT IV 600 V safety rated
Ability to store up to 15, 000 data points
Limited lifetime warranty
Cons of the Fluke 289 Digital Multimeter

Expensive unit
Drains the battery very quickly
Somehow big making handling to be quite challenging
Who is the best suited for this tool?
Since it features functions like data logging, this is not a good unit for the DIY enthusiast or beginner electrician. It is more suited for professional electricians and technicians who deal with large equipment with bigger circuits.
Conclusion
If you want a professional-grade multimeter that you can use for complex electrical and electronics measurements, then you will like the Fluke 289 multimeter. Considering its high initial price, this is not a good unit for people looking for a general-purpose multimeter for automotive or home use. I hope this Fluke 289 review article will help you to make the right decision.
FAQ
Question: What is included in the purchase bundle?
Answer: A brand new Fluke multimeter comes with calibration certificate, alligator clip set, probe holder, 6 x AA batteries, 289 True RMS data logging multimeter, and user's manual.
Question: Is it possible to track three incoming voltages at the same time?
Answer: No, it is not. This unit is not capable of reading 3 phases at one time. To perform such a function, you will need a power quality meter.
Still, have a question after reading this Fluke 289 Review article? Comment below.