Hiking is fun but having the right gear with you is even better. Before you step out of your house for any hiking or backpacking trip, ensure that you have the right gear with you always. After assembling all the essentials that you need on your trip, the next step should be to get a nice and comfortable hiking backpack for your trip. One of the latest quality hiking backpacks on the market is the Venture Pal backpack. Read more about this Venture Pal Backpack Review to know more.
Related: Similar storage capacity – 5.11 Rush 24 Review
With so many hiking packs on the market, you must pick the right one for your trip. Start by identifying the features that you need so that you can narrow down on your choices, then also look for Venture Pal Backpack features to know it better. The Venture Pal daypack is a great EDC backpack or hiking pack as it is lightweight, offers a lot of storage options, and is very comfortable.
Technical Specifications of the Venture Pal BackPack
| | |
| --- | --- |
| Features | Vertx EDC Ready Backpack |
| Storage Capacity : | 35L |
| Material: | Nylon fabric |
| Interior Back: | mesh back panel |
| Straps: | quick release shoulder straps |
| Pocket: |  one zipped front pocket and two side pockets |
| multi-compartment design: | Yes |
| Lightweight & Foldable: | Yes |
| Weight: | only 0.7 pounds |
Venture Pal may be a new brand in the market as it was incepted in 2015, but it has managed to come up with new and amazing packs that are great for outdoor lovers. The Venture Pal 35L travel backpack is great for a day and not more than that because of its limited space. It can also be used as a Venture Pal travel backpack or for normal use.

Check Today's Price
So, whether you're a professional hiker or just want to have fun, then Venture Pal daypack is a reliable and affordable daypack that you will fall in love with.
Venture Pal Backpack Review 2022
Construction
The Venture Pal backpack is made of high-quality tear and water-resistant material that makes the backpack to be very durable. Besides, the material utilized to construct this backpack makes it extremely durable and lightweight at the same time. On top of that, it has a double layer at the bottom to give the pack some extra strength and allow the packing of lots of items.
Related: Backpack 5.11 Rush 12 Review
Another important feature of this pack is its durable SBS two-way zippers that allow the user to open or lock the pack from any side of choice. The backpack also has bar-tacks at the key stress points on the backpack to provide extra strength and ensure that the bag lasts longer.
The pack is not only sturdily made but also lightweight for easy carry to your destination and back. As a hiker, you don't want a backpack that will weigh you down on your trip, and that's why having such a backpack is crucial if you want to have ample time. And of course, to make sure this product is tested, you must also look for Venture Pal lightweight Backpack to know more.
Comfort
Apart from being well-made, the Venture Pal backpack is also comfortable, and you will love carrying it for long hours without having to worry about anything. First and foremost, the rucksack features breathable mesh shoulder straps with ample sponge padding that assist relieve stress from your shoulders when carrying a heavy load. If you don't want your shoulders to be injured as you wander in the wild, then shoulder straps with good padding are a must.
Related: Similar adjustable straps – Mountain 40L Hiking Backpack Review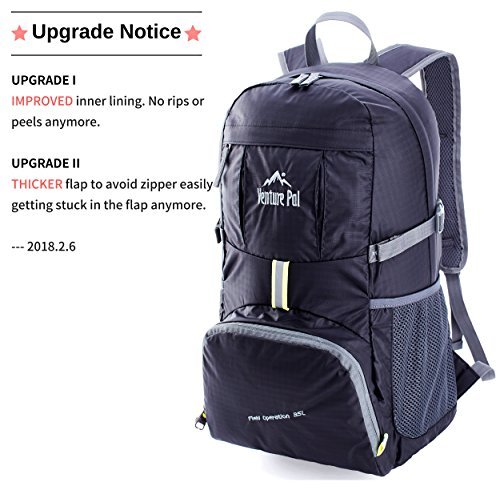 Check Today's Price
Moreover, you can adjust the shoulder straps to a proper fit and reduce fatigue. For a secure fit, you can lock the chest strap, which also has a whistle that is helpful just in case you get lost from your crew and want to be found quickly.
Storage Capacity of Venture Pal Backpack
Venture Pal travel backpack offers users a lot of storage options. With 35L storage capacity, this backpack offers more space than most packs in its price range. So, you get more space for less. The main compartment with two SBS zippers allows you to store most of your hiking gear without any issue. It also has two extra front zippered pockets and two mesh pockets on the sides for storing water bottles. In the main compartment, there are two separators that assist you in organizing your items.
Related: In a search for a larger storage backpack, find here at Best Waterproof/Rainproof Backpack Reviews article
One of the unique features of this Venture Pal backpack is that it can be folded away for easy storage and travel without being disturbed. Simply fold it into the zipped inner pocket in just a few seconds.
Why buy the Venture Pal 40L Lightweight Packable Travel Backpack?
It is lightweight but still great for longer trips
Very easy to store as you can fold it into a small pack
It offers comfort to the user as it distributes weight and has breathable mesh padded shoulder straps
Extremely affordable despite offering exceptional features
A wide range of compartments helps in the proper organization of your hiking gear
Durable SBS zippers that allow you to easily lock the bag from any side
It is durable with the bar-tacks that are placed at stress points and has a double layer bottom
It comes with an exceptional lifetime Venture Pal backpack warranty
Cons of the Venture Travel Backpack
The zipper of the main pocket frequently gets caught on the zipper cover.
The backpack is not very durable. Thus, it can't withstand the toughest conditions out there.
This daypack is not ideal for all-weather even though it is water-resistant as you things might wet in case of a downpour.
Who is the best suited for this Ventura Pal backpack?
If you're searching for a low-priced daypack with good storage options and can put it up to moderate use, then this is the backpack for you. It is specifically built for hikers and is good for a person looking for a lightweight daypack.
Who is not suited for this Ventura Pal Packable Backpack?
Even though this is a wonderful backpack for many people searching for a backpack for hiking, outdoor activities, or general use, it is not suitable for every individual. For instance, if you're searching for a heavy-duty pack that is comfortable in all situations, then this is not the rucksack to go for. It is an amazing lightweight hiking pack, but it cannot withstand the toughest conditions out there.
Conclusion 
The Venture Pal hiking backpack is steadily rising in popularity due to its excellent features and affordability. Even though this is not the most spacious or most durable hiking backpack on the market, it is comfortable, lightweight, and with a lot of storage options. Many people love it because of its simplicity and ease of storage. Besides, the Venture Pal backpack comes with a lifetime limited warranty, which assures buyers that it is a reliable pack from a reliable brand.
Nevertheless, if you're going hiking for several days or want a backpack that can withstand the toughest outdoor conditions, this pack shouldn't be your priority. With a 35L capacity, this is a nice daypack for hiking, and you don't have to break the bank in order to get it. I hope that these Venture Pal Backpack Review help you choose.
FAQ
Question: Which storage option should I go for – one large compartment or several pockets?
Answer: This heavily depends on the type of outdoor activity that you intend to undertake. If it's hiking or trekking, then you're better off with a backpack with one major compartment where you can keep your essentials. But if you're going hunting, camping, or even fishing, then you may need a pack with several compartments for the storage of different items.
Question: Should I pick a framed or frameless backpack?
Answer: Framed backpacks are different from frameless packs because they feature a plastic or metal structure inside, which assists in distributing the weight evenly inside the pack. On the other hand, frameless rucksacks have no structure inside their bag, which makes them easier to fold away for storage, but they don't distribute weight evenly. This means that frameless packs can be uncomfortable at times, more so if you're carrying a lot of luggage.
Still, have a question after reading this Venture Pal Backpack Review? Comment below.