Do you always come home at night? Do you want a flashlight that does not only offer you light but can also help you defend yourself if attacked? Then you will like the Surefire E2D defender ultra-flashlight. As sleek and beautiful as it looks, the E2D defender is a flashlight that is durably built to put up with sever conditions and offer bright light. Read this Surefire E2D Defender Ultra Review to know more about this product.
Related: Similar maximum brightness – Surefire G2X Series LED Flashlight
It has a virtually indestructible LED emitter that delivers a maximum of 600 lumens. In addition, it has an aluminum alloy housing with a strike bezel for hitting would-be attackers. Overall, this is a great tactical flashlight that you can use for your lighting needs or as a defensive weapon.
Technical Specifications of the Surefire E2D Defender Series LED Flashlight:
| | |
| --- | --- |
| Features | Surefire Defender Ultra |
| Lumens: | 600 lumens high for maximum light, 5 lumens low |
| Type of Bulb: | LED |
| Weatherproof: | Yes |
| Weight: | 4.16 ounces |
| Battery: | 2 CR123A batteries required. (included) |
| Price: | Check Today's Price |
Read our entire review to find out more.
Surefire E2D Defender Ultra Review 2023
Sturdy construction
Just like its name suggests, the Surefire E2D defender ultra is a torch built for tactical use. It features a high-strength aerospace aluminum alloy body with Mil-Spec hard-anodized finish for durability. The flashlight will put up with all the hard conditions that you operate in, while in the wild or tough situations. So, you can always rely on it as a defensive weapon as it won't easily crash.
Related: A flashlight with two excellent LED reflectors – Surefire Guardian Review [DBR Guardian Rechargeable Flashlight]
Virtually indestructible LED emitter
Another quality element of this flashlight is its LED emitter. With the advancement in technology, most of today's flashlights come with LED bulbs instead of incandescent ones. LED lamps are durable and robust than incandescent bulbs, which break on impact. Surefire E2D defender flashlight has a virtually indestructible LED emitter that delivers a secure and reliable light. The LED is regulated to offer high output and manage runtime.
The light beam produced by this flashlight doesn't have a central dark spot like with some other flashlight brands.
Related: More advanced features – Surefire UDR Dominator Review [Ultra High Variable Output LED]
Compact and lightweight design
Considering how robust and bright this flashlight is, you may think that it is massive and challenging to keep. But that's not the case as the E2D defender torch is a compact and lightweight unit. With a weight of around 4 ounces, the Surefire defender LED light shouldn't be a burden to carry on you. It is also compact in design for secure handling and storage.
Related: Similar output levels – Surefire Tactician Review [High-Output led Flashlight]
Two output levels
I love that you have the option of choosing between high output and low output. This is vital, especially when you are out hunting, hiking, or camping. The high output level, which uses 600 lumens, cannot stay on for long but offers the brightest beam. On the other hand, the low output level, which uses 5 lumens is ideal for extended use of the flashlight.
Ergonomic tactical tail cap switch
Having a robust and powerful flashlight is not enough. You also need a flashlight that is easy to handle and use when there is an emergency. The Surefire E2D defender LED flashlight is ergonomically shaped to offer comfort and ease of use. The knurled design provides a firm grip that prevents the flashlight from shifting in your hand.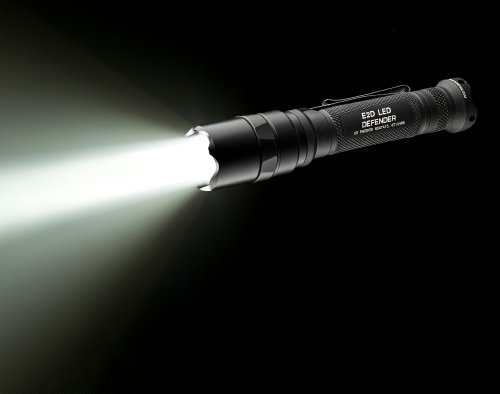 Check Today's Price
Besides, it has a tactical tail cap switch that you can operate with a lot of ease. For example, if you want to turn on maximum output in intense scenarios, the first click gives you a high output light beam. For an extended runtime or low output beam, click again, and you will get this output level. Note that you shouldn't leave your flashlight on the high output level for long as it may overheat the torch.
Related: Surefire 6Px Pro Flashlight Review
Coated tempered window
One of the things that separate Surefire from other brands is its focused beam. Thanks to the TIR lens, that produces a centered beam with substantial reach and enough surround light for peripheral vision. As a result, you will see a distant person or object without struggling. The lens is also durable and protects the LED from damage.
Crenelated strike bezel
The Surefire E2D defender flashlight helps to serve your lighting needs, but it can also be used for defending yourself. The 600 lumens flashlight features robust construction that can withstand considerable impact. This means that you can use it to hit someone, and it won't crash. Additionally, it has a strike bezel at the front of the flashlight that you can use to thrash an attacker. Of course, this is after disorienting the would-be attacker in the eyes with the bright high-output 600 lumens.
Related: If you prefer a nickel-plated brass made light, read Surefire Titan Plus LED Keychain Flashlight here
Convenient pocket clip
A unique feature of the Surefire E2D defender flashlight is its revolutionary pocket clip. This is because it makes keeping the torch when not in use convenient. The two-way pocket clip allows you to clip the flashlight from the bezel up or bezel down position. So, you don't have to worry about which side the light is facing, as you can clip it with much ease.
Related: If you are looking for a keychain like flashlight, read this SureFire Sidekick Keychain light article
Impact and water-resistant
As expected, an excellent tactical torch should resist both water and dust. Accompanied by an O-ring and gasket sealing, this unit will prevent any particles or water from entering. Both of these parts do a fantastic job of sealing the light and stopping the interior components from being damaged.
Apart from resistance to water and dust, the flashlight can also resist impact. Dropping a flashlight is something usual, but whether or not it remains intact or crashes depends on its durability. Therefore, you need to pick a flash lamp that can resist impact, more so if you intend to use it as a defensive weapon or for outdoor purposes.
The only challenge that you will face with the Surefire G2X flashlight is that they don't disclose the level of impact-resistance or water-resistance.
Warranty
Customers usually have joy when they buy from a brand that they can trust or even return a product if it arrives damaged. Surefire stands behind their products, and that's one of the reasons they are a successful flashlight brand. You will get the support that you need if you received a product with an issue, or want their help.
Summary: Why buy Surefire E2D Defender Ultra dual output led flashlight?
Robust construction
Excellent brightness with a max of 600 lumens
Two output levels for efficient use
Easy to use click tail cap switch
Strike bezel for defense
Impact and water-resistant
Compact and portable
Cons of the Surefire defender ultra
It is not suitable for people looking for a well-spread light as it is more focused in the center
It is quite expensive, considering it only offers two light modes while competitor products offer more.
Bottom line
The Surefire E2D defender ultra LED torch is a quality and reliable flashlight in all situations. The unit can be used for both indoor and outdoor purposes. Due to its sturdy construction, the E2D defender series will not let you down when you need it most. It also offers two light outputs and a two-way removable pocket clip for convenient storage. With the strike bezel and maximum lumens of 600, this is a beautiful flashlight for defending yourself when attacked in the dark. I hope, you have got a clear idea after reading this Surefire E2D Defender Ultra review post.
FAQ
Question: What batteries should I use to power the Surefire E2D defender flashlight?
Answer: The torch uses the high-energy CR123 battery with a 10-year shelf life. This is a powerful battery that will offer you several hours of runtime.
Question: Can I remove the pocket clip for quick storage?
Answer: Yes, you can. Start by removing the front end section, in the same manner, that you would while removing the batteries. Then, apply some pressure to slide the pocket clip off easily. Now, you can store your flashlight with much ease.
Still, have questions about this Surefire E2D Defender Ultra Review article? Comment below.