The Fenix TK75 5100 Lumens tactical flashlight is the perfect light for all your outdoor applications such as search & rescue missions, survival, construction, mining, hunting, signaling, and much more. This is an upgrade of the Fenix TK75 2015 edition, which was very popular and performed exceptionally well. With this Fenix TK75 2018 Review, you would know more about this high lumen flashlight.
Related: Best Fenix Flashlight Reviews [Best-Selling Flashlights list]
Getting a powerful flashlight that can be utilized for different applications is not easy as some may be good at delivering power but poor in quality. Others may be durable but lack several light modes suitable for different applications. Read this Fenix TK75 Review to know more about this.
Technical Specifications of the Fenix TK75 LED Flashlight:
Features

Fenix TK75

Lumens:
5100 lm
Type of Bulb:
LED
Waterproof:
IP68-rated protection, Submersible to 2 meters for 30 minutes
Batteries:
2x LumenTac Non-rechargeable CR123A Batteries
Brightness & Runtimes:
Turbo: 5100 Lumens (2 hr. 15 min. – 820 feet/250 meters)
High 2: 2000 Lumens (3 hr. )
High 1: 1000 Lumens (6 hr. )
Med: 450 Lumens (17 hr. 45 min.)
Low: 150 Lumens (46 hr. )
Eco: 50 Lumens (95 hr.)
Strobe: 5100 Lumens
SOS: 150 Lumens
Peak Beam Distance:
929 yards
Momentary Option:
Turbo and Strobe mode
Price:
Check Today's Price
The new Fenix TK75 2018 edition is more powerful and covers a greater distance. Delivering a maximum of 5100 lumens, this flashlight is way more powerful than the 2015 edition with a maximum of 4000 lumens. It also covers a distance of 850 meters, which is almost twice that of its predecessor at 650 meters. At the same time, the latest edition of the TK75 light features 6 output levels plus strobe and SOS modes, while the former edition offers 4 output levels and strobe mode.
From the above comparison, it is clear that Fenix made the necessary changes to make the latest TK75 LED flashlight more powerful and versatile. To find out more about this latest Fenix flashlight, continue reading our Fenix TK75 reviews to the end.

Fenix TK75 Review 2023
Construction
When looking for a searchlight, getting a durable light should be on top of your list. This is because it should be able to put up with tricky outdoor conditions. There might be dust or even a downpour, thus having a flashlight that can withstand such conditions and resist impact is vital. The TK75 5100-lumen flashlight is not only sturdily made of high-strength and oxidation-resistance aluminum, but also has a hard-anodized anti-abrasive finish.
Outstanding brightness
We discovered that this is one of the brightest Fenix flashlights on the market. Producing a maximum of 5100 lumens, the flashlight covers a maximum distance of 850 meters, which is very exceptional. This means that you can see a person or object 929 yards away from where you're standing. What's more amazing is that the flashlight is powered by not only one but 4 CREE XHP35 HI LED's with a lifespan of 50, 000.
Apart from being made with some of the best materials, this flashlight can resist both water and dust. You can immerse it in water up to 2 meters for 30 minutes. Also, it can resist an impact of up to 1 meter; thus it can still function well even when dropped on the ground accidentally.
Versatile
Unlike its predecessor, this latest Fenix TK75 2018 edition features 6 output levels and an SOS and a strobe mode. The 6 light modes include eco mode using 50 lumens, low mode using 150 lumens, medium mode using 450 lumens, high 1 using 1000 lumens, high 2 using 2000 lumens, and turbo mode using 5100 lumens. Every mode has its use, which makes this flashlight to be extremely versatile. You can use it for military expeditions, hunting, at construction sites, or when your car breaks down.
Rechargeable battery
No more worries when your batteries get drained as you can recharge them using the Micro-USB port. Simply insert the battery in the innovative rechargeable battery holder to recharge the flashlight. On top of that, the flashlight is powered by 4 18650 rechargeable Li-ion batteries. These will ensure that the flashlight provides constant light up to 95 hours in eco mode or 2 hours 15 minutes in Turbo mode.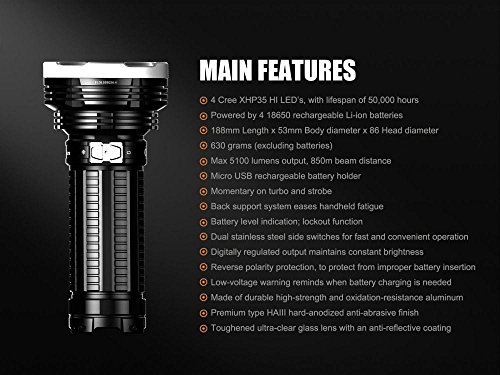 Check Today's Price
The battery level indicator lets you know when to recharge the battery and this is indicated by red flashes to show that it is critical. If the green indicator is constant, this means that the battery is full. Green flashing means it is sufficient and red constant on shows that the battery is poor.
User-friendly design
One of the features that set the Fenix TK75 5100 lumen flashlights from its competition is the user-friendly dual switch. The switch is made of stainless steel and has a master switch and auxiliary switch. The master switch turns on/off the light by holding it for 0.5 seconds. It also controls the general mode and output selections. On the other hand, the auxiliary switch also turns on/off the light and controls flash mode output selections. Simply click once to choose between SOS and strobe modes.
The firm grip makes holding the flashlight to be easy but it also features a back support system that reduces handheld fatigue.
Additional features
Other features worth mentioning include reverse polarity protection for protecting the battery from bad battery placement, digitally regulated output, lockout function, and battery level indicator.
What we liked about Fenix TK75 Flashlight
It is waterproof up to 2 meters for 30 minutes
Delivers an outstanding throw of up to 850 meters
Versatile with 6 light modes, SOS mode, and strobe mode
Battery level indicator alerts when the battery is low
Intelligent memory circuit remembers last light mode
User-friendly design with convenient dual side switches
Lockout function prevents accidental turning on of the flashlight
Durable construction from high-strength and oxidation-resistance aluminum
Rechargeable battery for convenient use
What we didn't like about FENIX TK75 5100 Lumen
You've to remove batteries before recharging the flashlight
This unit doesn't come with a charger thus you'll have to buy it separately
Conclusion
The TK75 LED flashlight is one of the best-LED flashlights for search and rescue missions. It produces an exceptional 5100 Lumens and covers a distance of 850 meters. Powered by 4 18650 batteries, this flashlight is very reliable and you can increase its run time if need be. The CREE XHP35 LED is one of the most powerful on the market; hence you've nothing to worry about as you can use the flashlight for the rest of your life.
Besides, it is well-constructed and can withstand water, dust, and impact. Recharging the flashlight is easy using the innovative rechargeable battery holder with a Micro-USB port. If power and versatility are what you're looking for, then this is the ultimate tactical flashlight for you. However, you should be ready to spend as it doesn't come cheap. Also, you will have to remove the battery to recharge it. This is a perfect flashlight for people who want power, quality, and durability in one device. I hope you have got a clear idea after reading this Fenix TK75 review.
FAQs
Is it possible to increase the run time for this flashlight?
Answer: Yes, it is. The Fenix TK75 LED flashlight has an extended run time KIT option. All you need to do is to acquire this kit and add the body tube segments and battery holder. This will double the run time by each segment-holder; however, the brightness level won't change at all. It is a great idea for a person who is going to spend the entire night in the dark and wants a very bright light the whole night.
What to look for in quality rescue or searchlight?
Answer: A good rescue or searchlight should be sturdily made so that it can withstand the tough outdoor conditions that rescuers face daily. Moreover, it should produce outstanding brightness that can reach far and wide. It should also be very visible when lit in the sky so that the person being searched for can spot it from a distance. Besides, it should be both water and impact resistant to survive bad weather. You wouldn't want to cut a search mission because of rainfall, dust or even snow.
Still, have a question after reading this Fenix TK75 Review? Comment below.