If you're planning to go out over the weekend and spend some time hiking, hunting, or just camping, then you need a backpack that you can rely on for the days that you will be out. Mountaintop is one of those spacious, lightweight, and comfortable backpacks that you can travel with. Read this Mountaintop Backpack Review to know more about this.
Related: Similar can accommodate a laptop – Vertx EDC Ready Pack Tactical BackPack
Being away from home for a few days is fun but you also need to be comfortable so that you don't feel out of place. And the best way to do that is by packing stuff that you will need for the days that you will be out. A good backpack should be durably made, comfortable, lightweight, and large enough to store all the items that you will need on your weekend trip. And to make your life easier look for a Mountaintop Backpack like this.
Technical Specifications of the Mountain 40L Hiking Backpack
| | |
| --- | --- |
| Features | MOUNTAINTOP 40L |
| Fabric: | Water-resistant Polyester |
| Waist Sizes: | 29–53 inches |
| Accommodate: |  17″laptop |
| Straps: | adjustable sternum strap, S-shaped shoulder straps |
| Water-resistant: | Yes |
| Hidden pouch: | for storing valuable items like smartphones, IDs, and passports |
| Dimensions: | 13.8 x 9.8 x 21.6 inches |
| Weight: |  2.16 pounds |
That's exactly what you get when you decide to acquire the Mountaintop backpack. I love camping a lot and one of the backpacks that I have come to fall in love with is the Mountaintop backpack.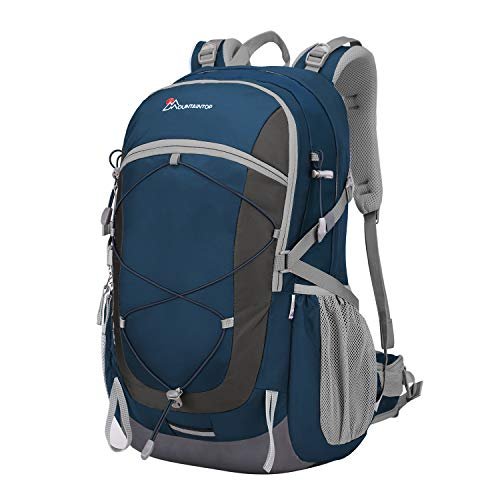 Check Today's Price

This pack has a 40L capacity which is enough to keep your tent, sleeping bag, trekking poles, and many other camping gears. On top of that, the pack is comfortable and lightweight, which means that you won't feel pain on shoulders even when it is fully packed. These are just gist of what you would gather in this Mountaintop Backpack.
Mountaintop Backpack Review in 2022
Construction
The mountaintop backpack 40L features a water-resistant coating fabric that makes it durable. Anything can happen in the wilderness and that's why you need a durable pack like the Mountaintop hiking pack. In case of a downpour, you can be certain that your items will be safe as the fabric is water-resistant.
Related: If you are looking for more waterproof backpacks, read this Best Waterproof Backpack Review article
Storage
Mountaintop Hiking Backpack, one of the most important features to consider when searching for a backpack for your camping trip is the size. You don't want it to be too small or extremely large. But it is better to have a larger pack than a small one. The Mountaintop Backpack 40L hiking pack not only has a large 40L capacity, but it also features well-organized pockets that allow the user to keep a wide range of items in the pack.
Related: Larger storage capacity backpack – 5.11 Rush 72 Review – 55 Liter Large Tactical Backpack 
There are several pockets in different compartments for storing all types of gear. For instance, there is a compartment for storing a 17-inch laptop. Also, there is a compartment that can be utilized for a bladder and a holding place for the tube.

Check Today's Price
The 6 adjustable straps can be used to store different items such as mat, hammock, sleeping bag, tripod, and several other gears. Besides, there is a hidden pouch for storing valuable items like smartphones, IDs, and passports. Stretch mesh pockets on the sides are utilized for storing water bottles.
Bearing system
I like this backpack because it holds up well regardless of whether it is full or not. It features SBS brand zippers, which are easy to zip and unzip. In addition, the bag has adjustable sternum straps, D hook attachment, and padded shoulders for comfort and balanced bearing of weight. The breathable and molded foam back panel allows the free circulation of air for added comfort.
Related: Direct Action Dragon Egg Backpack Reviews
Summary: Why buy MOUNTAINTOP 40L Hiking Backpack for Outdoor Camping
Offers great comfort with the adjustable shoulder straps and hip belt
Large capacity backpack with a 40L capacity
It is well-organized as it features a wide range of pockets for storage
The adjustable straps allow you to have a perfect balance regardless of the weight
The material the pack is made of is water-resistant to prevent water from spoiling your items
90 days limited warranty
Cons of the Mountaintop 40 Liter Hiking Backpack
It is not very durable, especially if you want it for tactical use
Even though the backpack has a 40L capacity, you can only use up to 35 liters
Who is the best suited for this mountaintop backpack?
If you're looking for a backpack that will last you for more than 3 days, then this is the right bag for you. It is also simple, comfortable, and lightweight.
Who should buy this backpack?
This is not a great pack for people looking for a quality EDC backpack. It is quite large and carries a lot of things.
Conclusion 
The Mountaintop 40L hiking backpack is a great purchase considering that it retails at an amazing price but still offers features of high-end backpacks with a huge capacity. This pack is also organized, durable, and very comfortable. It is better suited for outdoor enthusiasts who intend to stay more than 3 days on their trip.
However, this is not the best backpack for tactical use as its material is not very strong. Besides this, you can rely on this pack for a 3-day visit in the woods. With a 90-day warranty, this is a reliable pack from a reliable manufacturer. So after reading this Mountaintop Backpack Reviews, you should understand that it is a good investment.
FAQ
Question: What capacity backpack is good for me?
Answer: The capacity of the pack you choose depends on the things that you're going to carry and the days that you're going to spend. If you have a lot of things to carry for a 3-day trip, a 30 to 50-liter capacity backpack is okay. While if you want just a small pack to carry things for a day trip, then a 15 to 30-liter capacity pack is fine.
Question: Is fit and size important when looking for a backpack?
Answer: Yes, it is. If you want to be comfortable bearing all the weight in a backpack, then you need to have a pack that fits you very well. The backpack shouldn't be too small or very large, and the weight should be well-distributed. With a good fitting backpack, you won't feel any pain and you can carry the backpack for longer hours or even days.
Still, have a question after reading this Mountaintop Backpack Review? Comment below.