If you have ever been in a life and death situation, then you would appreciate the importance of a survival flashlight. These are flashlights for every situation and act as a great backup for extreme ones. Their features and accessories make them unique from other flashlights and without which they are just ordinary lighting devices. So, how to find the best survival flashlight emergencies?
Our Recommend Top 3 Survival Flashlight Comparison Chart
Images
Survival Flashlights
Why Buy This Flashlight?

(2023Editor's Choice)


Check Price

Nitecore P12Gt Flashlight Cree XP-L Hi V3 LED
Read Review
Crystal coating technology offers better durability


Max Lumens: 1000


Weight: 6.4 ounces


Medium price



(Best Budget Choice)


Check Price
OxyLED Super Bright 800 Lumens CREE T6 LED Flashlight Bundle with Rechargeable Batteries
Read Review
Water Resistant flashlight best for camping and hiking


Max Lumens: 900


Weight: 14.1 ounces


Lowest price



(EDC Choice)


Check Price
PeakPlus Tactical Flashlight with Rechargeable Battery & Charger LFX1000 - Super Bright LED, High Lumen, Zoomable, Emergency Flashlights
Read Review
Compact design is water & skid proof


Max Lumens: 900


5 modes for different purposes


Weight: 11.7 ounces


Medium price


Top 5 Best Survival Flashlight Reviews
At this point, it is best to look at a number of survival flashlights that are available to consumers and compare what they have to offer in detail. This includes brightness, battery life, modes available, sizes and weight, and technologies that bring the top rank among their counterparts.
Nitecore p12gt flashlight (Our Top Pick)
The XP-L HI V3 LED Nitecore p12gt gives an ultra-bright light of 1000 lumens. This best Handheld Searchlight beam intensity is measured at 25,700 cd, and the throw distance is 350 yards. It is powered by a single 3400mAh 18650 battery that is included in the kit.
Technical Specifications of the Nitecore P12GT LED Torch:
Features
Nitecore P12GT
Lumens:
1000 lumens
Max Candela:
 

25700

Impact Resistant:
1.5 meters
LED:
Cree XP-L HI V3 LED
Beam Distance:
320 meters
Run Time on High:
1 hour
Run Time on Low:
520 hours
Includes:
Quality holster, clip, tactical ring, lanyard, spare tail cap, Cover, spare O-ring
Batteries:
 

1 × 18650,2 × CR123

Length:
 

140 mm / 5.51 in

Weight:
91 g / 3.2 oz
Modes:
4 brightness output levels and 3 special modes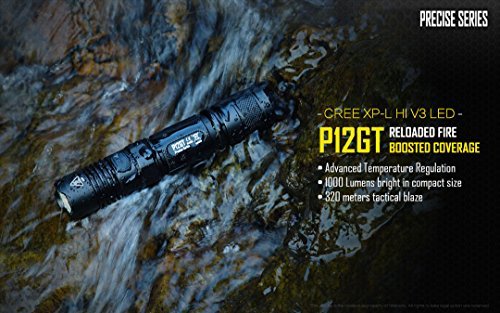 Check Price
P12GT has selectable modes that are accessed using a side switch and other tactical switches for illumination purposes. Its best feature is the temperature regulation system that is inbuilt.
Best Rechargeable Emergency Flashlight- Cynergy Lifelight
This is, without a doubt, the best survival flashlight, in my opinion. It comes with 3 LEDs that have an exclusive life span of illumination. It is powered by a high-capacity lithium battery, and in case you are in a place with no electricity, it generates its own power using a crank dynamo.
Technical Specifications of the Cynergy Lifelight Waterproof Rechargeable Crank Flashlight:
| | |
| --- | --- |
| Features | Cynergy Lifelight |
| Luminous Flux: |  lithium battery 3.7V 800mAh |
| Average Life: | 1000 hours |
| Material: |  Impact Resistant Plastic |
| Shape: | Cylinder |
| Assembled Height: | 3.75 inches |
| Assembled Length: | 10.80 inches |
| Assembled Width: |  2.20 inches |
| Dimensions: | 10.8 x 2.2 x 3.8 inches |
| Batteries: | 1 Lithium-ion battery is required. (included) |
| Weight: | 9.9 ounces |
Check Price
Measuring weighs only 0.62 pounds, 10.83 inches in length, and the standard bezel diameter of this flashlight pack gives us more than a dozen features meant for survival. It has a seat belt cutter that can free you from your car seat in case of an accident and, on top of that, a safety hammer for breaking emergency doors. With a high capacity charging input, this gadget can charge your phone, and you can mount emergency flashers on magnets found on its body.
There is a compass on its tail end and a red light that can be flashed to draw attention during an emergency. It is portable weighing also very light to use.
Cree T6 Led Flashlight- OxyLED Bundle
Oxyled makes use of Cree T6 LEDs that have a safe life span of 50,000 hours. It uses one 18650 rechargeable battery but has an option of 3 AAA batteries which powers it to produce a light output of 800 lumens. An AC charger is included for your charging needs.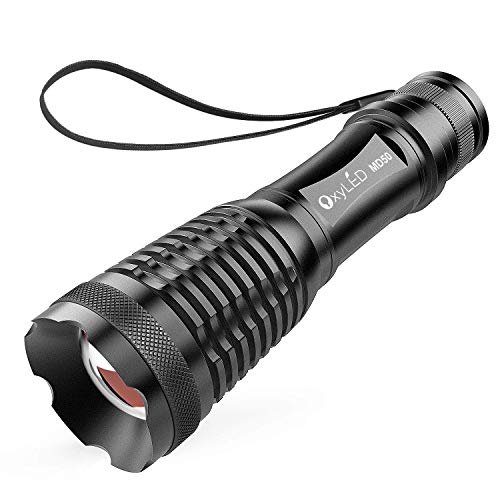 Check Price
Technical Specifications of the LED Tactical Flashlight, OxyLED Super Bright 900 Lumens :
| | |
| --- | --- |
| Features |  OxyLED Super Bright  |
| Lumens: | 900-lumen |
| Material: | aircraft-grade alloy, premium type 3 hard-anodized, anti-abrasive coating |
| Charger: | 110-240V input |
| LED: | Cree LED with a lifespan of over 50000 hours |
| Waterproof: | IPX-6 |
| Run Time on High: |  6 hours |
| Run Time on Low: | 12 hours |
| Diameter: | 1.57″ |
| Batteries: | use one 18650 rechargeable Li-ion battery or use 3 AAA batteries |
| Length: | 5.31 in |
| Weight: | 91 g / 3.2 oz |
| Modes: | High / Medium / Low / Strobe / SOS |
It has five adjustable modes, which include SOS and strobe modes, plus a zoom option for multipurpose uses.
The body is made of aluminum alloy with an anodized finish to withstand abrasion, and its water resistance capacity is IPX6. It weighs 6.63oz and has a length of 5.31 inches and a diameter of 1.57 inches.
Meco Solar Powered Rechargeable Flashlight
The emergency flashlight is powered using solar energy and a hand crank that makes use of a Carabiner dynamo. It has a clip attached to it that is used for cranking. Apart from this, it has a rechargeable battery that is inbuilt and stores energy. It is lightweight and small, weighing 0.25 pounds with a length of 5.9 inches. It has a snap tail clip at one end that makes it easy to carry anywhere.
Technical Specifications of the MECO Hand Cranking Solar Powered Rechargeable Flashlight:
Features
MECO Emergency LED Flashlight Carbiner Dynamo
Cranking for 6 mins:
1 hour
Body:
Classic Design, Durable, Army Green vs Dim Gray
No external battery needed:
Yes
High conversion efficiency:
Yes
Power Source:
S

olar Powered

Emergency Portable Flashlight :
Yes
Light Source Type:
LED
Dimensions:
 5.9 x 2 x 2.4 inches
Batteries:
Built-In Rechargeable battery
Length:
5.9 inches
Weight:
3.04 ounces
Check Price
Modern Survival Flashlight Review
The led used Cree with a 10W power bulb that produces 1000 lumens of light. To purchase, it comes with a rechargeable 18650 battery plus a charger. Its beam lights up 300 yards in front of you, and its focus is zoomable.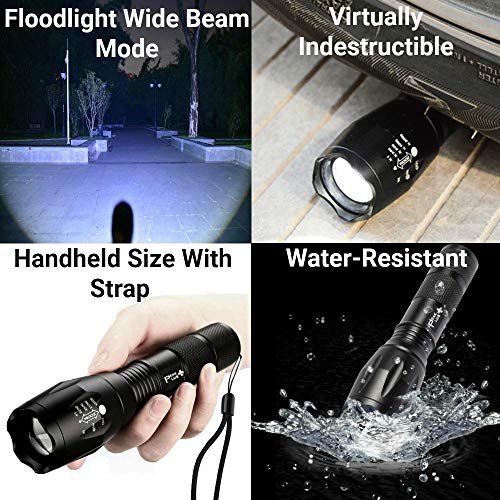 Check Price
Technical Specifications of the PeakPlus Tactical Flashlight with Rechargeable Battery & Charger LFX1000:
| | |
| --- | --- |
| Features | PeakPlus Tactical Flashlight |
| Zoom: | x1, x250, x500, x1000, x2000 |
| Material: | Aluminum Alloy |
| Modes: | 5 light modes – Full, Medium, Low, Strobe, SOS |
| LED: | Professional LED |
| Beam Distance: | 200 to 500 meters |
| Charging Time: | 6-12 Hours (Approx) |
| Rated Output: | 10W |
| Switch: | Soft-touch Tail Switch allows on/off mode |
| Batteries: |  1 x 2200mAh Rechargeable Battery (included) |
| Length: | 5.3″ |
| Weight: | 10.4 ounces |
| Head Diameter: |  1.6″ |
It has 5 brightness levels; high, medium, low, strobe, and SOS, which can be accessed effortlessly using a tail button.
This tactical flashlight is recommended for use by police and the military because of its aluminum body that guarantees durability and strength. It is resistant to shock.
Outdoor Tactical Flashlight- Captink Waterproof LED
This is an all-weather military flashlight. It is resistant to not only water but to all kinds of adverse weather conditions. It has a Cree LED that illuminates 700 lumens of light with a life span of 100,000 hours. Like other new tactical flashlights, it has five brightness levels to select from, including strobe and SOS. The battery used is 18650, which comes with its charger.
Technical Specifications of the Captink Waterproof Tactical Military Flashlight:
| | |
| --- | --- |
| Features | Captink Tactical LED Light |
| Lumens: | 700 lumens |
| Material: | Aviation aluminum alloy |
| Lamp Base: | Captink Q5 LED, high power LED |
| Powered By: | 1x 18650 3.6v/3.7v battery |
| resistance to vibration: | Yes |
| cold resistance: | Yes |
| Color: | Black |
| Wattage: | 10 watts |
| Voltage: | 3.70 volts |
| Length: | 15 x 2.5 x 4.3 cm |
| Weight: | 363 g |
| Modes: |  high / medium / low / strobe / SOS |
Check Price
It has a powerful head that can break an emergency window in extreme situations, and military-grade aluminum is used to construct its body. This light is excellent for outdoor sports.
Smith & Wesson Galaxy Pro LED Flashlight
It makes use of a total of13 LED bulbs, ten white and 3 red LEDs. It has a dual light output of 10 lumens from white LEDs and 6.5 lumens from red LEDs. The two colors can be accessed easily using two switches on the body of the flashlight. It works with 3 AAA batteries that run for 30 and 80 hours for white and red LEDs respectively. There are different throw distances for the two types of LEDs 17.1 for the white and 16.5 for the Red.
Technical Specifications of the Smith & Wesson Galaxy 13 LED Flashlight :
Features
Smith & Wesson Galaxy LED Bulbs
Lumens:
10 lumens from white LEDs and 6.5 lumens from red LEDs
LED:
10 White LEDs; 3 Red LEDs
Run Time:
26hrs 30min on white beam
Material:
tough anodized aluminum
Beam Distance:
White is 17.1 meters, and Red is 16.5 meters
Run Time on High:
1 hour
Run Time on Low:
520 hours
Includes:
holster and lanyard
Batteries:
three AAA batteries (included)
Length:
6.5

 in

Weight:
7.7 oz (with batteries)
Warranty:
limited lifetime warranty
Check Price
The best survival flashlight must-have features
One thing that you would find exclusively in these flashlights and not any other are the accessories. The survival flashlight has everything you need in case of an emergency. It can practically transform from a source of light to a blunt object for self-defense. Plus, it would prevent an attack from happening by blinding an assailant using its high-intensity flash. Among the accessories that make a survival flashlight stand out from the rest are diffusers, color filters, spare O-rings, holsters, remote pressure switches, and weapon mounts.
Colored filters are great for reading purposes. This gives a range of color options that a user feels comfortable with when reading under. The diffuser converts bright light into ambient light, which could make a room look attractive.
Multiple Modes
Apart from having the usual brightness modes, they have SOS and strobe modes. SOS functions come in handy during an emergency, while strobe patterns can be used for signaling in times of crisis to get the attention of rescue teams. For search parties, headlamps and hat clips are the best.
High Lumen Flashlight
Survival flashlights meant for outdoor activities usually have very high lumens for lighting up dark alleys and safety too. They are 1000 and above and have a long beam distance. On the other hand, the ones meant for reading function work well with 60 lumens. The zoom function is a desirable function for changing the beam from fixed to focus when there is a need. Controls and switches should also be placed in positions that different modes can be accessed easily and within the shortest time.
Rechargeable or non-rechargeable Battery?
When it comes to batteries, both disposable and rechargeable types are good. Disposable ones are desirable for people who don't use flashlights frequently. They are cheap and finding them in shops and supermarkets is easy. For this type of battery, lithium-based are more dependable than Alkaline based. Rechargeable batteries are even better because they have a longer life span. Their initial cost is high, but their extended life makes them rechargeable up to 500 times.
Military-grade aluminum Flashlight
Finally, survival flashlights have to be built with strength. They are rugged and robust for durability and for security purposes. The most common construction material is the aircraft-grade of military-grade aluminum. This is good for protecting the lenses and the body from shock and impact. Stainless steel finish makes them waterproof and useful even in adverse weather conditions.
CONCLUSION
Having known what a survival flashlight is and the reasons why you need one. We have also seen how to select the best survival flashlight, and it is quite clear that you can choose one of those flashlights that makes a good case for the survival situation. Survival kits always help to overcome your problem.