Before I landed on the Surefire titan plus ultra-compact flashlight, I had tried out several flashlights, and they ended up disappointing me. Some failed after dropping on the floor, while others didn't make it in bad weather. But after I acquired the Surefire titan plus torch, I have never faced the same challenges again. Read this Surefire Titan Plus Review to know more about this keychain flashlight.
Related: Similar Pricing – Surefire 6Px Pro 320 lumens light Review
The Surefire titan plus tactical LED light is robustly built for longevity. It has a polymer and high strength aluminum core that can put up with anything that it comes across. The torch is also portable and compact for secure storage and transportation. Aside from that, it runs on one AAA Ni-MH or AAA alkaline batteries.
Technical Specifications of the Surefire Titan Plus LED Keychain Flashlight:
Features

Surefire Titan Plus

Lumens:
300 lumens
Type of Bulb:
LED
Weight:
2.82 ounces
Battery:
1 AAA batteries required. (included)
Outputs and Runtimes:
High – 300 lumens / 1 hour.
Med – 75 lumens / 2 hours.
Low – 15 lumens / 7 hours.
Price:
Check Today's Price
Despite its size, this tactical flashlight still provides an astonishing brightness of 300 lumens. This is awesome and covers a broader area. In addition, it has two more light modes, which are the 75 lumens and 15 lumens for the longest run time.

Without much ado, let's look at Surefire titan's features, pros, and cons.
Surefire Titan Plus Review 2023
Ultra-compact design
The first thing that you will take note of the Surefire titan plus torch is its compact size and sleek design. Similar to EDC flashlights, this is a small and compact LED light that you will have a simple time handling and keeping. Also, you won't have issues with the custom while traveling with this torch.
Robust construction
What I liked most about the Surefire titan plus ultra-compact flashlight is its construction. Even though it is an everyday carry torch, it still features the best materials possible. The light features a polymer plus high strength aluminum core body. While the outer body is made of nickel-plated brass material. This is a durable material, and it can withstand all tricky conditions that the user operates in. It doesn't matter if it's in a rocky area where the flashlight gets bumped on rocks or in a cold environment with substantial rainfall, this flashlight will still perform outstandingly.
Related: Similar construction- Surefire G2X Pro light review
Virtually indestructible LED
On the same note, the titan plus flashlight comes with a virtually indestructible, high-performance LED bulb. The LED technology is better than incandescent bulbs as it is not susceptible to impact. Also, it is durable as most of them last for more than 100, 000 hours.
Related: Similar comes with a virtually indestructible LED – E2D defender Surefire Flashlight Reviews
Proprietary faceted reflector
Apart from having a virtually indestructible LED, the flashlight also has an exclusive faceted glass that shapes the light into a smooth MaxVision beam. The light beam is wide and evenly dispersed, making it suitable for closer activities. Hence, if you're looking for a flashlight that covers distant spots, then you should look elsewhere. This is because Surefire titan plus offers a concentrated beam.
Twist switch
The twist switch on the Surefire titan plus is one of the features that you can say they missed out. Personally, I prefer a flashlight with a click switch as it allows me to operate the flashlight instantly. That said, the twist switch has its advantages as it prevents accidental turning on when inside your pocket. Furthermore, it is straightforward to turn the switch as you access different light modes. But when in a hurry, this may prove quite tricky.
Related: If you need a flashlight with brighter lumens, check this Surefire DBR Guardian tactical light
Three output levels
It is hard to find a flashlight of this size with 3 output levels. But again, considering its price, having this feature is a plus. The Surefire titan plus ultra-compact torch comes with three light outputs. These include high, medium, and low outputs. The high mode uses 300 lumens, medium mode uses 75 lumens, and a low output level uses 15 lumens. If you want to disorient an attacker, you can turn on the 300 lumens. And of the best runtime, you can switch your flashlight to 15 lumens.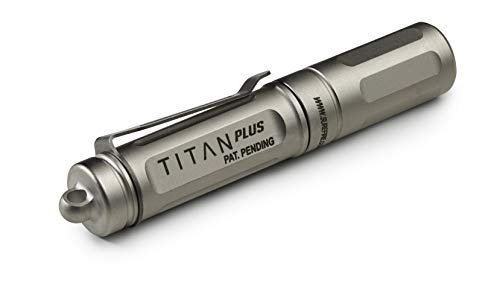 Check Today's Price
Accessing these light output levels is simple by twisting the flashlight's head counterclockwise repeatedly to activate and set the light mode that you desire.
Related: More advanced features – Surefire UDR Dominator Tactical Flashlight Reviews
Outstanding brightness
You may be surprised by how bright this flashlight is. Usually, most EDC flashlights come with maximum lumens of 200 or less. But in this case, the Surefire titan plus torch features a maximum of 300 lumens. For simple tasks like searching a coin under the bed or walking down the stairs when everyone is asleep. The 15-lumen output is more than enough. While the 300 lumens can be used for different activities that need a lot of brightness, such as hunting, hiking, fishing, and for protection.
Powered by AAA Ni-MH or AAA alkaline batteries
What's more, this flashlight runs on either one AAA Ni-MH battery or AAA alkaline battery. As a result, you've got a choice of two cells to select from. The package comes with a rechargeable Eneloop AAA Ni-MH battery.
Related: If you prefer a pocket flashlight which has micro-usb charging option, read SureFire Sidekick review post
Removable pocket clip and lanyard
Storing this flashlight is easy as it comes with a removable pocket clip. So, you can attach or remove the pocket clip whenever you want to. Besides, it has a lanyard where you can connect your keychain and securely keep the flashlight in the pocket, together with the keys. Because of its compact and portable design, storing this flashlight in your pocket, purse, or even backpack shouldn't be a problem at all. Nevertheless, some people say that it is heavy for an EDC flashlight.
Summary: Why buy this Surefire Titan Plus Ultra-Compact flashlight?
Sturdy construction for longevity
A compact and portable unit
Robust pocket clip for secure storage of the flashlight
An excellent wide beam that covers a larger area
Three light modes for versatility
All-weather flashlight
Sleek and stylish flashlight
Extended runtime of 7 hours
Backed by Surefire no-hassle guarantee
Cons of the Surefire Titan plus
The light is quite expensive, considering its competitors are up to 8 times cheaper
Using the twist switch is somehow challenging, especially if you're in a hurry and want to use one hand.
It is quite heavy for a flashlight of its size.
Conclusion
The Surefire titan plus ultra-compact flashlight is no doubt one of the best EDC flashlights that you will ever come across. It may be small, but it is mighty and durable. Additionally, it is convenient to use and versatile with the 3 light modes. Aside from that, it is weather-resistant, thus suitable for both indoor and outdoor use.
However, it is not all merry as this flashlight is quite expensive when compared to its competitors. Moreover, it comes with a twist switch, which is not as straightforward as the click switch. Overall, the Surefire titan ultra-compact offers exceptional brightness than its competitors, and it is more robust. I hope, you have got a clear idea after reading this Surefire Titan Plus Review article.
FAQs
Question: Is the pocket clip reversible?
Answer: No, it is not. However, you can remove it if you want the flashlight to occupy a small storage area. Also, it is not a two-way pocket clip as you can only attach it in one direction.
Question: Why is the Surefire titan ultra-compact flashlight expensive?
Answer: The light is expensive because it comprises the highest quality and materials. When compared to other similar flashlights, this flashlight is 3x durable as you can run a car over it, and it won't crash. Also, the flashlight produces an astonishing 300 maximum lumens, while its competitors only provide a maximum of 150 lumens. So, you can see the difference. Besides, Surefire is an American brand, and they meet all the required standards, unlike some cheap Chinese brands. And finally, their support is one of the best if not the best as you get to speak to a real human and receive repairs or replacement within days after contacting them.
Still, have questions after reading this Surefire Titan Plus review article? Comment below.