Since the Surefire brand came into existence, it has always created quality products and cemented its image in the industry as one of the top tactical flashlight brands. They have different types of light with different uses. In this SureFire Sidekick review post, we will look at the everyday carry surefire sidekick ultra-compact keychain light. This is a keychain type flashlight that provides bright light and can be useful in an emergency like when your car tire gets a puncture or when there is a blackout. The SureFire Sidekick light maximum brightness is 300 lumens, 3 modes, micro-usb charging option, a split ring for attaching keys and a lot more advanced features. If you believe in quality, then this is the best compact keychain light for you.
Technical Features of the SureFire Sidekick Keychain light
Features

SureFire Sidekick

Lumens:
300 lumens
Runtime:

| | | | |
| --- | --- | --- | --- |
| High | 300 | | lumens / 1.25 hours |
| Med | 60 | | lumens / 4 hours |
| Low | 5 | | lumens / 45 hours |

Type of Bulb:
LED
Modes:
3
Micro-USB charging port:
Yes
Batteries:
1 Batteries required
Batteries Included?:
Yes
Weather resistant:
Yes
Bezel Diameter:
0.58 inches
Length:
2.5 inches
Item Weight:
1.2 ounces
Product Dimensions:
0.6 x 0.1 x 2.5 inches
Price:
Check Today's Price
The surefire sidekick light is made up of a weatherproof polymer body. This makes it be sturdy and withstand tough conditions. In addition, it has a split ring for simple attachment of keys or even carabiner clips. The easy pushbutton switch provides all three output levels by just pressing it. The LED provides bright light with a maximum of 300 lumens. Weighing at just 2 grams, the torch is compact and carrying it to any destination isn't a burden at all. Furthermore, when it runs out of power, this shouldn't be a problem as it can be recharged through the micro-usb charging port.

Keychain Surefire Sidekick review(video):
Check Price On Amazon
Flashlights have changed a lot over the years. In the past, lights used incandescent bulbs but that has changed as people now prefer flashlights with LED bulbs. Whether the torch is big or small, the LED bulb makes it shine brighter depending on the maximum lumens it has. Different brands have come up with excellent flashlights that have changed the lives of people. One of the notable light brands on the market is Surefire. In this Surefire Sidekick review article, you will get a clear idea about its features.
Related: Similar maximum brightness – Surefire Titan Plus Review article [Ultra-Compact LED Keychain Light]
The versatility of this surefire sidekick flashlight makes it be ideal for emergency and recreational use. On top of that, the Surefire brand offers a one year no hassle guarantee to buyers of the light. Read on to know more about the Surefire sidekick torch…
Main Features & SureFire Sidekick Review
Keychain light
Polymer body
Click type switch
Micro-usb charging port
300 lumen maxvision beam
High performance LED
Split ring
Weighs 2 grams
Length of 2.5 inches
Bezel diameter of 0.58 inches
Maximum runtime of 45 hours
Beam covers 66 meters
One year no hassle guarantee from Surefire
Related: Similar polymer body – Surefire G2X Pro led Flashlight Review
Why buy the Surefire Sidekick light?
Sturdy construction
A quality flashlight can save a person when in need. That's why having a durable and perfectly built light matter. The surefire sidekick led torch is a well constructed flashlight with excellent features. It is constructed with a polymer body. This body is excellent as it can survive in different weather conditions. This means that the light will work well in both hot and cold environments. Also, if it falls down accidentally, the light won't crash like other poorly made EDC flashlights. So, you can be guaranteed to use the light for a long period of time.
Related: Surefire Guardian Rechargeable Flashlight Review
It is an everyday carry flashlight
Some people don't like carrying things that weigh them down. This includes a bag. So, if you're one of the simple people who like having just a few items with them, then getting this light will be a bonus to you. Hiking, hunting or any other outdoor activity needs one to have a light. The surefire sidekick led light is an everyday carry light that can be used by different people. It is small and won't be a burden to any user. Just attach your keys to it and use it as a key holder.
Easy to use with programmable switch
If you have had problems using an EDC light before, this shouldn't be the case with the surefire sidekick flashlight. This torch comes with an intuitive pushbutton switch that offers all three light output levels. It is simple to use by just pressing the button to illuminate. Press it in sequence to attain the level of brightness that you need.
Weather resistant light
There are many flashlights on the market that don't perform well in all weather conditions. This limits users and can put them in grave danger. The surefire sidekick light is an excellent led light as it can perform exceptionally in all weather conditions. This includes cold, hot or other conditions. The polymer body that the light is made of withstands tough conditions making the flashlight to last longer. Apart from being weather resistant, the sidekick model can be dropped several times without crashing.
Related: If you are looking for a flashlight with dual-output LED with a MaxVision, check this Surefire Tactician Review article
Lights with LED bulb
LED bulbs have revolutionized flashlights. Before LED bulbs were discovered, incandescent bulbs were the order of the day. Today, most of the big and small lights use led bulbs to emit light. Actually, LED bulbs made it possible for firms to create small lights such as this one from Surefire. Unlike incandescent bulbs, LED bulbs are long lasting and offer very bright light. The LED is a semiconductor chip that converts electrical energy into light. On impact, it won't crash or break, like the filament in incandescent bulbs.
Rechargeable light
A good number of EDC flashlights on the market are not rechargeable. This means that you will be forced to carry extra batteries as you head out just in case you need them. But with the Surefire sidekick light, you don't need to worry about that as it can be recharged. The flashlight comes with a micro-usb charging port which you can charge in the car as you travel. At least, you won't have to move up and down looking for spare batteries.
Compact and lightweight design
One of the features that make this LED light to be a favorite among outdoor enthusiasts and rescuers is that it is lightweight and compact in design. The sidekick flashlight from Surefire is compactly designed to fit in any pouch, pocket or in the palm of your hands. Carrying the flashlight to any destination won't be an issue and you won't feel any burden at all. That's why it is used by emergency rescuers and for recreational purposes.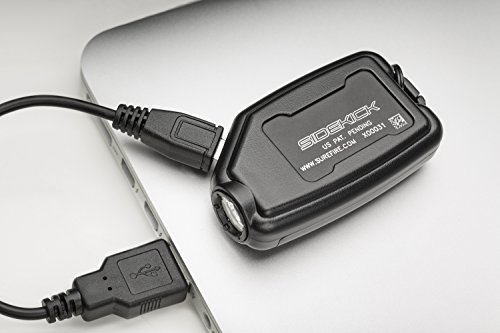 Check Price
Versatile torch
The simplicity of this torch makes it be versatile in use. It has three light modes that enable the user to use it with regard to their needs. The low light runs on 5 lumens for 45 hours, medium-light runs on 60 lumens for 4 hours, and the high light runs on 300 lumens for 1.25 hours. This makes it suitable for different uses.
Reliable brand
Surefire is a highly reliable brand with a lot of experience in the flashlight industry. The brand is known for coming up with quality and durable products. Surefire creates flashlights of different types and sizes. But most of them are tactical due to their sturdy construction.
Conclusion
The surefire sidekick light is a simple but versatile flashlight. It is made of a durable polymer body that can withstand different harsh weather conditions. The light is bright enough for use in different situations and has a runtime of 45 hours. When out of power, the light is rechargeable through the micro-usb charging port. Keeping this light is not a problem as it can be used as a keychain. Instead of wasting your battery power when in need of a quality and powerful torch, acquire this light to illuminate your path in the dark or when in an emergency. On purchase, one receives a one year no hassle guarantee from the manufacturer.