When choosing a flashlight, make sure that it has features that will make it be useful to you and not just for the sake of lighting. Today's flashlight like Maglite ML300L is made with the best materials and can withstand harsh conditions. They have different light modes that are applied in different settings and are as well very powerful. Know the size of the flashlight that you want as there are different types such as EDC, keychain, tactical, survival, and work lights. The Maglite ML300L maximum brightness is 625 lumen, maximum run-time 16 hours, water & resistant proof, 406 meters beam distance and lots more advanced features included. If you need less powerful and small size light, then buy Maglite XL50 flashlight. Read this Maglite ML300L review to know more about this light.
Technical Features of the Maglite ML300L Flashlight
| | |
| --- | --- |
| Features | Maglite ML300L |
| Lumens: | 625 lm |
| Material: | Aluminum |
| Run Time: | 16 hours |
| Light Source Type: | LED |
| Weatherproof: | Yes. IPX4 |
| Drop Resistant / Water Resistant: | Yes – 1m / Yes – IPX4 |
| Batteries: | 3 Alkaline D-Cell required |
| Batteries Included?: | No |
| Battery Cell Type: | Lithium Ion |
| Length / Weight with Batteries: | 11.75 in. (298.45 mm) / 26.4 oz. (748.43 g) |
| Power Management / Rechargeable: | Yes / No |
| Beam Distance / Peak Beam Intensity: | 406 m. / 41200 cd. |
| Standard Colors: | Black, Red, Silver, Gray, Blue, UCP Camo |
| Weather-Resistant Seals: | Yes |
| Warranty: | Limited Lifetime |
| Weight: | 11.7 ounces |
| Product Dimensions: | 11.75 x 2.25 x 2.25 in |
| Price: | Check Today's Price |
Wherever I go, I always have a flashlight with me. Flashlights are very important but they are usually overlooked. The only time people realize that they need a flashlight is when they are out there in the dark or when there is a blackout. This shouldn't be the case as a flashlight can be used for lighting and as a defensive weapon, too.
Flashlight Maglite ML300L Review (Video):
In this review, we want to expound on the Maglite ml300l led flashlight. The Maglite ml300l flashlight is an everyday carry light with great features. First of all, the flashlight is built from strong anodized aluminum and comes with weather resistant seals for durability. Also, it has a diamond knurled design that makes handling of the flashlight to be easy. With a maximum of 625 lumens, expect this flashlight to offer you with very bright light. It covers up to a distance of 406 meters.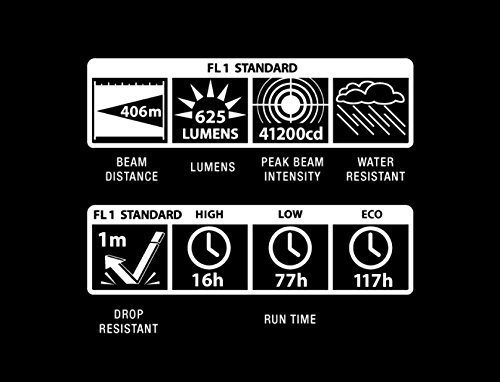 Check Price
The Maglite ml300l is powered by 3 alkaline D-cells and has several lighting modes. The advanced focus feature enables the user to instantly adjust from spot to flood light with less than ¼ turn of the head of the flashlight. The flashlight can as well run for 117 hours on eco mode and has a waterproof rating of IPX4. When not in use, you can safely and easily keep this flashlight by placing it in the pocket or backpack.
Features & details Maglite ML300L review
Anodized aluminum body
Weather resistant seals
Multi-mode electronic switch
Diamond knurl design
Advanced focus system
Maximum lumens of 625
Beam distance of 406 meters
Impact resistant up to one meter
IPX4 waterproof rating
LED bulb
5 light modes
Powered by 3 alkaline D-Cell batteries
Maximum run time of 117 hours
Peak beam intensity of 41200cd
National Tactical Officers Association (NATO)
Limited lifetime warranty
Benefits of Maglite ML300L LED flashlight
Sturdy construction
The Maglite ml300l is sturdily built from anodized aluminum metal. This material is resistant to scratch and corrosion. Also, it has weather resistant seals that make the flashlight to be more durable and prevent things like dirt, dust, and water from entering inside the flashlight. The torch has a diamond knurled design that makes handling to be easy as it acts as a grip. With such features, expect this flashlight to serve you for a very long period of time.

Check Price
Weather resistant
A great flashlight should be able to function in different weather conditions. The low-end models are not able to function in rain or adverse weather conditions. This is not the case with the Maglite ml300l as it can withstand all the harsh conditions. It has a waterproof rating of IPX4 which means that it can stay in water for a certain duration without spoiling. Also, it can resist impact up to one meter. This means that if dropped accidentally from one meter or less off the ground, it will not crush but still work well.
Offers different lighting modes
It is hard to find a small flashlight like Maglite ml300l LED light with different lighting modes. Most of the small flashlights such as keychain and EDC lights usually have high, low, and medium modes. But the Maglite ml300l flashlight has full power, low power, eco, strobe, and momentary-on modes. These provide the user with a variety to select from. To light the flashlight for a very long period of time, the eco mode is the best. It is slightly dim but doesn't use a lot of battery power when compared to full power and strobe mode. Strobe mode can be used as a defensive weapon as it has a blinding effect when lit on the eyes of a person.
Versatile flashlight
The flashlight is built for use by different people such as law enforcers, tactical use, outdoor and general use. This is because of its sturdy construction and different light modes that can be used in different scenarios. It is good for tactical use because it can defy hardships while it's great for home use as it can be used as a normal flashlight at home. For outdoor use, it has strobe mode for protection against enemies and an eco mode to serve the user for several days such as when camping.
It provides bright light
It is amazing that such a small can emit very bright light. The Maglite ml300l LED flashlight uses an LED bulb. This is a reliable and long-lasting bulb when compared to other types. It has a maximum lumen of 625 which provides bright light. Also, it is able to cover more than 406 meters which is just marvelous for such a small flashlight. In addition, it has a maximum beam intensity of 41200 cd. Set the different light modes as per your tasks. The low power mode runs for 77hrs, eco mode runs for 117 hours, and high power mode runs for 16 hours.
Portable flashlight
The black ml300l flashlight is very portable as it measures 2.25 by 11.75 by 2.25 inches. The light as well weighs 0.73lbs. Hence, it is not only small but weighs very little. This implies that you can carry it without any problem and you won't even notice its weight. Slip it in your pockets or backpack when not in use or after use.
Convenient flashlight – this flashlight is very convenient to have and for everyday use. It is small in size, can be stored easily and offers very bright light. The diamond knurled design makes the handling of the LED flashlight to be simple and fits in the palm of your hands well.
Easy to use
Switch on/off the flashlight easily by clicking on the multi-mode electric switch and cycle through the different light modes available. Start with momentary on, then to full power, low power, eco and lastly strobe mode. The quick focus system can be easily adjusted from spot to flood light with just less a quarter turn of the head.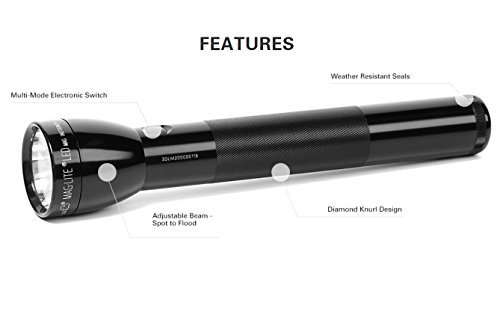 Check Price
Limited lifetime warranty from the manufacturer
After purchasing this flashlight, the manufacturer offers a lifetime limited warranty for clients in the Western Hemisphere and a 10-year limited warranty from other parts of the world.
Summary
This is a quality flashlight with exceptional features. It is small in size thus easy to handle and keep. The Maglite ML300L is made from durable aluminum alloy material which is scratch and corrosion resistant. It uses an LED bulb that has a long life and provides a very bright white light. The advanced focus system has made this light to be very easy to use as it can be adjusted instantly from spot to flood light. In addition, it has several light modes for different uses. With a maximum run time of 117 hours, this is a wonderful flashlight to have for outdoor activities or in your car to change a punctured tire. I hope, you have gotten a clear idea after reading this Maglite ML300L review.
Related Articles You Might Also Like: