As a hunter, I've owned and used loads of flashlights in the past. Some tactical torches have disappointed me, while others have lived up to their hype. As a result, it is crucial to know several things about the light you're picking. Always go for the best flashlight as it may end up saving you. Read this Surefire Tactician Review to know more about this.
Related: Similar output levels – Surefire 6Px Pro Reviews
The Surefire tactician 800 Lumen flashlight is one of the best tactical flashlights that I've used. The torch is super rugged and provides a flawless light beam. Furthermore, it gives you two light outputs so that you can pick the right light mode for the job. Additionally, it features a robust pocket clip for attaching the flashlight to your pocket.
Technical Specifications of the Surefire Tactician Dual-Output Maxvision Beam:
| | |
| --- | --- |
| Features | Surefire Tactician |
| Lumens: | 800 lumens high for maximum light, 5 lumens low |
| Runtime: | 94 hours Low, 1.5 hours High |
| Weatherproof: | Yes |
| Weight: | 3.5 ounces |
| Battery: | (2) CR123A |
| Price: | Check Today's Price |
If you intend to use the flashlight in extreme conditions, then you will love to know that it can put up with anything that you throw at it. However, the switch is not that desirable as it is twisty and not clicky. The flashlight is also ergonomically designed for simple handling.

Read our review to find out more about this excellent tactical flashlight from Surefire.
Surefire Tactician Review 2023
Durable construction
Whether you want a tactical or everyday carry torch, you need to consider its durability. A rugged flashlight will remain stable in all harsh conditions. Surefire pays attention to the strength of its flashlights, and that's why they make rugged units. The Surefire tactician high-output LED flashlight features a high-strength aerospace aluminum body with Mil-Spec hard-anodized finish to resist abrasion and corrosion.
Moreover, the flashlight has a robust strike bezel and pocket clip. The bezel is excellent for defense, while the pocket clip is for ease of storage.
Related: More advanced features – Surefire UDR Dominator Ultra High Variable Output LED Review
Virtually indestructible LED
Similar to other Surefire flashlights, the Surefire tactician comes with a sturdy LED bulb. The bulb is a dual-output LED with a MaxVision, beam and it delivers a full useful wall of light that shines the area around you. However, the light beam is not all merry, as some people find it inadequate. The light beam is concentrated in the center and less concentrated outside. So, if you want to cover a broader area, this is not the best flashlight for you. But if you're going to focus on a place or object, then you will love this flashlight.
Two output light modes
What's more, the unit comes with two light modes, which are high output level with 800 lumens and a low output level with 5 lumens. The high output mode runs for a maximum of 1.5 hours, while the low output mode runs for a maximum of 94 hours. If you want to access the light modes, you will have to hand-tighten the front bezel for high output or loosen it by a quarter-turn for low-output.
Built-in heat and fault protection
Unlike other Surefire flashlights in this category, the Surefire tactician comes with an integrated heat and fault protection. This feature prevents the flashlight from overheating; thus, prolonging the life of the torch.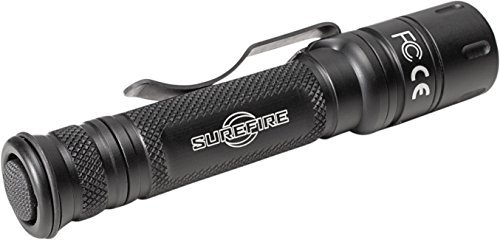 Check Today's Price
Ergonomic design for ease of use
Not all flashlights give the user the same feel. If this is your first time using a flashlight, then you may not know the difference. However, some flashlights are fun and easy to handle than others because of their design. The Surefire tactician light is not only well-designed, but it is also fun to handle. This is because it has a knurled design that offers the user a firm grip. As a result, you can control the flashlight without worrying that it will slip when you're in tricky situations.
Related: Surefire Titan Plus LED Keychain Flashlights
Impact and water-resistant
Whether you're buying a simple EDC flashlight or a costly tactical flashlight, you need to select a torch that you can rely on in all conditions. That's what you get when you purchase this flashlight. It comes with an O-ring and gasket sealing that secures it from dust particles and water. So, your torch will function well for long as it won't be affected by accidental dropping or rainfall.
The only main challenge that users face is that they don't know up to what level their flashlight will put up with such conditions.
Versatile light
Do you intend to use it as your everyday carry LED flashlight or as a weapon light to offer you protection while in combat? No matter the purpose that you intend to use this flashlight for, you will not be disappointed at all. This is because it is built to withstand anything and work in extreme conditions.
As a flashlight, you can use the brightest mode of 800 lumens to lighten your path or darkroom. On the other hand, it has a strike bezel that is suited for breaking the glass and hitting an attacker.
Compact and lightweight
Aside from these fantastic features, the Surefire tactician is also compact and lightweight for easy carry and storage. You can quickly slip it in your pocket, pack, purse, or pouch, and it won't take a lot of space. Therefore, if you're planning to add a flashlight to your survival kit, then this is an ideal flashlight.
Robust pocket clip
The pocket clip ensures that you're able to keep the flashlight secure when you're not using it. However, it is not a two-way pocket clip that allows you to attach it to your belt from down or up quickly. This may pose a challenge to some users who want a convenient pocket clip.
Related: If you are looking for a flashlight with most unique features, read this Surefire DBR Guardian flashlight article
Warranty
Surefire believes in its products, and that's why they offer a warranty. So, if your Surefire tactician comes with a defect in material or workmanship, then you can ask for a repair or replacement.
Summary: Why buy this Surefire Tactician High-Output LED Flashlight
Compact and lightweight design
Durable construction
An excellent, bright beam
Firm grip for better handling
Versatile flashlight
Abrasion and corrosion-resistant
Pocket clip for secure storage
Cons of the Surefire Tactician
It is quite challenging to use the light as it has a twisty switch that you have to rotate instead of pressing.
The pocket clip makes storage somehow challenging as it takes on more space inside the pocket or pack.
Conclusion
The Surefire tactician flashlight is a perfect EDC and weapon light. It is solidly built to last long and has all the features that you can desire in a tactical light. Moreover, the flashlight is compact and lightweight for easy carry. With a maximum output of 800 lumens, this flashlight is extremely bright and offers the user two output levels. Besides, you can conveniently use it alongside your gun as it features a twistable switch that you won't have to activate accidentally during operations.
Overall, this is a perfect light for all of your outdoor lighting needs. What's more, it is backed up by a lifetime warranty from Surefire. I hope, you have got a clear idea after reading this Surefire Tactician Review article.
FAQ
Question: Is Surefire a USA brand?
Answer: Yes, it is. The company is located in Fountain Valley, California. This means that it meets all the required standards and certifications. So, you get a flashlight that you can depend on at all times.
Question: Can I use 18650 rechargeable batteries in this light?
Answer: No, you can't. The flashlight is only compatible with CR123 batteries. But you can also use a 16650 battery to power on the unit. The 18650 rechargeable battery is slightly big and won't fit.
Question: Is the switch clicky or not?
Answer: No, it isn't. The Surefire tactician is built with a twisty switch, instead of a clicky switch so that the user can have an easy time turning it on/off.
Still, have questions after reading this Surefire Tactician Review article? Comment below.