I have been a Fenix flashlight lover for many years, but never have I come across such a powerful and convenient LED flashlight as the Fenix TK20R light. My first Fenix flashlight was the Fenix E12, which I owned while I was in college, then, later I acquired the Fenix PD35 which I have used for the past 3 years and loved every bit of it. But after I stumbled on the TK72R LED flashlight, I was amazed and had to buy it right away. Read this Fenix TK72R Review to know more about this rechargeable flashlight.
Related: Fenix TK75 Review [5100 Lumen LED Flashlight]
For the few months that I've owned this Fenix TK72R, it has definitely lived up to its expectations and that's why I decided to write this review and share my experience with you. The Fenix TK72R 9000 Lumen light is sturdily made for longevity.
Technical Specifications of the Fenix TK72R Flashlight:
Features

Fenix TK72R

Lumens:
9000 lm
Type of Bulb:
LED
Waterproof:
IP68-rated protection (Submersible to 6.56 ft./2 meters for 30 minutes)
Low-voltage warning function:
Yes
Can operate as a power bank:
Yes
Maximum Beam Intensity:
24,000cd
Stepped light regulation:
2-way selection
Batteries:
1 Lithium ion batteries required. (included)
Micro USB Rechargeable:
Yes
Output modes plus strobe:
Highest 9000 lumens (938 feet/286 meters – ANSI standard = 50 minutes)
Lowest 100 lumens (50 hrs.)
Strobe 4000 lumens
Warranty:
5-year
Price:
Check Today's Price
Just like many other Fenix lights, it is made out of high-strength and oxidation-resistant aluminum. It is also both water and impact-resistant thus you can depend on it in a tricky and tough outdoor environment. The flashlight is also very convenient to use as it has a USB charging port and an OLED digital screen display that shows the level of the battery, the number of lumens being used, and runtime. You will definitely find more interesting facts in this Fenix TK72R Reviews 2023.

What I love most about this LED flashlight is that it offers extreme brightness and illuminates your path extremely well. So, you no longer have to be afraid of the dark as the flashlight covers a wider and longer area. This is a nice flashlight for law enforcers, the military, hunters, hikers, security personnel, and for everyday use.
Fenix TK72R Review 2023
Construction
The Fenix TK72R 9000 is a tactical flashlight suitably made to defy tough outdoor conditions. Constructed from durable high-strength and oxidation-resistant aluminum, this is a device that will put up with daily wear and tear. It also features a premium type HA3 hard-anodized anti-abrasive finish that prevents the body from corroding or rusting. The toughened ultra-clear glass lens is also made hard and can withstand an accidental fall.
I have dropped this flashlight several times but it hasn't torn apart or got disfigured on those occasions. So, you can trust that it will be there for you when you dearly need it.
Extremely powerful flashlight
If power is what you're looking for, then look nowhere else as the TK72R will meet all of your lighting needs. Featuring 3x CREE XHP70 LEDs, the flashlight can produce up to 9000 Lumens, which are blinding and cover a distance of 286 meters and more. When walking in a totally dark area, you can cast your fear away when you have this flashlight as it will illuminate whatever object is in its path. I know that this is one of the best features you are looking for in the Fenix TK72R flashlight.
Versatile LED light
Besides providing you with an extremely bright light, you can adjust the brightness level as it 3 light modes. These are low, high, and strobe modes. The lowest mode utilizes 100 lumens and can light for 50 hours, the strobe mode utilizes 4000 lumens, and the high mode utilizes 9000 lumens for 50 minutes. Note that leaving the light mode in the high mode will make it hot very fast and it will also drain the battery. So, adjust the brightness level as required to avoid draining the battery or heating the flashlight.
Convenient
Similar to most advanced LED flashlights, the Fenix TK72R comes with a Micro-USB charging port for recharging your flashlight. At the same time, you can use the USB port to discharge the unit by using it as a power bank. The flashlight runs on a 7000 mAh battery pack that is included in the purchase. The Fenix TK72R battery level indicator is on the OLED digital display which shows you what battery percentage is remaining and how long it will run.
All-weather flashlight
Since this flashlight is rated as IP68, expect it work even when submerged in water up to 2 meters for 30 minutes. The USB charging port is also protected and both waterproof and dustproof. Apart from that, this flashlight can resist an impact up to 1 meter from the ground.
Easy to use
Unlike other high-quality and powerful flashlights, the Fenix TK72 USB rechargeable flashlight is very easy to use. It features an on/off button, lock function button, and the plus/minus button for changing the light mode. If you want to change the light mode, all you need to do is to double press plus/minus button to change the lumens in 100s or long-press to change the lumens in 1000s.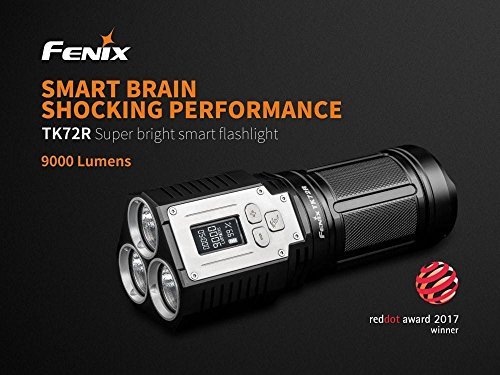 Check Today's Price
The intelligent digital display shows how many lumens are in use, battery percentage, and how long you should expect the flashlight to operate at the current lumens.
Additional features
Other exceptional features worth mentioning include intelligent overheat protection, digitally regulated output that maintains constant brightness, and instant turbo functions. All of these features that are gathered in the Fenix TK72R make this flashlight fun to use.
What we liked about Fenix TK72R Rechargeable LED Flashlight
Digital display for easy interpretation of functions
Low-voltage battery indicator
Extremely bright flashlight
Covers a distance of more than 286 meters
Great emergency and rescue flashlight
Maximum run time of 50 hours on low mode
Micro-USB recharge port for convenient recharging
Power bank for recharging your phone
Lockout function to prevent accidental lighting
Durable construction for longevity
Waterproof with IP68 rating and impact resistant
Easy to use with the on/off and the plus/minus light buttons
Intelligent overheat protection
Digitally regulated output maintains constant brightness
Warranty card
What we didn't like FENIX TK72R 9000 Lumen
The flashlight takes a long to fully recharge
It is quite expensive
The flashlight gets hot very quickly on the brightest mode and it drops in lumens as well from 9000 to 2500 lumens.
Conclusion
The Fenix TK72R LED flashlight is one of the most powerful flashlights that you will ever across. Producing 9000 lumens using 3x CREE XHP70 LED bulbs, this flashlight can blind your enemy on the spot and cover a distance of over 286 meters. Not only does this flashlight provide a long beam, but it is also wide thus making it convenient for work, search and rescue, combat, hunting, and even for everyday use.
All the same, it is good to note that this flashlight is quite heavy, drains the battery quickly, becomes hot when used for over a prolonged period on high mode, and it is quite expensive. Besides this, the TK72R 9000 Lumens flashlight is reliable and convenient as you can even utilize it to recharge your phone. I hope that this Fenix TK72R Review helps you a lot.
FAQ
Question: Can I use this flashlight when it is recharging?
Answer: Yes, you can. The Fenix TK72R can be turned when you're recharging but you will only be able to use up to 100 lumens and not the maximum 9000 lumens. This is one of the most powerful and convenient flashlights that you will ever come across.
Question: Can this flashlight cause permanent eye damage?
Answer: This is the most powerful Fenix LED flashlight that you will ever come across. And for that reason, the manufacturer has warned users and stated clearly that it should not be used by children or if so, they should be under supervision. Additionally, this flashlight should not be shown in a person's eyes as it might cause damage to the eyes. The manufacturer also warns that the flashlight is very powerful and can cause a fire when holding the beam to flammable materials like cardboard, paper, fabric, etc. It also can burn exposed skin up to 1 meter.
Still, have a question after reading this Fenix TK72R Review? Comment below.