With so many flashlight brands on the market, choosing the best can be somehow tricky. But If you are looking for the best tactical flashlight, then you should select a Fenix flashlight. The Fenix PD35 Tac is one of the best-selling tactical flashlights on the market. PD35 maximum brightness is 1000 lumens, 5 modes, impact & water-resistant, built with hard-anodized aluminum, and perfect for self-defense or tactical use. In this Fenix pd35 review, we are going to discuss the 1000 lumen Fenix pd35 tactical edition flashlight.
Related: Fenix UC35 Reviews: Rechargeable 960 Lumen Cree LED Flashlight
Update: The Fenix PD35 V2.0 has just released this year. I have compared Fenix PD35 tac VS PD35 V2.0.
Technical Specifications of the Fenix PD35 tactical flashlight



Features

Fenix PD35 Tac

Fenix PD35 v2.0

Maximum Brightness:
1000 lumens
1000 lumens
Minimum Brightness:
8 Lumens
3 Lumens
Maximum Run-time:
140 hours (8 lumens)
430 hour (3 lumens)
Minimum Run-time:
1 hour & 10 minutes (1000 lumens)
2hour 50min. (1000 lumens)
Modes:
5 (8,60,200,500,1000 lm)
5(3,50,150,350,1000 lm)
LED:
Cree XP-L (V5)
CREE XP-L HI V3
Waterproof standard:
IPX-8 (2 meters for 30 minutes)
IP68, submersible 2m
Impact Resistance: 1m
Beam Distance:
200 Meters
250 Meters
Length:
137 mm
139mm
Weight:
89 grams
88 grams
Battery Include:
Yes(Two CR123A Lithium)
Yes(Two CR123A Lithium)
Price:
Check Price
Check Price
Fenix is among the most reliable flashlight brand on the market. The Fenix pd35 is also one of the brightest 1000 lumen military flashlights and many people love it. This quality made torch has excellent features that make it ideal for outdoor use.

Related:
Fenix PD25 Review: V5 LED Tactical EDC Flashlight
Fenix PD35 Tac Review(Video):
Whether you are a hunter, policeman or hiker, having a quality tactical flashlight is very important. Most of the outdoor activities involve a lot of dangers and being prepared in advance is important for outdoor enthusiasts. Policemen can use a military-grade flashlight to disorient thugs or robbers, while hunters can use the strong bezel that tactical lights come with to hit the target for easy hunting down.
Related: Fenix PD32 Review[Compact 315 Lumen LED Flashlight]
The Fenix pd35 torch has 1000 lumens which makes it be very bright. It uses a CREE XP-L LED which is very powerful and shock resistant at the same time. The LED bulb has a maximum lifespan of 50, 000 hours which is excellent for such a small light. In addition, the tactical flashlight uses 18650 rechargeable Li-ion batteries which have a longer run time. The tail switch is of a tactical nature with a momentary-on function. The nice handle grip ensures that the user has ample time to use the torch. It also has a clip that can be used to hang the flashlight while not in use on the belt, waist, or pocket for ready use. It has both outdoor modes and tactical modes. These include turbo, low, medium, high, eco and strobe mode. These modes can be used according to save on battery power or when attacked in the case of strobe mode.
Tactical Flashlight Fenix PD35 Review
Construction
when selecting a tactical flashlight, it is imp
ortant to choose one that I durably made. Some of the common materials used to create flashlights include plastic, composite, aluminum, and steel. Normally, anodized aluminum is commonly utilized, followed by steel though it is somehow heavier. Pick a torch that meets your needs. The Fenix pd35 is constructed with hard-anodized aluminum.
Number of lumens
the more the lumens a flashlight ha the more powerful the flashlight will be. Pick a flashlight with at least 500 lumens or more for tactical use. One of the brightest and most reliable flashlights on the market is the Fenix pd35. It has 1000 lumens which make it be the brightest.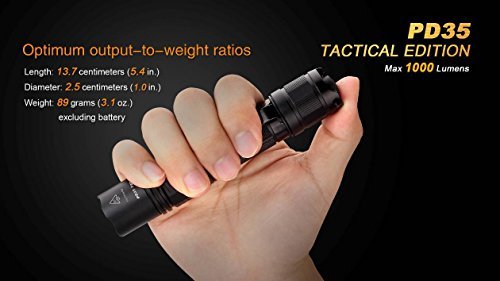 Check Today's Price
Type of bulb
select a torch with an LED bulb. These are more durable and run for long hours. Most of them have a lifespan of at least 50, 000 hours. The Fenix PD35 has a CREE XP-L LED bulb with a filament that is impact resistant. Unlike other bulbs, this is very bright and powerful.
Type of battery
batteries a flashlight uses determine how long it can run. Rechargeable flashlight batteries work for longer hours than disposable batteries. Rechargeable batteries are eco-friendly and need to be just charged to continue functioning. While disposable batteries are only used once and they can be easily found almost everywhere and great for travelers. Tactical flashlights with rechargeable batteries are costly than those with disposable batteries.
Portability
the portability of a flashlight depends on various factors such as the material used to build it and its size. Military-grade flashlights are normally made of aluminum or steel material. Aluminum flashlights are very portable while those made with steel material are somehow heavy. The flashlight that you pick should be durably made and fit well in your pockets. The Fenix pd35 is of a pocket-size and very portable.
Purpose of the flashlight
when choosing a flashlight, you should know if it meets your purpose or not. A tactical flashlight is great for outdoor activities. It should be well built to match the harsh conditions. Also, it should be impact and water-resistant for durability. In case you want to use a light for illuminating your path, you should choose a military torch with a high number of lumens for greater brightness. The Fenix pd35 is well suited for such tasks.
Main Features of the Fenix pd35 tac flashlight
Hard anodized aluminum construction
6 different modes
1000 lumen
18650 Li-ion battery or two 3v CR123A lithium batteries
CREE XP-L LED bulb with 50, 000 hours lifespan
Tactical tail switch
Clip
Charger
Weight of 49g
68mm height and diameter of 18.5mm
Handle grip
Summary: Why buy Fenix PD35 flashlight?
The Fenix pd35 torch is tactically built for use outdoors such as hunting, hiking, camping, security services, and military purpose.
It comes with a very powerful and bright LED bulb that can function for 5 years
It has rechargeable batteries which not only run for longer hours but as well can be recharged via the use of a USB port.
This flashlight has a nice handle grip that enables the user of the military-grade flashlight to have an easy time using the device.
It is sturdily built to withstand harsh outdoor conditions like rocks, bad weather, and impact resistance.
It is pocket size and easy to hold in your hands.
The clip that it comes with makes keeping the flashlight when not in use to be very easy.
This light has 5 different operational modes that help prolong the run time and offer various uses.
It has a simple to use switch that is durably made.
It is very portable making it ideal to move around with it and use it whenever you feel like it.
Cons of the PD35
Since its small in size, it can be used for very long hours as the batteries will need to be recharged when they run out.
Some users have complained about its tail switch not being durable
User Impression about PD35 flashlight
Most of the reviews about the Fenix pd535 are positive. For instance, Online, it has a good reputation. This is wonderful considering that it has lots of reviews from different buyers. I suggest my two neighbors buy Fenix pd35 flashlight. After a couple of months, I asked about the Fenix pd35 and those statements are as follows:
One of the brightest flashlight I have ever had. I had a Streamlight flashlight. I will say, Fenix features a little bit ahead than Streamlight. The only problem that I faced, In turbo mode, the beam of light does not step down to the high level after a few minutes. Because this flashlight has the heat protection that is built-in. I don't like that but worth it considering the quality.
I have used lots of junk flashlight and after Kevin's suggestion, I ordered this light 3 months ago. This is one of the nicest flashlights I've ever had. This month I will order two more Fenix pd35. One will use my son's other for me. Just a few days ago, I broke the lens out of my first one and thus I need to buy another. I am thinking to send this flashlight as a Christmas gift to my relatives.
Fenix pd35 vs pd35 tac
The Fenix pd35 tac and Fenix pd35 do not have any difference. Both light functionalities is identical. The Fenix pd35 flashlight includes Fenix ARE-C1+ Battery charger, 2X EdisonBright CR123A Lithium batteries, and Fenix ARB-L18-2600 rechargeable battery. But, the Fenix pd35 tac includes only 2X CR123A lithium batteries. Thus, the pd35 price is higher than the pd35 tac.
Conclusion
The Fenix pd35 tactical flashlight is a quality light with exceptional features. I personally love and recommend Fenix flashlight. Thus, I have written this Fenix pd35 review. It is built for outdoor enthusiasts and is considered by many previous users as the brightest with 1000 lumens. It is made of quality hard-anodized aluminum which makes it to be durable and to withstand the harsh conditions of the outdoor surroundings. This Fenix pd35 military flashlight is suitable for hunters, hikers, military, police, and other outdoor enthusiasts. I hope this Fenix pd35 review article has given a clear idea about this flashlight.