If you are looking for a quality LED tactical flashlight, then you should consider Fenix UC35 V2.0 flashlight. Acquiring such a quality, sturdy, and powerful LED flashlight will ensure that you have light whenever you need it without inconveniencing you. The UC35 V2 1000 lumens flashlight is compact and can easily be kept in your pocket or your backpack. Read this Fenix UC35 V2.0 Review to know more about this rechargeable flashlight.
Related: Similar maximum brightness – Fenix UC30 Review: USB Rechargeable LED Flashlight
Having a reliable flashlight is important for any outdoor enthusiast. It doesn't matter if you intend to use it for hiking, walking your dog in the evening, lighting your path after catching up a movie or camping. Even for the simplest tasks like lighting up your home when there is a blackout, the small flashlight from your phone is not reliable as it drains the phone's battery quickly and causes it to overheat. Don't worry because this Fenix flashlight brand has it for you.
Technical Specifications of the Fenix UC35 V2.0 LED Rechargeable Flashlight
| | |
| --- | --- |
| Features | Fenix uc35 v2.0 |
| Maximum Brightness: | 1000 lumens |
| Minimum Brightness: | 1 Lumen |
| Maximum Run-time: | 1 lumen / 800 hr |
| Minimum Run-time: | 1000 lumens / 2 hr 15 min |
| Beam Distance: | 266 Meters |
| Modes: | 6 |
| Battery include: |  One rechargeable 18650 Li-ion battery (included) or two CR123A batteries |
| LED: | Cree XP-L HI V3 |
| Body: | high-strength and oxidation-resistance aluminum |
| Waterproof standard: | IP6-8 (Underwater 2 meters) |
| Length: | 5.5" (140mm) |
| Weight: | 3.1 oz. (89g) |
N/B: This is an upgrade of the Fenix UC35 2014 flashlight model. Some of the improvements include 1000 lumens from 960 lumens, 266-meter coverage from 200-meter coverage, 800 hours run time from 150 hours run time and advanced from CREE XM-L2 U2 to CREE XP-L HI V3 LED bulb. Also, the Fenix UC35 V2.0 is 10 mm shorter than the UC35 2014 flashlight model.

Check Today's Price
On top of that, this flashlight has an excellent run time of 800 hours on the 18650 rechargeable Li-ion battery. Besides, you also have 5 light modes and a strobe mode to pick from. These and many other features that we're going to discuss below make this flashlight to be exceptional and very reliable in the hour of need.
Fenix UC35 V2.0 Review 2023
So, if you're looking for a quality Fenix flashlight at an amazing price, then you will love the Fenix UC35 1000 Lumens flashlight. Read this detailed reviews of the Fenix UC35 v2 flashlight before making up your final decision.
Construction
Construction-wise, the Fenix brand is above many other flashlights as they make durable and water-resistant LED lights. The Fenix UC35 V2.0 LED flashlight is no exception as it is sturdily made out of high-strength aluminum metal. On top of that, the flashlight has a premium type HAIII hard-anodized ant-abrasive finish that keeps water at bay and from corroding the flashlight. The toughened ultra-clear glass lens with anti-reflective coating also plays a major role in the durability of this flashlight as it is strong and resistant to impact.
Outstanding brightness
The Fenix UC35 V2.0 LED flashlight may be small in size but it is more powerful than the previous Fenix UC35 model, which is quite bigger. Producing Maximum Lumens of 1000, this latest 2018 UC35 flashlight delivers 40 more Lumens when compared to the former model which produces a maximum of 960 Lumens.
Not only is this flashlight bright, but it also comes with advanced CREE XP-L HI V3 LED with a lifespan of 50, 000 hours. Also, this bulb is indestructible and can withstand all the toughness of outdoor surroundings for a very long time.
Related: If you need a brighter Fenix flashlight, check the Fenix TK72R Flashlight review article
Versatile
With the option of choosing one of the 5 light modes and strobe mode, this is a very versatile flashlight that can be utilized in so many ways. For instance, you can use the low mode to light up a camping tent, use the moonlight mode to read a map, the turbo mode to see what is lurking in the dark, and the strobe mode to disorient an assailant or for signaling.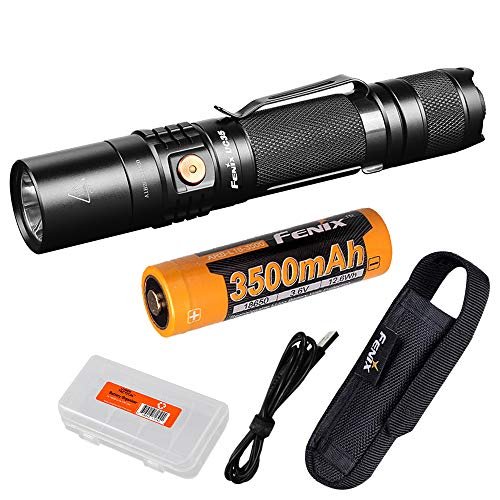 Check Today's Price
The light modes features on this LED flashlight include moonlight mode, low mode, medium mode, high mode, turbo mode, and strobe mode. Both the strobe mode and turbo mode use 1000 Lumens, while the moonlight mode uses the least number of lumens at 1 Lumen but with an excellent run time of 800 hours. You can enjoy this great feature just follow the Fenix UC35 V2.0 manual.
Convenient
This Fenix UC35 V2.0 rechargeable flashlight is powered by one 18650 rechargeable Li-ion battery or 2x CR123A batteries. 1x rechargeable 3500 mAh battery is included in the purchase, so you don't have to buy it separately. Furthermore, the flashlight has a built-in USB charging port for easy recharging of the battery if it runs out. Apart from that, it also has a battery level indicator below the side switch to warn you when the battery is low. On a full charge, the flashlight will run for 800 hours in the moonlight mode and for 2 hours 15 minutes in turbo mode.
All-weather
Unlike some tactical flashlights which cannot be relied on when the weather becomes bad, the Fenix UC35 V2.0 flashlight will perform in all types of conditions. It doesn't matter if it's dusty or raining, this flashlight is designed to withstand such conditions. It has an IP68 rating which prevents both dust and water from entering the unit. If that's not enough, this device is also impact-resistant up to 1 meter.
Related: If you are looking for a Multi-Purpose led Headlamp, read this Fenix HM50R Review
Easy to use
The Fenix UC35 V2.0 tactical flashlight is compactly designed for easy usage. It is smaller than the previous UC35 model but very comfortable in the palm of your hand. It also features a firm grip for holding the flashlight perfectly in all conditions. Switching on/off the flashlight is also very easy as you can simply turn it on by clicking on the tail cap switch and change the light modes via the metal side switch.
Additional features
This unit comes with additional features such as reverse polarity protection for preventing bad battery placement, overheating protection to prevent the flashlight from overheating, and digitally regulated output to maintain constant brightness throughout use.
What we liked about the Fenix UC35 V2.0 Rechargeable Flashlight
Anti-roll and anti-slip body design
Robust high-strength and oxidation-resistance aluminum
Easy to use with both the tactical tail cap and side switch
Micro-USB rechargeable light for convenient use
Low-voltage battery indicator
Compact and sleek design
Pocket-size flashlight for easy storage and carry
Indestructible CREE XP-L HI V3 LED bulb
5 light modes and strobe mode for a wide range of uses
Water-resistant

Impact-resistant up to 1 meter

Very bright light with a maximum of 1000 lumens
What we didn't like FENIX UC35 V2.0 2018 upgrade USB Rechargeable 1000 Lumen
Many users have complained that the side switch button is not sturdily made as it is somehow loose. Some have even complained that it popped off after a short while of usage.
Conclusion
If you want a flashlight that you can use in all environments and situations, the Fenix UC35 V2.0 LED light will be a good choice. As you have read above, this flashlight has all the features and functions that you can desire in top-quality LED light. From durable construction to extremely bright light, and impact and water resistance, this is the ultimate outdoors light.
The pocket-sized flashlight is very easy to store due to its compact size. So, you can carry it whenever you go to and use it when the need arises. With a warranty card included, this is a very dependable flashlight from a top flashlight brand. I hope that this Fenix UC35 V2.0 Review helps you a lot to take the right decision.
FAQ
Question: Is it possible to attach the flashlight to my shotgun?
Answer: This flashlight can be mounted on a firearm but not on a shotgun. This is because it is extremely big for a pistol but can be attached to a rifle.
Question: Does this flashlight function when it is being charged?
Answer: No, it doesn't. The flashlight has to be turned off when being charged. If you turn it on, it won't charge as you will have to unplug it first.
Still, have a question after reading this Fenix UC35 V2.0 Review? Comment below.