Pocket flashlights are miniature lighting gadgets. They are specifically made to be lighter than ordinary flashlights. Their sizes can be compared to the size of a pen, making them very easy to carry. How to find the best pocket flashlight?
Our Recommended Top 3 Pocket Flashlight 2023 list
Images
Pocket Flashlight
Why should you buy this?
Our Top Pick
Check Price
Olight S1R EDC(Every Day Carry) Flashlight
Read Review
13% thinner high-performance USB charge offers better run time


Max Lumens: 1000


Modes & Weight: 5 & 1.76 ounces


Medium price
LED Pen Light
Check Price
Streamlight 66118 Stylus Pro LED Pocket Light
Read Review
Durable air-grade aluminum body with IPX-4 waterproof rating


Max Lumens: 90


Modes & Weight: 3 & 1.64 ounces


Low price
Rechargeable pocket Flashlight
Check Price
Fenix PD25 LED Tactical EDC Flashlight
Read Review
Ultra compact EDC light comes with rechargeable 16340 battery


Max Lumens: 550


Modes & Weight: 34& 1.65 ounces


Medium price
Top 5 Best Pocket Flashlight Reviews
Apart from looking at the features, it is important to compare the specifications of different pocket flashlights in order to make good choices before purchasing.
Brite strike flashlight review – EPLI Precision Lighting Instrument:
EPLI has one of the best specifications for this kind of light. It has three brightness levels; high and low, and a strobe option. These modes have beam intensities of 160, 80, and 160 lumens, respectively. The high setting has a run time of 0.5 hours, while the low setting is 6 hours, and the strobe lasts for 0.75 hours. As the name suggests, this gadget has high precision that uses CREE LED technology.
Technical Features of the Brite Strike EPLI Flashlight
| | |
| --- | --- |
| Features | Brite Strike Tactical Pen Light |
| Maximum Brightness: |  160 Lumens |
| Minimum Brightness: | 80 Lumens |
| Maximum Run-time: | 6 hours plus |
| Minimum Run-time: | up to .5 hours |
| Modes: | 3 |
| Lightweight: | Yes |
| Body: | high-grade aircraft aluminum with a graphite anodized finish |
| easily concealed in pocket or backpack: | Yes |
| waterproof and shockproof: | Yes |
| LED: | latest Cree LED |
| Dimensions: | 1 x 9 x 6 inches |
| Length: | 5.125 inches |
| Battery includes: | Two AAA Alkaline (included) |
| Weight: | 2.4 ounces |
| Color: | Black |
Check Price
It is powered by two AAA alkaline batteries, which are readily available and cheap. The Brite strike is initially bought together with the batteries.
EPLI is constructed using aluminum, and the body is finished with graphite. This gives it the much-desired strength and durability. The design has an executive look and good aesthetics. Like the other pocket flashlight, it is small in size and also light. It weighs 0.15 pounds and is 6.4 inches long. So it is the best pocket flashlight for mechanics or electricians.
Streamlight stylus pro pocket flashlight with clip
This Streamlight Pro is shaped like a pen and is made of aluminum. There are three ranges of colors, black, red, and silver, to choose from.
The C4 LED technology employed makes the LEDs powerful and long-lasting. They can be used for 50,000 hours before they are replaced. In addition to that, it has a micro-optical system that enhances the beam intensity and its run time. It has a brightness of 65 lumens with a run time of 6.5 hours.
This pen-style flashlight is small in size, measuring 5.3 inches and weighing 1.6 pounds. It has a cool nylon holster and a polycarbonate lens.
Technical Features of the Streamlight Stylus Pro USB rechargeable penlight
| | |
| --- | --- |
| Features | Streamlight Stylus Pro |
| Maximum Lumens: | 90 lm (Old version was 65 lm) |
| Run-time: | Up to 6.5 hours of regulated run-time |
| Removable pocket clip: | Included |
| Water Resistant: | Yes. IPX4 |
| Dual Function: | Two illumination options give the option of a 41meter forward beam or 360 degrees. |
| Material: | Aluminum |
| Batteries: | 2 AAA batteries required |
| Batteries Included?: | Yes |
| Battery Cell Type: | Alkaline |
| Warranty: | Limited lifetime warranty |
| Weight: | 1.6 ounces |
| Product Dimensions: | 0.6 x 0.6 x 5.9 inches |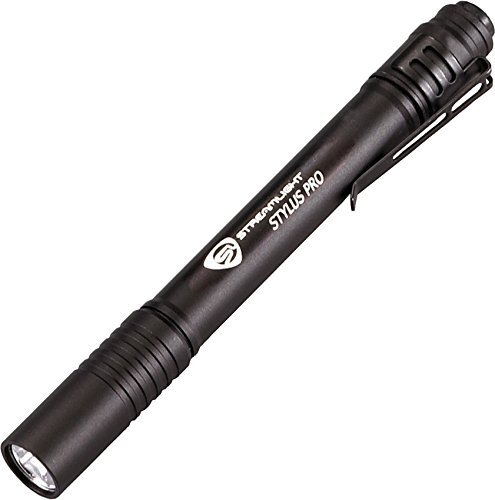 Check Price
It comes with two AAA alkaline batteries that power it, and a lifetime limited warranty has been included.
Fenix pd25 review – Best Pocket Flashlight EDC
This is a tactical pocket flashlight that uses a single 1640 rechargeable LI-Ion battery. It can work with alternative batteries like 3V cr123a lithium batteries.
The Fenix PD25 flashlight is an Everyday carry light with 5 brightness levels, which includes a strobe option. Its maximum output is 550 lumens and a run time of 1+ hours in the turbo mode. Other modes are high, mid, and low, with the low modes having a run time of 100 hours when using cr123A batteries. It is powered by CREE XP-L LEDs, which have a very long life span. The beam distance is 50 yards.
Technical Features of the Fenix PD25 flashlight
| | |
| --- | --- |
| Features | Fenix PD25 |
| Maximum Brightness: | 550 lumens(16340) / 400 lumens(CR123A) |
| Minimum Brightness: | 5 Lumens(16340) / 5 lumens(CR123A) |
| Maximum Run-time: | 100 hours(16340) / 53 hours(CR123A) |
| Minimum Run-time: | 35 minutes(16340) / 1 hour 10 min.(CR123A) |
| Modes: | 4 |
| Low-voltage warning | Yes |
| Body: | Aircraft-grade aluminum |
| Beam Distance: | 130 Meters |
| Reverse polarity protection | Yes |
| LED: | Cree XP-L V5 |
| Waterproof standard: | IPX-8 (underwater 2 meters) |
| Length: | 93 mm |
| Battery includes: | Yes (one CR123A Lithium battery) |
| Weight: | 47 grams |
| Impact resistance | 1 meter |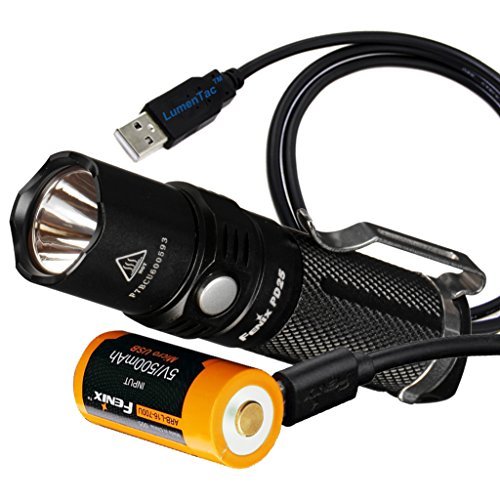 Check Price
It has two switches, one on the side for navigating through different options for selection, and the other tactical switch is located at the base. The impact distance is 1 meter and can stay underwater for 30 minutes at a distance of 2m. This best pocket flashlight comes with a number of accessories such as a pocket clip, lanyard, Fenix pocket clip, plus a cr123a lithium battery.
Cue, a collection of high-wattage necklaces adorned with nuggets and crystals, wild-cat cocktail rings, abstract drop earrings, and spectacular statement chokers inspired by flora and fauna of safari.
Eagletac d25a review – 200 lumens flashlight:
It has a brightness intensity of 200 lumens, and the LED technology is CREE XM-L2 U3 which makes it one of the powerful lights.
Eagle Tac D25A has four modes and a strobe option. The highest setting illuminates 200 lumens for one and a half hours, while the lowest setting shines 1 lumen for 150 hours. The other brightness levels are 121 lumens for 2.5 hours and 10 lumens for 9 hours.
Technical Features of the EagleTac D25A Clicky CREE XM-L2 U2 Pocket Light
| | |
| --- | --- |
| Features | EagleTac D25A |
| Maximum Brightness: | 200 LED Lumens |
| Minimum Brightness: | 1 Lumen |
| Maximum Run-time: | 150+ hours |
| Minimum Run-time: | 1 and a half hours |
| Modes: | Turbo/high/low/moon/Strobe |
| Spill light angle: | 74° |
| Center spot angle:  | 17° |
| Beam Distance: | 62 yards / 57 meters |
| Body Diameter: | 0.65 inch (1.7 cm) |
| LED: |  CREE XM-L2 U3 |
| Head Diameter: | 0.7 inch (1.75 cm) |
| Length: | 3.4 inch (87 cm) |
| Battery includes: | 1xAA battery |
| Weight: | 0.85 ounces (24 grams) |
| Operating Voltage Range: |  0.8V to 1.5V |
Check Price
This Eagle Tac D25A is the size of your palm and is made of titanium. It has a length of 84cm and weighs 24g only. It has a pocket clip for easy carrying. The light is powered by easy to find AA battery. The manufacturers have included a battery organizer for users.
Olight flashlight review – Jogging Biking Camping Backpacking Night Fishing:(Our top pick)
This is arguably the best rechargeable pocket flashlight on the market currently. It is super bright with a light output of up to 900 lumens. That's why it is called the brightest pocket flashlight. There are other three modes, and a strobe mode is also included.
Technical Features of the Olight S1R Turbo S rechargeable 900 Lumens CREE XP-L LED
| | |
| --- | --- |
| Features | Olight S1R Turbo S rechargeable |
| Maximum Brightness: | 1000 Lumens |
| Minimum Brightness: | 5 Lumens |
| Maximum Run-time: | 15 Days |
| Minimum Run-time: | .5 minutes |
| Modes: | 6 |
| Tailcap | Flat magnetic Tailcap |
| Body: | Aircraft-grade aluminum |
| Timer Setting: | Short (3 minutes) and long (9 minutes) |
| Body Diameter: | 0.78in / 20mm |
| LED: | Cree XM-L2 LED |
| Bezel Diameter: |  0.83in / 21mm |
| Length: | 2.6in / 64mm |
| Battery: |  1 x 550mAh 3.7V 5C RCR123A (1 x CR123A Optional non rechargeable) |
| Weight: | 1.76 ounces |
| Warranty: | Five years |
It is waterproof with great durability and a 5-year guarantee. Its body is made of copper, which enhances strength and good aesthetics. It also has a powerful magnetic base that can stick to a suitable surface without falling when the user is carrying out an activity that involves both hands.

Check Price
This Everyday carry pocket light is accessorized with a clip and a lanyard which makes it very convenient for carrying around. Its lightweight is contributed by the fact that it uses a single 18650 battery or two CR123A batteries as an alternative.
Klarus XT11S Rechargeable Flashlight
The Klarus XT11S is the perfect LED flashlight for your outdoor activities. It doesn't matter if it's hunting, hiking, law-enforcing, or jogging. This flashlight will always deliver. It is constructed with durable and lightweight aluminum material. The anodized finish makes it be dustproof, and it can be placed underwater up to 2 meters for 30 minutes. Turning on the Klarus XT11S is simple as it is created to suit tactical use. In addition, it has three operation settings that suit different environments. With a maximum of 1100 Lumens, this light can blind you temporarily and covers a great distance of around 330 meters.
Technical Features of the Klarus XT11S Flashlight, 1100lumens
| | |
| --- | --- |
| Features | Klarus XT11S |
| Maximum Brightness: | 1100 lumens |
| Minimum Brightness: | 10 Lumens |
| Maximum Run-time: | 260 hours (10 lumens) |
| Minimum Run-time: | 2 hours (1100 lumens) |
| Lighting Modes: | 4 (10, 100, 400, 1100 lm) |
| Switch: | 2 (Side & Tail switch) |
| Beam Distance: | 330 Meters |
| LED: | CREE XP-L HI V3 |
| Reverse Polarity Option: | Yes |
| Body: | Aircraft-grade aluminum |
| Waterproof standard: | IPX-8 |
| Flashing Modes: | 2 (100, 1100 lm) |
| Length: | 139 mm |
| Weight: | 115 grams |
| Battery includes: | Yes (rechargeable 18650) |
| USB charging cable: | Yes |
Due to its small size and weight, carrying this flashlight is not a burden at all. It will perfectly fit in your pocket, backpack or can be attached to your belt. When the battery level is low, just connect the USB charging cable to the charging port, which is protected by a rubber covering.

Check Price
Pros:
Lightweight and portable
Sturdy and compact in design
Waterproof and impact-resistant
Simple to use with the dual switch
The knurled design provides a firm and comfortable grip
Has different carry options like the pocket clip, lanyard, and holster
Cons:
Poor customer service from Klarus
The hot spot is extremely hot than other sections
What kind of features should look in the Pocket Flashlights
Size is the most important feature of a pocket flashlight. The dimensions and weight should be as small as possible. This will determine how portable the device will be.
Lightweight flashlight
Another feature is less number of batteries. This helps reduce their weight considerably. Apart from that, the type of batteries is also something to check for when buying a pocket flashlight. Alkaline batteries are cheap and can be found easily. CR123A is expensive and harder to find, although they are economical because of their extended battery life.
Our Top Pick Streamlight 66118 Stylus Pro

LED Pen flashlight Video Review
(Update: Now, Streamlight 66118 Stylus Pro maximum lumen 90 NOT 65)
High lumen lights
The pocket flashlight should give intense light. The number of lumens should be high and adjustable in different modes. It should have the latest LED technology for high performance. Alongside a number of lumens, the amount of run time should be long enough.
Most durable flashlight
These flashlights are used more frequently compared to ordinary ones. Therefore they ought to be durable. Buyers can determine this by looking at the material used to build them. Different manufacturers use different materials, and among the best are aircraft-grade aluminum and titanium. Additional features such as water and shock resistance are very desirable.
Simple design
The design of these devices should also be such that the settings are easy to use. It should be easy to locate the off and on switches. Some flashlights switch themselves on while in the pocket without your knowledge, and this leads to a lot of wastage.
Beam distance of the light
Before buying a flashlight, it is advisable to test the quality of its beam. These qualities include the type of beam and beam distance. There are two types of beams that are, flood and spot. The spot beam is effective when you need to focus on a particular area, while the flood is for lighting a wider area. The quality flashlights allow you to switch between these two.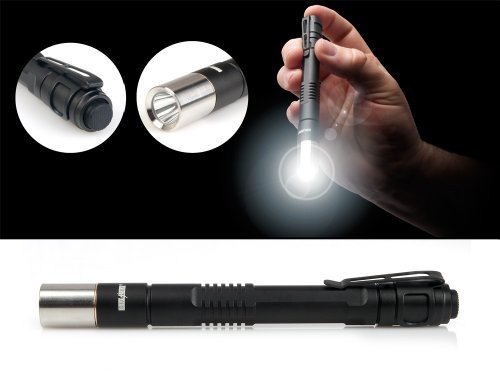 Good cheap flashlights
The average price of these flashlights is around 50 bucks. This is a good price considering the performance and service that these gadgets offer. With a good budget, a buyer should be able to find an affordable flashlight that is neither too expensive nor too cheap. The problem with overpricing is that people often complain that the gadgets don't meet their expectations, whereas those that are too cheap always underperform in many ways. For example, some produce beams that have shadows.
Warranties
Finally, buyers should not miss the cool accessories and warranty that manufacturers include. An example of accessories is pocket clips which could come in handy for pocket flashlights. Warranties vary from year to a lifetime, depending on manufacturers.
Conclusion
Finally, the powerful pocket flashlight is your companion for all outdoor activities. Whether it is bike riding, hiking, or just a night walk, select the best pocket flashlight according to your demand!