If you are looking for the best weapon mounted tactical light at an affordable price, then Streamlight TLR-3 will be a great choice to buy. This light brightness is 125 lumens, weight only 2.32 ounces, length 2.7 inches, and waterproof IPX7. Its balance is great. I love hunting and thus rifles or pistols common tools for me. On many occasions, the lights that I used didn't last long and I had to think twice about this. I went ahead and researched several lights and discovered that there were several tactical lights that could withstand harsh conditions outdoor and can run long. That's when I discovered the Streamlight tlr 3 light. Read this Streamlight TLR 3 review to know more about this.
Technical Features of the Streamlight TLR-3 Weapon Light
| | |
| --- | --- |
| Features | Streamlight 69220 TLR-3 |
| Lumens: | 125 lm |
| Material: | Aluminum |
| Type of Bulb: | LED |
| Operating temperature: | -40°F to +120°F |
| Included Components: | Tactical Light |
| Batteries: | 1 CR123A batteries required |
| Batteries Included?: | Yes |
| Battery Cell Type: | Lithium Ion |
| Waterproof: | IPX7 (1 meter for 30 minutes) |
| Warranty: | Limited Lifetime Warranty |
| Average Battery Life: | 1.5 hours |
| Item Weight: | 1.88 pounds |
| Product Dimensions: | 2.7 x 1.2 x 1.5 inches |
| Price: | Check Today's Price |
Streamlight tlr 3 is made from impact resistant engineered polymer body with a sturdy anodized aluminum face cap. These materials are impact resistant. The rail mounted light uses C4 LED technology with 50, 000 hour lifetime. It has a maximum lumen of 125 and 1.5 hours run time to the 10% output level.

Streamlight TLR 3 Review(video):
From this day onwards, my hunting activities took a twist and I do it regularly because of the reliability that this flashlight offers me. If you've been in the same situation as me or you're just looking for a reliable and quality flashlight for your handgun, then this is one of the best weapon lights to try out. Read further to know more about the tlr 3 flashlight.
Before I became considerate on the kind of flashlight I use; I have been disappointed many times. I used to acquire low quality flashlights that couldn't survive bad weather or even impact.  Another version of the TLR is Streamlight TLR 1, Streamlight TLR 4 and streamlight TLR 6 light.
The black weapon light is powered by one 3-volt CR2 lithium battery with a 10-year storage life. Using the light is very easy with the ambidextrous momentary/steady on-off switching. Also, the tlr 3 is IPX7 rated and waterproof to one meter for 30 minutes. The flashlight can be securely fit on different handguns by use of the key kit included in the purchase.
Related: If you are in need of a LED penlight, read this Streamlight Stylus Pro Review
Features & Streamlight tlr 3 review
Impact resistant polymer body
Anodized aluminum face cap
C4 LED technology with a 50, 000 hours run time
Borofloat high temperature glass lens
IPX7 rated design
Ambidextrous momentary/steady on or off switch
Maximum 125 lumens
Textured parabolic reflector
5 hours run time
Rail clamp
Key kit
1 3-volt CR2 lithium battery
Weighs 2.32 ounces with batteries
Limited lifetime warranty
Why choose the Streamlight tlr 3 LED light?
Sturdy construction
The Streamlight tlr 3 light is well built with durable materials. The case body is made from impact resistant nylon polymer while the face cap is built from 6000 series machined aircraft aluminum with anodized finish. The lens is built with borofloat high temperature glass. Such a construction makes the light to be impact resistant and ideal for use in tough conditions. To add on, the rail mounted light is IPX7 rated. It can stay in water for 30 minutes without being damaged. This means the light can be used when it's raining or in snow conditions. Also, it can withstand temperatures of between -40 degrees Fahrenheit and +120 degrees Fahrenheit.

Check Price
Easy to use the flashlight
When it comes to using, the flashlight doesn't need a lot of guidance as everything is included in the manual. Installing the light needs to be done when it's attached on the rail clamp system. It has ambidextrous momentary/steady on/off switching. This allows a person that is left or right handed to easily use the flashlight. The rail clamp is designed in such a way that it can be attached or detached quickly from the side of the weapon. During attaching or detaching, the one-handed snap-on and tighten interface keeps hands away from the muzzle.
Produces powerful light
This weapon light provides very bright light. This is enough to disorient the enemy or even light your path in the woods or as you watch over a place. The C4 LED bulb that it uses is very strong and resistant to impact. It has a 50, 000 hour lifetime and provides 5, 300 candelas. The textured parabolic reflector offers a concentrated beam with optimum peripheral illumination. It has a maximum of 125 lumens which offers great illumination. The optimized electronics give a regulated intensity.
Can be attached to a wide range of guns
Another great feature of this rail mounted LED light is that it can be attached to a number of weapon lights. Mostly, it is ideal for compact and subcompact handguns, although it can fit on some long guns with the help of the key kit. As a matter of fact, the Streamlight tlr 3 is available in the basic model (69220), USP compact clamp (69221), and USP full clamp (69222). The light is fitted on different guns using the rail locating keys that are included.
Lightweight and compact design
On purchase of this flashlight, I thought that it will be heavy and weigh me down as I take my target. But I guess I was wrong. This weapon light is very light weighing just under 2.32 ounces when a battery is included. This is almost the same weight as the ammunition that I carry. Also, its compact design means that it will fit perfectly on your compact or subcompact handgun.
Reliable brand
The lightweight rail mounted led flashlight is built by a reliable brand. Streamlight is well-known in the flashlight industry and its products are of high quality. So, buying a light from this brand is worth it. With many years of knowledge, expect most of the products that they produce to be user-friendly and meet the needs of clients.
Warranty
Not every brand on the market offers a warranty to its customers. But the best brands usually do. Streamlight has full trust in its flashlights and that's why most of them have a lifetime limited warranty. Buying the Streamlight tlr 3 assures you to receive help from the brand as it also comes with a lifetime limited warranty.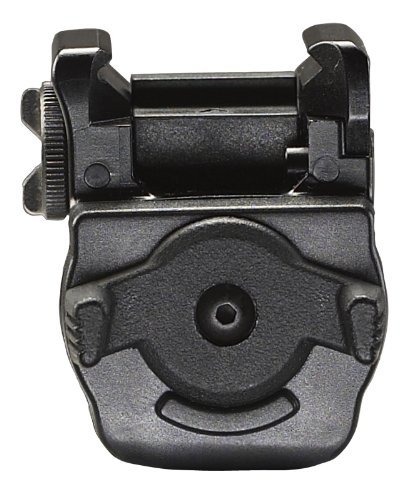 Check Price
About Streamlight
With years of experience in the flashlight field, Streamlight brand knows what customer needs are. The brand offers different types of lights on the market. The flashlights from Streamlight are well built and perform excellently. Streamlight knows that people who regularly use flashlights depend on it heavily and that's what they always create quality lights. Flashlights from Streamlight can function in different weather conditions such as snow, rain, cold or hot weather. Also, when accidentally dropped in water, most of their lights can resist the water for some time. On top of that, they create impact resistant lights which makes them suitable for tactical or survival use.
Summary
All-in-all, I can say that the Streamlight tlr 3 flashlight is a wonderful weapon light to attach to any compact and subcompact handgun. It offers bright light that can blind an enemy or provide light for the whole room. It is durably made from polymer and anodized aluminum with a borofloat high temperature lens. In addition, the weapon light is very simple to use with the ambidextrous switching and it's powered with a single 3-volt CR2 lithium battery. These features and many others that we have discussed above make the Streamlight tlr 3 to be a powerful and reliable flashlight.
If you're interested in this product, you will get a lifetime limited warranty on purchase. So, you can be well assured that the torch is a quality one and if you receive it in a bad state, the firm will replace it. I hope, you have gotten a clear idea after reading this Streamlight TLR 3 review.