A flashlight is a crucial tool that every person should have handy. It enables one to see in the dark as they go hunting or when chasing a criminal. Thus, having a quality and dependable tactical flashlight is really vital. Instead of using a normal flashlight, you can acquire a weapon torch. Surefire has all kinds of flashlights on the market to select from. This includes weapon lights. In this post, we are going to look at one of the best lights to attach to your short handgun. This is the surefire X300 Ultra flashlight. Read this surefire x300 ultra review article to know more about it.
Related: Similar maximum brightness – Surefire E2D defender ultra-flashlight review
The surefire X300 ultra pistol light has a maximum of 600 lumens. This enables the torch to produce very bright light when identifying your target or disorienting them. It is made of high strength aerospace aluminum material for durability. The precision TIR lens gives the user a tight, far reaching beam with great illumination. In addition, it can be easily secured to the universal and Picatinny rails found on most handguns on the market. I have explained everything in this SureFire x300 Ultra Review that you should know.
Technical Features of the SureFire x300 Ultra
| | |
| --- | --- |
| Features | SureFire x300 Ultra |
| Lumens: | 600 lumens |
| Type of Bulb: | LED |
| Body: | High-strength aerospace aluminum |
| Batteries: | 2 CR123A batteries required |
| Batteries Included?: | Yes |
| Battery Cell Type: | Lithium Ion |
| Weatherproof: | Yes |
| Item Weight: | 1.88 pounds |
| Product Dimensions: | 7.8 x 3.8 x 3.8 inches |
| Warranty: | Limited Lifetime Warranty |
| Price: | Check Today's Price |
Moreover, the X300 light from surefire comes with momentary on and constant on switches for different light outputs. The torch can survive in different weather conditions such as in extreme cold or hot climates. With such features, this is a wonderful tool for law enforcers, the military, and for outdoor enthusiasts. On top of that, surefire offers a lifetime guarantee on defects and repairs.

Features & surefire x300 ultra review
High strength aerospace aluminum
Ambidextrous momentary and constant-on switching
Quick detach rail lock system
Maximum 600 lumens
Precision TIR lens
6 inches long and 1.13 inch diameter
Weight 4.oz with batteries
Wide temperature tolerance
Weatherproof O-ring and gasket sealed
10 year shelf life
Built-in heat and fault protection
Attaches to universal and Picatinny rails
Advantages of using the surefire x300 ultra light
Aerospace aluminum construction
A weapon light is usually used in tough conditions. This can be in the forest, rocky area, in cold or even hot climate. If the flashlight is built using fake or poor quality materials, then it will prove to be less helpful to the user. Surefire makes quality and reliable flashlights. The surefire x300 is a well built torch that can withstand tough conditions. It is made of high strength aerospace aluminum body. For extended durability, the body is as well made of mil-spec hard anodized finish. The light can survive when it is crushed, bent or if it falls a few meters off the ground.
Related: SureFire XC1 Review [CMP Pistol 300 lumen Light]
Extremely bright light
Not every flashlight is as bright as the surefire x300. Shooters and other gun users don't love extremely bright light. But if you learn how to use this torch, you will be grateful you did. The light has a maximum of 600 lumens. This is very bright than many models on the market. The intense beam produced offers extensive peripheral illumination to maintain situational awareness.
Also, when the light is at its maximum 600 lumens, the beam produced is enough to blind or disorient an attacker. Furthermore, the light can identify and precisely engage threats at a far off distance. It has a precision TIR lens that creates a smooth, tight beam with enough surround light to brighten a place.
Quick detach rail lock system
Some users of pistol lights have complained about the rail not attaching well to their guns. So, it is important to check if the flashlight that you're buying fits well on the rail of your gun. The surefire x300 light has a rail-locking system that attaches securely to the universal and Picatinny rails that are found on a good number of handguns. In addition, surefire offers MR adapter mounts for people who have rail-less handguns. But this isn't included with the light but sold separately.
Easy to use
The surefire x300 light model is very easy to use with simple features. The light can be easily attached to the handgun within a short period. In addition, the flashlight has an integral and ergonomic one-finger ambidextrous momentary and constant on switching. The switch of the flashlight can be activated easily without changing the grip on the memory. To blindfold your enemy, switch on the momentary on the switch and for normal light, switch on the constant switch.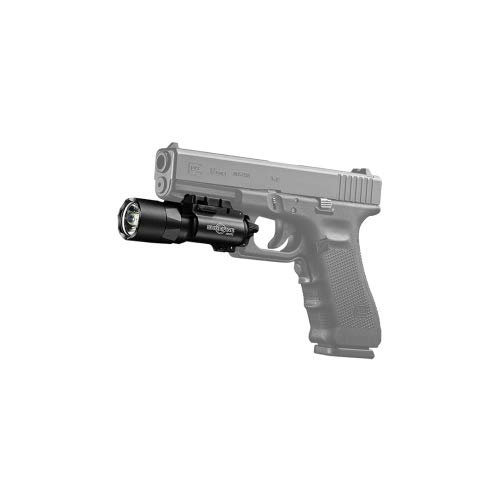 Check Price
Apart from switching on/off the flashlight, the surefire x300 torch uses 2 CR123A lithium batteries. The batteries usually run for at least one hour or more depending on how the light is utilized. Also, the X300 weapon torch has a side-by-side battery compartment. This means that two batteries are used to run the light. Many brands on the market put batteries in line, but this is totally different from surefire. When using this light for over a long period of time, you will need spare batteries with you.
Compact and lightweight design
Another great thing about this flashlight is that it is compactly designed to easily fit on your handgun. Although the surefire x300 flashlight is slightly longer than most handgun tips, it still performs excellently. The torch won't weigh you down as you take your target but as its lightweight.
Guarantee for life
The good thing about purchasing the surefire X300 light is that the brand guarantees to repair or replacement in case the light has a defective part (s). This covers material and workmanship, too. So, the client is always guaranteed quality products.
Wide temperature tolerance
This flashlight can work in different harsh weather conditions. Parts of the light such as the weatherproof O-ring and sealed gasket help to prevent things like dust and water from affecting the internal parts of the flashlight.
How surefire x300 functions
Similar to any flashlight on the market, the surefire X300 ultra torch needs batteries to work. The flashlight comes with two CR123A lithium batteries. These are placed side-by-side in the battery compartment. To start, you will have to place them in the battery compartment. To avoid tampering with the warranty, you will need to have spare batteries. The recommended batteries are surefire brand batteries, Energizer, Duracell, Panasonic, and many others. After correctly placing the battery, you can now switch on the switch with either pressing the momentary on or constant on switch. Another popular version of this x300 is x400 ultra.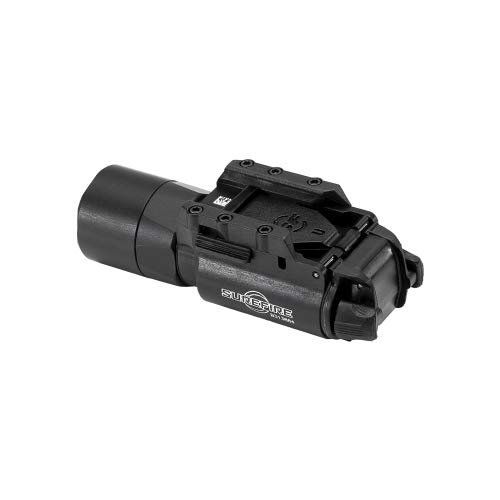 Check Price
About surefire flashlight brand
Surefire is a reliable brand that has several quality flashlights on the market. As a matter of fact, if you start to search for tactical flashlights online, such as on Google, Amazon, eBay or any other site, Surefire flashlights will be among the brands to appear.
The flashlights made by surefire meet the industry standard and are extremely reliable. Surefire lights are made of a rugged material, are very bright, easy to use, reliable, and function in different conditions. The batteries from surefire are made in the USA and meet the specifications.
Conclusion
Surefire X300 is an outstanding weapon light with exceptional features. It has 600 lumens maximum, made from rugged aerospace aluminum, precision TIR lens, integral rail lock system, and built-in heat and fault protection. These and other features make this light to be great and reliable to use. Attaching the flashlight on the handgun is also easy and it fits perfectly on the rail lock system. This surefire X300 review article explained everything that you need to know about this weapon light.
So, if you're a law enforcer, hunter, or outdoors enthusiast, this is a great pistol light to own.
I hope you have gotten your answer after reading this SureFire x300 Ultra Review. You can comment below for more information.