Finding a reliable and compact multimeter is not easy. But with the Fluke 323 True RMS clamp multimeter, you can never go wrong. Sold at a favorable price, this unit will help you troubleshoot electrical problems easily and quickly. It is compact and slim in design to easily fit in tight areas. The digital multimeter can also be used for both commercial and residential tasks as it performs most of the basic and a few advanced functions. You can use the device to take accurate voltage, current, and resistance readings. Read this Fluke 323 review to know more about this clamp meter.
Related: Both can be used by a pro or beginner – Fluke 179 True rms Multimeter Review
Technical Specifications of the Fluke 323 True RMS Clamp Meter
Features

Fluke 323

DC voltage:
Range: 600.0 V
Accuracy: 1.0% ± 5 digits
AC voltage:
Range: 600.0 V
Accuracy: 1.5% ± 5 digits
AC current:
Range: 0 to 400.0 A
Accuracy: 2% ± 5 digits (45 Hz to 65 Hz)
2.5% ± 5 digits (65 Hz to 400 Hz)
DC current:
Range:
Resistance:
Range: 0 to 400.0 Ω /4000 Ω
Accuracy: 1.0% ± 5 digits
Continuity:
≤ 70 Ω
AC response:
True-RMS
Category rating:
CAT III 600 V
CAT IV 300 V
Batteries:
2 AAA batteries required. (included)
Warranty:
2-year
Price:
Check Today's Price
Fluke has proved over the years that they are the best in the game as they always make innovative, robust, and high-quality products. Their multimeters are also easy to use, accurate, and very reliable.
In this Fluke 323 Review, we will help to find out more about the Fluke 323 clamp multimeter and make an informed choice in the end.
Clamp Meter Fluke 323 Review in 2023
Construction
This is one of the toughest Fluke digital multimeters on the market. It is made out of strong plastic with a clamp for hands-free operation. Additionally, it has a robust case and a sturdy slimline jaw system. The compact and slim design of this unit allows it to easily fit in tight places. When it comes to changing the battery, the process is simple as the rear cover on the battery compartment is easily removable.
Display
Despite its compact design, the Fluke 323 still comes with a sizeable display screen for easy reading of results. The 4000-count screen can display 399.9V. However, the refresh rate is not as timely as a standard digital multimeter but it is fine for a clamp meter of its size. Also, icons such as DC V, A, and Ω are clearly shown on the display. The only challenge with this display is that you won't be able to read results in poorly lit areas or the dark as it lacks a backlight.
Related: A higher display – True RMS Fluke 289 Review
True RMS
Almost all Fluke digital multimeters come with the True RMS function. This means that you can rely on them to always provide you with accurate and precise measurements every time you take a test even on non-linear loads. This is not always the same case with some low-quality brands as they cannot be relied on to offer 100% accurate measurements on complex signals.
Ease of use
Whether you're a pro or beginner, using the Fluke 323 shouldn't be a problem at all. This is because it is well labeled and less complicated. The dial knob is also large and very easy to adjust to the ideal measurement to be taken. If you've no experience using multimeters, then follow the user manual for proper usage. The clamp also simplifies things for you as you don't need to hold the unit in your hands.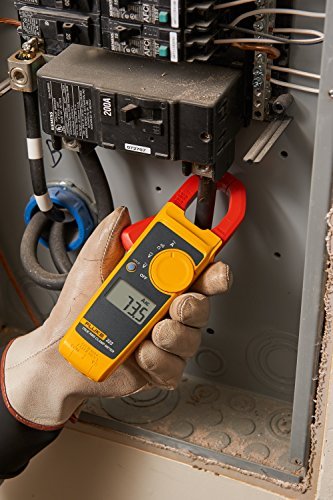 Check Today's Price
Even though the hold function is manual and not automatic like in some high-end units, it still does the same job. Press the hold function to write down the recorded value later if you're busy. This helps you not to lose the test that you've performed but you shouldn't overwrite it without noting it down.
Related: If you are looking for an automatic multimeter, check the Fluke 115 Compact True-RMS Digital Multimeter Review
Major functions
Despite the Fluke 323 True RMS clamp multimeter being sold at a great price, it still performs a wide range of functions. The unit can be used to test Ac up to 400 amp, DC and AC voltage up to 600V, and resistance up to 4 kilohms. If you want to test DC, then you should look for a more advanced unit as this one doesn't. However, the jaw opening tests current in a conductor up to 30 mm without interrupting the circuit.
Related: Electricians Multimeter Fluke 117 Review
Protection and safety
On the outside, this unit is well protected as it is made of durable materials. Also, the clamp makes it safe to attach the device as you take different measurements. This unit has electronic input protection and voltage category ratings of CAT III to 600V and CAT IV to 300V. Since it is a clamp digital multimeter, you don't have to worry about fuses blowing, nevertheless, s the amperage is measured by induction, with no direct amperage going through the multimeter.
Warranty
Fluke has full trust in all of its multimeters and that's why you will find that they all have warranties, even though they vary. The Fluke 323 clamp multimeter comes with a 2-year warranty. This means that you will be covered for 2 years against defects in materials and workmanship. Note that the warranty is not transferred to another individual but if you are looking for a multimeter with a lifetime warranty, read this Fluke 87V Review
Why buy Fluke 323 true RMS clamp meter?
Durable construction
Large display for easy reading of outcomes
Compact and slim design to fit in tight places
Measures AC/DC voltage
Good accuracy for its size
It is very affordable with great features
Can measure up to 400A
Has display hold function for convenient use
2-year warranty
Cons of the Fluke 323 clamp meter
It has no backlight for easy reading of values in poorly lit places
The unit doesn't measure DC amps
Who will buy this Fluke 323 True-RMS Clamp Meter?
This is a nice digital multimeter for DIY enthusiasts and beginner electricians. It performs most of the basic functions and it is affordable. If you want to carry out basic electrical measurements, then this is the device for you. But if you're HVAC electrician, then you will look elsewhere. Also, if you want to measure high DC amps or capacitance, then you should consider looking at a more advanced unit like the Fluke 325 DMM, which is in the same series.
Summary
The Fluke 323 is sold at an affordable price but still offers more than just a basic digital multimeter. It is great for general use and is very easy to use. It is also compact, ergonomic, and versatile. Whether you're a beginner, DIY enthusiast, or even a professional electrician who needs a backup multimeter, you will find that the Fluke 323 is an ideal tool to have. On top of that, it has a 2-year limited warranty and with the True RMS function, you're sure of getting accurate results.
FAQ
Question: My Fluke 323 multimeter won't read voltage; what is the problem?
Answer: There could be an issue with the test leads. You may have inserted them in the wrong way or it could be several problems. Also, you may have a multimeter on the wrong setting. Check and see if you've placed the test lead in voltage setting with "V" and " ᷉ " sign above it. There is a possibility that you could've blown the fuse or the appliance you're testing doesn't have voltage or a complete circuit to read voltage. Finally, you should check if your meter is defective or not.
Question: Why does my multimeter not go to zero in the ac volts mode?
Answer: If it's a True RMS ac digital multimeter, it will not zero and should not be zeroed at all. A good number of True RMS type multimeters come with a minimum ac voltage and current level specification for both ac volts and AC modes, normally specified from 3% to 5% of range. In case a signal is applied beyond the recommended minimum level, the meter will match its accuracy specifications. This specification can be found in the specification part in the rear of the user's manual.
Still, have a question after reading this fluke 323 review? Comment below.