If you are an outdoor enthusiast who dislikes heavy flashlights or lanterns, then, the Fenix e12 EDC flashlight is a great option for you. The Fenix e12 is a good example of a wonderful pocket flashlight that can function in different conditions. Being an upgrade of the Fenix e11, the e12 comes with a lot more interesting features. It is an AA powered flashlight. Read this Fenix e12 review to know more about this Fenix brand Flashlight.
Related: Best EDC Flashlight Reviews– Top everyday carry light
Technical Features of the Fenix E12 Flashlight
| | |
| --- | --- |
| Features | Fenix E12 |
| Maximum Brightness: | 130 lumens |
| Minimum Brightness: | 8 Lumens |
| Maximum Run-time: | 22 hours (8 lumens) |
| Minimum Run-time: | 1 hour (130 lumens) |
| Length: | 90 mm |
| Modes: | 3 (8, 50, 150 lm) |
| LED: | Cree XP-E2 |
| Impact Resistance: | 1 meter |
| Beam Distance: | 88 Meters |
| Body: | Durable Aircraft-grade aluminum |
| Waterproof standard: | IPX-8 (Underwater 2 meters) |
| Weight: | 28.5 grams |
| Battery Include: | Yes (AA Alkaline) |
| Price: | Check Today's Price |
This light is well constructed from durable aircraft grade aluminum and has a hard anodized anti-abrasive finish. It can withstand impact resistance of up to one meter and as well be immersed in water up to 2 meters for around 30 minutes.
Related: Maglite XL50 Review: 200 Lumen LED Compact Flashlight
Also, the light is lightweight weighing just 1 oz without battery. So, keeping it isn't an issue at all. On purchase, the user gets a limited lifetime warranty from Fenix lighting US.

Fenix e12 Review(video):
The Fenix e12 is powered by one AA battery and has a maximum of 130 lumens. This is bright enough to light the tent, path or even room. The beam reaches a maximum of 88 meters. When switched on low lumens, the flashlight has the ability to run for 40 hours. In addition, it has a tail tap switch and reverses polarity protection. This is an EDC small light if you need a more powerful flashlight, then check this Fenix tk16 flashlight review.
Features & the Flashlight Fenix e12 Review in 2022
Durable aircraft grade aluminum construction
High efficiency total reflection lens
Premium type III hard anodized anti-abrasive finish
CREE XP-E2 LED
Maximum lumens of 130
The runtime of 40 hrs on low lumens
Tail tap switch
Broad beam lens
Maximum beam distance of 88m
Reverse polarity protection
Waterproof to IPX-8 9 under water 2 meters for 30 minutes)
Impact resistance up to 1 meter
Uses one AA Ni-MH or Alkaline battery
Digitally regulated output
Weighs 1 0z without battery
Spare O-ring
Lanyard
Limited Lifetime Guarantee
Related: Fenix PD25 Flashlight Review
Pros:
Sturdy construction – who doesn't want a flashlight that they will rely on for the next 3 to 5 years? The flashlight is not an item that you will need to buy on a daily or yearly basis. That's why it is crucial that you buy a quality and sturdily built light. The Fenix e12 EDC led light is built from sturdy aircraft grade aluminum and has a premium type III hard anodized anti-abrasive finish. These materials make it be durable and long lasting.
Simple operation – using this flashlight is very easy. Some people have complained about the switch but it is crucial to know how to use it so that it doesn't cause problems. All you need to do is to press the tail switch until you hear a click. Also, you have to press quickly in order to select a light mode.
Check Price
Lightweight and compact light – every outdoors person knows the importance of keeping weight low while going out. With such a portable and small light, you don't have to worry about it taking much of your space in the backpack or purse as it can be kept in the pocket. The light weights 28.5 g without battery. So, you can enjoy your trip without worrying about the flashlight.
Uses Cree Xp-e2 LED – since the discovery of the LED bulb, flashlights have changed a lot. This is because led has brought effectiveness and longevity. The CREE LED bulbs are not only powerful but as well produce a light that can be used in different conditions. The white beam is bright and reaches distant places. The beam produced by the Cree Xp-e2 led bulb covers a distance of 88 meters. This is really amazing. It as well has 50, 000 hour lifetime.
3 different light modes – one of the improvements made on the e12 light is that it has more lighting modes than the e11 series. This led light comes with low, medium, and high lighting modes. The lowest mode runs for 40 hours on 8 lumens, the medium mode runs for 6 hours on 50 lumens, and the high mode runs for 1 hour 30 minutes on 130 lumens. This allows the user to have control of battery use and the kind of light that they want.
Reverse polarity protection – when in a hurry or in confusion, one can confuse and place the batteries the wrong way. This has happened to me and if you are a flashlight lover, there is a chance that you have undergone the same experience. The reverse polarity protection feature protects the light from being damaged when you place the battery the wrong way.
Tactical light – whether it is for home use or outdoor use, it is important to have a light that you can rely on. The Fenix e12 is a powerful and reliable light in different environments. It can be used for survival, rescue missions or for just normal use. It is waterproof and can resist impacting up to one meter. These are some of the features that make it be reliable.
Easy storage – due to the small size of the e12, the flashlight can be kept easily in the pocket or backpack. Also, it comes with a lanyard for tying the light on the belt or backpack.
Great price – there are various EDC flashlights on the market that cost higher than the e12 led light but perform poorly. This light comes at a very favorable cost but does what it says it does. So, it is worth every cent spent on it pr even more.
Limited lifetime guarantee from Fenix Lighting US – the good thing about Fenix is that they have a strong believe in their products and are as well known to be one of the best. The Fenix brand offers a limited lifetime warranty on the e12 flashlight.
Related: Fenix UC35 Flashlight Review: Rechargeable 960 Lumen Cree LED light
Cons:
The switch is very difficult to operate
The light offers poor light when used in or under water
How the e12 EDC light functions
The Fenix e12 can be powered by one AA Ni-MH or Alkaline battery. You can use a rechargeable battery as they are durable and run for longer hours than normal batteries. To insert the battery into the flashlight, unscrew the head of the led light.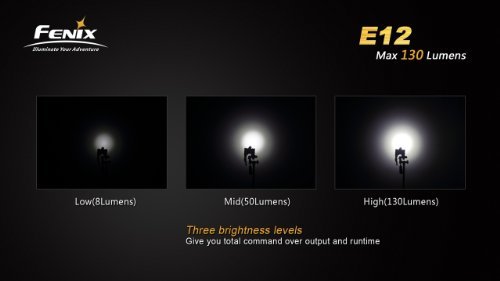 Check Price
The EDC flashlight has a simple UI button which is a reverse click. This implies that when you push on the button, the light won't turn on until you hear a click and release the button. After switching the light on, you will have to select one of the three light modes that the light comes with. It has no peculiar blinking modes. To change from one light mode to another, you'll have to press the button quickly so it adjusts and lands on either medium or high mode. Actually, it starts with low mode when you switch it on.
Related: Fenix HL60R Headlamp Review
Conclusion
I hope our Fenix e12 reviews article has helped you know more about this small but durable EDC light. It is an upgrade of the feni e11 and has several outstanding features. If you love flashlights that are durably created and can survive in different weather conditions, then this is the light to have. Use it as you camping, fishing, hunting, blackouts or even to change your car tire. Despite its small size, its toughness makes it be a great tactical light to always have with you.
Still, have a question after reading this Fenix e12 review? Comment below.