If you're an outdoor enthusiast, then you know how important it is to have a quality, spacious, durable, and reliable backpack, like the 5.11 Rush 24 tactical pack. Some packs are a letdown as they don't last long while others let in water when it starts to rain abruptly. Read this 5.11 Rush 24 Review 2023 to know more about this.
Related: Similar Compatibility – 5.11 Rush 72 Review [55 Liter Large Tactical Backpack]
I have been hunting for more than 10 years now and one of the best tactical backpack that I've come across is the Rush 24 backpack. This rucksack is well-made for longevity, have several storage options, it is properly stitched, water-repellent, and extremely comfortable. It is the perfect backpack for all your outdoor needs.
Technical Specifications of the 5.11 Rush 24 Backpack
| | |
| --- | --- |
| Features | 5.11 Rush 24 |
| Pockets: | Dual zipping side pockets, Zippered fleece-lined eyewear pocket, Zippered side water bottle pocket , Stuff-it pocket |
| Ideal for: | recreational use or as an operational bug out bag |
| Compatible with : | 5.11 Tier System |
|  Hydration pocket Durable: | 1050D nylon (MultiCam: 1000D nylon) |
| Handle: | Reinforced grab-and-go handle |
| Wrap-around MOLLE: | /5.11 SlickStick web platform |
| water-resistant construction: | Yes |
| adjustable shoulder and sternum straps: | Yes |
| Front pocket : | 12.5" x 11" x 2″ |
| Main Compartment: | 20″ H x 12.5″ L x 8″ |
| Hydration pocket: | 18" x 12.5" |
| Left and Right Side Pockets: |  16.5" x 6" x 1.75" |
| Total Capacity: | 2275 cubic inch / 37 liter |
| Dimensions: | 14 x 5 x 14 inches |
| Weight: | 5.5 lbs |
| Price: | Check Today's Price |
The 5.11 Rush 24 tactical bag may have a 37L capacity but it is still lightweight and can be as well as used as an everyday carry pack. If you're a hunter like me, then you will love the Multicam or OD color, depending on where you live or hunt. Other colors include Black, Double-tap, DarkEarth, and Sandstone.

Backpack 5.11 Rush 24 Review
Construction
5.11 backpacks are some of the most durable packs that you will find on the market. The 5.11 Rush 24 is no exception as it is made of durable 1050D nylon and water-repellent coating. The good news about this material is that it is durable but not heavy. Therefore, it is suitable for long trips such as hiking and even mountaineering. You can use it in the toughest conditions as it is not only resistant to water but also to wear and tear.
The backpack is built to last as it features durable YKK self-repairing zippers that are easy to zip and unzip. It is also properly stitched to provide extra strength and allow the user to store as many gears as possible without worrying about the durability of the bag. Another crucial feature is the twin drainage grommets. These are vital in that if water enters the pack, it will allow the water and moisture to flow away.
Related: If you are in need of waterproof backpacks, check this Best Waterproof Backpack Reviews
But even with the tactical look, the 5.11 Rush 24 rucksack can still be utilized for different occasions besides tactical use. Actually, you can use it as your EDC pack as its lightweight and won't be a burden to move around with.
Storage
Another thing I have found out that this is one of the most versatile backpacks on the market as it offers a wide range of storage options that will help you to properly organize your essential in the pack. From large compartments to small pockets, mesh pockets, and Molle webbing, you will not run out of space if you're going out for just a day and back.
Related: More Advanced backpacks – Best Ultralight Backpack Review
The Rush 24 backpack has a volume of 37L, which is enough for a day out hiking, camping, or even picnic. The main compartment is roomy and a lot of things can be kept in it. This compartment measures 20-inches in height by 12.5-inches in length by 8-inches in diameter with a 2070 cubic inch capacity. In the main compartment, 3 mesh pockets allow you to organize small items and access them with much ease when you need them. One of the mesh pockets in the main compartment has a pull cord which is vital for storing batteries, keys, and other items.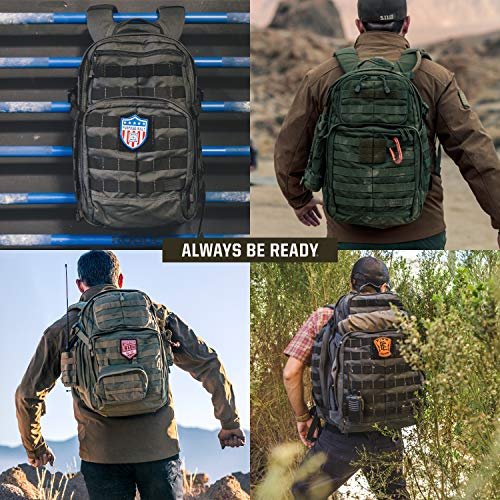 Check Today's Price
On the sides of the backpack are several zippered pockets that can be utilized to keep things like documents and maps. Also, there are zippered side water bottle pockets for storing your water bottle, which is an alternative to the hydration pocket for storing enough water.
Other important pockets on this backpack are the two front pockets, also referred to as "book end pockets". These can be used to keep small items that you use on a regular basis such as a lighter, small digital camera, some cash, and other small items. Like many other 5.11 Rush packs, this bag also comes with eyewear pocket, where you can keep your sunglasses or small digital devices.
Additionally, the Molle system on the backpack can come in handy when you need more storage options and the 37L capacity is not enough for you. This Molle webbing is compatible with the 5.11 tier system and Scabbard.
Comfort
What is the need of buying a backpack if it's not going to offer you the comfort that you need? The 5.11 Rush 24 backpack comes with some exceptional features that make it comfortable and reliable in use. Whether full or not, this pack will still offer you the comfort that you deserve. Thanks to the padded that relieves pressure off your shoulders and back.
The rucksack is designed in such a way that there is sufficient airflow between your back and pack. Also, the weight distributes evenly as it has sternum straps, adjustable shoulder straps, and compression straps that play a key role. The shoulder straps are very comfortable and are designed for prolonged use. They are also adjustable and are made of dual-density closed-cell foam and Duraflex hardware. The sternum straps provide the user with great stability, especially when the backpack is full.
Related: Backpack with bigger storage capacity – Mountaintop Backpack Review
In this 5.11 Rush 24 backpack, I found out that another handy feature that makes this pack comfortable is the upper compression straps. These are important as they squeeze the pack if it's not fully loaded thus preventing items in the bag from moving. Apart from the compression straps, the rucksack as well as comes with a contoured yoke harness system. This allows for even distribution of the weight when the pack is fully loaded. Because of how the Yoke harness system has been designed, you won't feel uncomfortable when using this sturdy backpack.
For those who love waist belts, feel free to add one (but you will have to purchase it separately) as there are 5.11 Rush 24 waist strap or belt attachment points on the lower end on the backpack.
Summary: Why buy the 5.11 RUSH24 Tactical Backpack?
Suitable for tactical or everyday use
Sturdy construction and water-repellent
Wide range of pockets for proper organization
Comfortable to carry even when full
Lots of colors to pick from that complement your activity
Adjustable shoulder straps and Yoke harness system for a proper fit
Cons of the 5.11 Tactical rush 24 backpack
It doesn't come with a padded laptop sleeve for proper protection
Conclusion
After a thorough reading on this 5.11 Rush 24 Review, you may found out that the 5.11 Rush 24 tactical backpack is a great pack for hunting, hiking, survival, and as a multipurpose pack. It is sturdily made to last long and offers lots of storage options for easy arrangement of your gear. If you want a backpack that you can use as an EDC pack or 24-hour pack for your hunting trip to the woods, then the Rush 24 will be a good choice. You can carry all sorts of gear as the Molle system offers more storage options.
Apart from lacking a laptop sleeve, this is your perfect 24-hour backpack and that's why it is one of the most popular tactical packs on the market.
FAQ
Question: Who should acquire this backpack?
Answer: This is an ideal backpack for an avid hiker, camper, hunter, and outdoor enthusiast. It is built for tactical use and will defy the daily wear and tear that it is likely to face outdoors.
Question: What is the largest laptop that I can carry in this pack?
Answer: This backpack doesn't feature a specific laptop sleeve but you can still use the hydration pocket to keep a 17-inch laptop. Even though you can use the main compartment to keep your laptop, it may not be secure in it as it may move from side-to-side as you move around.
Still, have a question after reading this 5.11 Rush 24 Review? Comment below.