Choosing a quality tactical flashlight is no walk in the park. You have to scrutinize the different brands and features that different flashlights offer. The Klarus g20 LED flashlight is an excellent light with great features. If you are a newbie in the tactical flashlight, you will have to try out several flashlights before landing on the one you think is ideal for your activity. The Klarus G20, one of the brightest flashlights of 3000 lumens, has four different lighting modes, two switches, 150 hours maximum run-time, waterproof, and lots of advanced features. Read this Klarus G20 review article to know why you should think about buying this Mini USB light.
Technical Features of the Klarus G20 Flashlight
| | |
| --- | --- |
| Features | Klarus G20 |
| Maximum Brightness: | 3000 lumens |
| Minimum Brightness: | 15 Lumens |
| Maximum Run-time: | 150 hours (15 lumens) |
| Lighting Modes: | 4 (15, 160, 650, 3000 lm) |
| Minimum Run-time: | 45 minutes (3000 lumens) |
| Switch: | 2 (side switch and tail switch) |
| Beam Distance: | 180 Meters |
| Body: | Aerospace Aluminum Alloy |
| LED: | CREE XHP70 N4 |
| Battery includes: | Yes (One 26650 rechargeable battery) |
| Length: | 124 mm |
| Flashing Modes: | 2 (160, 3000 lm) |
| Waterproof standard: | IPX-8 |
| Weight: | 131 grams |
| Warranty: | Yes |
| Price: | Check Today's Price |
The Klarus g20 flashlight is strongly built with an aerospace aluminum body and has a hardened glass lens with an anti-abrasive coating. It uses a CREE XHP70 N4 LED with a maximum of 3000 lumens. The flashlight has the capability to reach a distance of 150 meters and comes with four different light modes. The flashlight delivers more power compared to the Klarus Mi7 Cree LED flashlight as it is powered by one 26650 Li-ion battery with a 5000 mAh capacity. Features like the smart ITS temperature control system and battery level indicator make using this flashlight fun and safe.

Klarus G20 Review (Video):
I've written this review on Klarus g20 dual-switch rechargeable light to help people like you avoid the stress of having to go through several lights before deciding on one. Even though Klarus is a new brand, it has already created a name for itself and is now considered to be one of the best. Another popular flashlight of this brand is 2000 lumen Klarus xt11gt and 1600 lumen Klarus xt12gt.
Benefits of using the Klarus G20 3000 lumen flashlight
The flashlight is sturdily constructed to serve the user for over a long period of time
It has four different lighting modes that can be utilized in different surroundings and situations
It provides extremely bright illumination with a max lumen of 3000. The beam produces up to 150 meters.
The flashlight is very easy to use with a dual switch and simple operation.
The flashlight is compactly designed for easy handling of the device and storage when not in use. The lanyard and holster can be used to properly keep the flashlight.
It is lightweight and won't be cumbersome to attach to our belt or keep in the bag during camping or when carrying out any other outdoor activity.
This flashlight can survive tough conditions like dust and rain as it has an O-ring that seals internal parts and waterproof ratings of IPX8.
Features like the battery level indicator help the user to know what percentage of battery power is remaining and use the flashlight accordingly.
It has a strobe and SOS mode. The strobe mode can be used to disorient an enemy, while the SOS mode is used when one is in danger or lost in order to alert other people.
Klarus offers the buyer of the g20 LED flashlight a five-year warranty which is outstanding.
Cons:
When in turbo mode, the flashlight heats up very fast. This limits a person for how long he or she can use bright light as the heat protection circuit changes the mode to another light level.
Klarus G20 Review & Product main features
Aerospace-grade aluminum body
Tail switch and side switch
USB rechargeable
Four brightness levels and two specialty light modes
Hardened mineral glass lens with anti-reflective coating
Built-in battery power indicator
Has CREE XHP70 N4 LED
Smart ITS temperature control system
Maximum lumens of 3000
Maximum beam distance of up to 150 meters
Run time of 150 hours or six days
Waterproof up to IPX8 standards
Impact-resistant up to one meter
It weighs 131 grams without a battery
Holster
Lanyard
Spare O-ring
Klarus 5 year warranty
Why Klarus G20 dual switch LED flashlight?
Durable aluminum construction
Why acquire a flashlight that can't withstand hardships? The Klarus g20 LED flashlight is sturdily created to be utilized in tough conditions. It is made of an aerospace-grade aluminum body. This is a durable material. It is also lightweight and ideal for a tactical flashlight. Furthermore, the flashlight is built with a hardened mineral glass lens with an anti-reflective coating. Such features make it reliable and dependable for long-term use.
Longer run time
A rechargeable tactical flashlight is as good as it can last. If you are going to use a flashlight outdoors, it should be able to last you through the entire session. The Klarus g20 3000 lumen flashlight has a wonderful run time of 6 days or 150 hours. This means that you will continue to have excellent light for a five-day camping trip to the mountains.
Provides extremely bright light that reaches up to 150 meters
Besides offering you a longer run time, this flashlight offers extremely bright light. This ensures that your camp or dark room is well-lit. With a far-reaching beam distance of 150 meters, this flashlight can light a football pitch. The brightest level runs on 3000 lumens which is just amazing for such a small flashlight.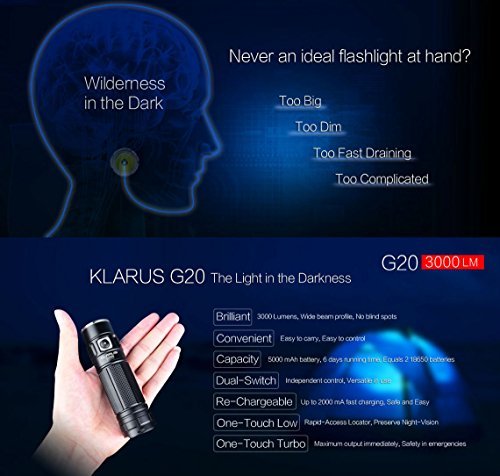 Check Price
Variety of brightness levels
One of the special features of the G20 LED flashlight is that it comes with various brightness levels. If you speak to any outdoor enthusiast, they will gladly tell you the importance of having a flashlight that offers different light levels. This enables the user to have control over the total battery power used. The Klarus g20 flashlight has four light modes and two specialty light modes. These include low – 15 lumens, medium – 160 lumens, high – 650 lumens, turbo – 3000 lumens, strobe – 3000 lumens, and SOS – 160 lumens.
Related comparison: What are the differences between Klarus XT12GT and XT11GT?
Built for tough environments
This LED flashlight is suitable for rough surroundings and adverse weather conditions. It can stay underwater for up to 30 minutes as long as it is between 0 to 2 meters. It also impacts resistance up to one meter. So, you can use it for survival, rescue mission, outdoor or tactical situations.
Convenient design and easy to use
The flashlight is conveniently designed for simple handling and use. It is small and lightweight. The dual switch enables the user to operate the flashlight with one hand and switch to different modes easily.
Safe to use
Unlike most flashlights on the market including Fenix, SureFire, Streamlight, etc, the Klarus g20 dual switch flashlight is very safe to use. This is because it has a smart ITS temperature control system that detects when the flashlight temperature increases and lowers it through changing the light mode. In return, this prevents the flashlight from overheating. Also, the battery level indicator allows the user to know what power percentage is remaining.
Klarus 5 year warranty
Klarus is a great brand with quality flashlights. The brand offers a five-year warranty to the purchaser of the g20 rechargeable flashlight. This is a great thing, and one can rely on the flashlight to deliver.
Conclusion
The Klarus G20 rechargeable flashlight is a great light for people who are looking for a small reliable flashlight. It is convenient to carry around due to its size but has a very powerful throw. It can cover up to 150 meters with a maximum of 3000 lumens. Built with aerospace-grade aluminum metal, this is a very durable LED light and can withstand impact up to 1 meter. Also, it has the ability to stay underwater to a depth of 2 meters for 30 minutes.
With such amazing features, the Klarus g20 is an ideal tactical light for campers, hikers, hunters, and patrol individuals. It always delivers in different environments and can provide light for up to 6 days. I hope this Klarus G20 review article has given a clear idea about this flashlight.