Are you a hunter, outdoors person, hiker, or an individual who is looking for the best EDC flashlight for his or her lighting needs? Read this Fenix E05 review as you may have landed what've been looking for. It runs on traditional AA and AAA batteries, which are easy to find and affordable.
Related: Fenix PD32 Review [Compact 315 Lumen LED Flashlight]
The Fenix E05 is one of the splendid flashlights from the Fenix E series flashlights. It is maybe compact and lightweight but does its job excellently. This EDC flashlight is also well-made out of aircraft-grade aluminum material with a hard-anodized finish. The finish prevents things like water and dirt from damaging the unit.
Technical Specifications of the Fenix E05 Led Flashlight:
| | |
| --- | --- |
| Features | Fenix E05 flashlight |
| Lumens: | 85 lm |
| Modes: | 3 |
| LED: | Cree XP-E2 |
| Waterproof: | ipx-8 standard, 2 meters for 30 minutes |
| Body: | aircraft-grade aluminum |
| Weight: | 0.64 ounces |
| Battery: | a single AAA battery (included) |
| Price: | Check Today's Price |
Regardless of its size, the torch gives you three light modes and an easy to use twist switch. Here is a full review of the Fenix E05 85 Lumen flashlight.
Flashlight Fenix E05 Review 2023
Robust construction
The Fenix E05 85 Lumen flashlight is the perfect EDC as it is not only small but as well as sturdily constructed. It features an aircraft-grade aluminum body with a premium type III hard-anodized finish. This means that you can throw everything at it, but it will still perform at a very high-level. Besides, it also comes with a Rhombic knurled finish that ensures you're able to handle the unit with a lot of ease.
Related: Streamlight Microstream Reviews: Ultra-compact Pen flashlight
Uses Cree XP-E LED bulb
It comes with a Cree XP-E LED bulb with a lifespan of 50, 000 hours. The LED produces a broad beam that covers a more expansive area. It also has 3 light modes, which include low, medium, and high. The low light mode uses 8 lumens and runs for a maximum of 15 hours. The medium mode uses 25 lumens runs for a maximum of 4 hours 15 minutes, and the high mode uses 85 lumens and runs for a maximum of 45 minutes on alkaline battery and 1 hour on Ni-MH battery. These three output modes make this flashlight versatile.
Excellent brightness
As the saying goes, "never judge a book by its cover," so, don't let the size of this flashlight fool you. The Fenix E05 LED flashlight produces an astonishing 85 Maximum Lumens. The light beam covers up to 148 feet, which is exceptionally mesmerizing for its size. As a result, you can use this flashlight in a dark path or room, and it will cover a larger area than you expect.
Related: Streamlight Super Siege Review: Ultra-Compact Work Lanter
Powered by either one Alkaline or Ni-MH battery
Another outstanding feature of the Fenix E05 LED flashlight is that two different batteries can power it. The cells are one AAA alkaline battery or Ni-MH battery. The type of battery you use determines the level of brightness and runtime. For the most extended runtime, use AAA alkaline battery and for the brightest light mode, use Ni-MH battery.
Waterproof and impact-resistant
If you intend to use your flashlight in tactical situations, then the Fenix E05 is the best choice for a quality EDC light. The torch can resist water as it has a waterproof rating of IPX-8. So, whether it rains or if you accidentally drops the flashlight in water, it will still perform as recommended. Additionally, the torch features robust materials that make it drop-resistant up to 1 meter.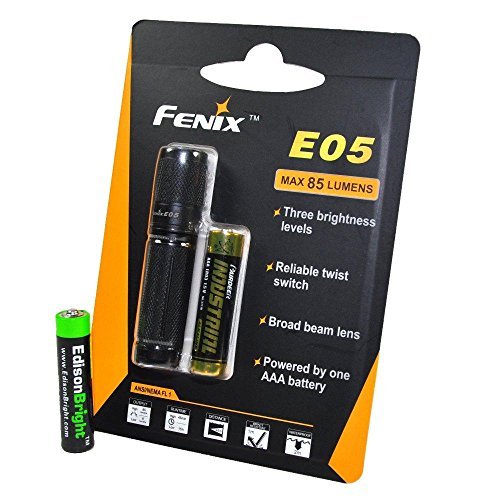 Check Today's Price
Related: SureFire Sidekick Review: Ultra-compact Triple-output Keychain light
Digitally regulated output
Some flashlights are challenging to use as they cannot maintain their brightness over a long period of use. However, this is not the case with the Fenix E05 LED flashlight. as it has a digitally regulated output that maintains constant brightness. Therefore, you can be sure to get a certain amount of light all the time, depending on the light mode that you have turned on.
Related: Streamlight TLR 3 Review: Compact weapon-mounted light
Twist switch
Having a durable tactical flashlight is essential, but having a tactical flashlight that you can easily use is even more critical. When in the wild, you want a light that you can quickly draw and light instantly. That's what you get when you purchase the Fenix E05 tactical EDC flashlight. It features a dependable twist switch that you can turn on with one hand. But this needs some practicing as some people find it challenging.
Tail stand capability
The unique feature of the Fenix E05 is its tail stand capability. This means that you can make the flashlight stand on its tail and use it as a source of light when there is a blackout. In short, it provides candle style illumination that lights up the room very well. So, you don't have to erect it somewhere or keep holding it as you perform your chores.
Related: Maglite XL50 Review: LED Compact Flashlight
Compact and lightweight
No matter what you intend to do with this flashlight, you will find it very convenient to use and store because of its compact design. With a weight of 0.9 ounces, the Fenix E05 LED flashlight is very light, and you can easily carry it in your pocket or backpack without feeling any burden. Besides, it has a lanyard where you can attach the flashlight to a key holder.
Also, handling the light is simple as it has a firm grip, which prevents slipping of the flashlight when your hands are wet or sweaty.
Related: Surefire Titan Plus Review [Ultra-Compact LED Keychain Light]
Warranty
The Fenix E05 LED flashlight comes with a limited lifetime warranty. So, you can relax knowing that you're investing in a reliable brand. When you get a damaged flashlight or with a defect, you can always have it repaired or changed. Overall, I have not had issues with Fenix flashlight and highly recommend them.
Summary: Why buy Fenix E05 Flashlight?
Outstanding brightness that reaches up to 148 ft
Well-made to put up with harsh surroundings
3 light modes for versatility
Waterproof and impact resistant
Compact and highly portable
Tail stand capability makes it great for backup power
Maintains constant brightness
Easy to use twist switch
Cons of the Fenix e05
The flashlight always starts with the lowest mode. This means that you will have to start from low to medium and then high.
Using the flashlight with one hand is quite challenging. It has a twist switch, which you will have to turn to switch it on/off.
Conclusion
If you've been looking for a tactical and versatile EDC flashlight, then your search is over. The Fenix E05 LED flashlight is one of the most affordable and versatile EDC lights that you will land your hands on. It is robustly constructed to withstand harsh conditions but still delivers bright illumination. The flashlight provides users with three light modes, making it ideal for different purposes. Also, it's tail stand capability makes it great for utilization in a tent or when there is a blackout. With such amazing features and performance, this is a worthy investment. I hope, you have gotten a clear idea after reading this Fenix E05 Review post.
FAQ
Question: What does IPX-8 waterproof rating mean?
Answer: It means that you can submerge this flashlight in water up to 2 meters deep for 30 minutes, and it will still perform very well. Also, always check out if the flashlight you're buying is waterproof or water-resistant. These are two different things as water-resistant is nowhere close to impervious.
Question: Which batteries should I pick – Alkaline or NiMH?
Answer: Both batteries are fantastic but for convenience, I suggest that you pick AAA alkaline batteries. This is because these batteries are readily available and cheap when compared to the later. You can find them even in stores in the most remote places.
Still, have questions after reading this Fenix E05 Review article? Comment below.