With different types and brands of flashlights on the market, you should select a quality flashlight that will serve you over a long period of time. A flashlight is not just something that you will be buying on a daily basis, and that's why you should pick a quality and sturdy flashlight. The Klarus Mi7 is a 700 Lumen keychain flashlight with and maximum runtime of almost three days at low mode. This Klarus flashlight model is not only portable but as well durably made. It is also bright and comes with great features. Read this klarus Mi7 review article to know more about this flashlight.
Technical Features of the Klarus Mi7 Flashlight
| | |
| --- | --- |
| Features | Klarus Mi7 |
| Maximum Brightness: | 700 lumens |
| Minimum Brightness: | 5 Lumens |
| Maximum Runtime: | 67 hours (5 lumens) |
| Minimum Runtime: | 53 minutes (700 lumens) |
| Flashing Modes: | 2 (90, 700 lm) |
| Lighting Modes: | 3 (5, 90, 700 lm) |
| Beam Distance: | 180 Meters |
| Switch: | Side switch |
| Battery includes: | Yes |
| LED: | CREE XP-L HI V3 |
| Body: | Aerospace Grade Aluminum Alloy |
| Reverse Polarity Option: | Yes |
| Length: | 87.2 mm |
| Weight: | 26.4 grams |
| Waterproof standard: | IPX-8 |
| Lockout mode: | Yes |
| Price: | Check Today's Price |
Klarus Mi7 uses a CREE XP-L HI V3 LED bulb, which is indestructible and has a 50000 hours lifespan. It is easy to operate by a one-touch side switch and has three different lighting modes together with strobe and SOS modes. The size is more compact compared to the Klarus xt12gt 1600lm flashlight. This flashlight is built for your use in different environments such as underwater up to 2 meters and dusty places. The O-ring seals secure the inner parts of the flashlight.

Klarus Mi7 Review (video):
Check Price On Amazon
Blackouts, working late at night, and a flat tire at night – are just some of the scenarios that make you wish you had a flashlight. People normally take flashlights for granted until they realize that they need one. It doesn't matter how small the flashlight is, but it can still prove to be helpful. If you don't love flashlights, then you can get one of the everyday carry lights, such as the Klarus Mi7 LED light.
Related article: Comparison between Klarus XT11GT and XT12GT tactical flashlights
Despite its small size, the flashlight has a very bright illumination with a maximum of 700 lumens. Its beam covers a distance of 110 meters which is just outstanding for its size. The over-discharge protection lowers the output level so that it can save batteries. Other great features include battery level indicator, lockout mode, and reverse polarity protection.
The flashlight Klarus mi7 review and Features detail
Aerospace-grade aluminum body
Hardened mineral glass lens with anti-reflective coating
Diamond-shaped knurling
Stainless steel side switch
Keychain hole
Utilizes CREE XP-L HI V3 LED
Three brightness levels and two special light modes
Max lumens of 700
Max runtime of 67 hours
Beam distance of up to 110 meters
Battery capacity indicator
Uses both AA and Li-ion 14500 batteries
Over-discharge protection
Constant current circuit with no PWM dimming
Lockout mode
Reverse polarity protection
Impact resistance up to one meter
IPX-8 waterproof rated
Lanyard
Spare O-ring
It weighs 26.4g, excluding batteries
Klarus 5 year warranty
Why should you buy the Klarus mi7 flashlight?
Sturdy construction – the Klarus mi7 flashlight may be small in size, but it is still well built. The body of the flashlight is made of aerospace-grade aluminum material. It also comes with a hardened mineral glass lens with an anti-reflective coating to prevent from scratch. The switch is made of stainless steel, which is very durable. But the only issue is the flashlight is not as powerful as the Klarus G20 USB rechargeable flashlights. The grip of the flashlight is made of diamond-shaped knurling that makes handling stable and easy.
Simple operation – using this flashlight is very easy. The led flashlight comes with a stainless steel switch used to power on/off the flashlight. The switch is built in a way that you can touch it once to access moonlight and high output levels. This makes it even more efficient in use.
Portable flashlight – the size and design of this flashlight are one to admire. It can fit easily in the pocket, backpack, or even be attached to your belt. The flashlight is almost the same size as a pen, and carrying it from one place to another won't be a problem at all. Weighing just 26.4 grams without batteries, this is not a cumbersome flashlight to have. Actually, if you are looking for a quality and lightweight flashlight to use as you go camping or hiking, this is one of the best.
Functions in all weather – the problem with most small flashlights on the market is that they are not durable enough. This is not the case with the Mi7 LED flashlight. This is because it is water-resistant up to 2 meters underwater for 30 minutes and can as well defy impact of up to one meter. So, you can use it in rugged surroundings without the fear of dropping it.
Offers bright illumination – if a flashlight doesn't offer great light, then it can be considered to be less useful. The main duty of a flashlight is to provide light in dark places so that you can access your way easily. Klarus mi7 LED flashlight offers a very bright illumination. It has a maximum of 700 lumens which are exceptional for its size. The light covers a distance of 110 meters. So, you can use this flashlight to light a very wide area or the entire room.
Different light modes – one of the features I love most about this EDC light is that it offers different lighting modes. This includes moonlight, low, and high modes. It as well comes with two special modes, which are strobe and SOS modes. On moonlight mode, the light can last up to 67 hours, a low mode for up to 3hours 47 minutes, and high mode for up to 53 minutes. The strobe mode is for blinding enemies, while the SOS mode is for emergencies such as rescue.
Powered by different batteries – the Klarus Mi7 flashlight doesn't restrict the user to one type of battery. As a matter of fact, it accepts all types of AA batteries on the market. In addition, one can use a primary LiFePO4 battery, IMR Li-ion battery, rechargeable AA battery, rechargeable Li-ion battery, and Primary AA lithium battery. If you install the battery in the wrong way, reverse polarity protection will prevent this from taking place.
Outstanding features – apart from the top features that we have looked at, the flashlight has additional features like the lockout mode, particularly created to prevent accidental lighting of the flashlight. The battery level indicator tells the user what percentage of battery power is remaining. While the over-discharge protection automatically lowers levels to protect rechargeable batteries like the 14500 lithium-ion battery.
Easy to store – after use or when not using this device, you can easily keep it in your pocket, backpack or attach it to the keychain. It also comes with a lanyard which can be used to attach it to the belt. Its small size and compact design won't be a burden to you at all.
Reliable brand – Klarus may be a new brand in the market, but its flashlights are some of the best. The Klarus mi7 is a good example, and on top of the great quality, Klarus offers a 5-year warranty to buyers of the 700-lumen flashlight.
Cons:
The switch is not durably made, and it should be redesigned.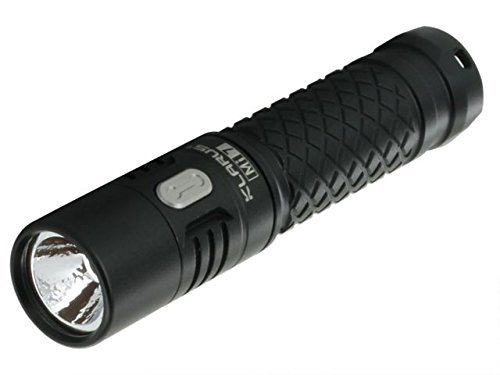 Check Price
Conclusion
The Klarus Mi7, a 700 lumens flashlight, is well suited for people who want a small flashlight to carry every day as they go about with their business. With a weight of 26.4 grams without a battery, this LED flashlight is very light and easy to carry. You can attach it to your belt by use of the lanyard or to a keychain. It is also well built, and using it is very easy by just pressing the stainless steel side switch. With three different light modes and two special modes, you can use the flashlight in different circumstances. I hope you have gotten an idea after reading this Klarus Mi7 review.