If you like hiking, hunting, chopping wood, or even clearing brush, you should always carry a machete with you. People who engage in outdoor activities can be better off with a machete as it's a great survival tool to carry. The machete is a great all-around cutting tool and can as well function as a protection weapon while in the wild. That's why the best machete is used as a security tool for most of the indigenous tribes of people around the world, more so in South America and Africa.
Machetes are mostly applied in agriculture and as a weapon too. In agriculture, it is used to cut brushes, undergrowth, and even sugarcane. There are different brands of machetes in the market with varying features. Most of them are made from strong materials, have sharp blades, and are streamlined. They have ergonomic handles, are light, and have comfortable handles.
Our Recommend Top 3 Best Machetes Comparison Table:
Images
Machete Model
Listed Features
Overall Best Choice
Check Price
KA-BAR 2-1249-9 Kukri
Read Review
1085 carbon steel blade is capable of chopping weeds around campsite


Blade Size: 11.5 Inches



Machete Weight: 1.7 Pounds



Medium price
Check Price
Condor Tool & Knife, Golok Machete, 14in Blade, Walnut Handle with Sheath
Read Review
Constructed with 100% fibers materials & 1075 high carbon steel


Machete Weight: 0.2 Kilograms


Blade Size: 14 inches


High price
Check Price
Schrade SCHKM1 19.7in Kukri Machete with Stainless Steel Blade
Read Review
Safe-T-Grip Handle for Outdoor Survival and Camping


Machete Weight: 2.2 Pounds



Blade Size: 13.3 Inches



Low price
---
SAVE TIME: Directly Go Our Recommend Top 5 Machete list
---
Types of Machetes in the Market
This review guides you on the different types of machetes in the market, the features to look for in a machete, and the best machete to buy.
Best kukri machete
Kukri – the Kukri is a curved Nepalese knife and one of the best survival machetes. This machete has three parts to the blade: a pointed tip ideal for stabbing, the wide middle part is applied for chopping, and the narrow section near the handle is perfect for curving. Also, it is a commonly used knife by the people of Nepal. And that's why it's also a crucial weapon for the Nepalese army and Ghurkha. The Kukri is suitable to use when chopping off branches, vines, and thick wood.
Best Latin machete
Latin – on many occasions, when someone utters the word machete, we link it with the Latin American machete. This is one of the most versatile machetes and is used to clear bushes, wood carving, and digging, just to name a few. Latin machete has a thick blade that is evenly weighted and long. Hence, this best machete is suitable for any person going in the forest and is used by the US military.
Best bolo machete
Bolo machete – The bolos are mostly found in Filipino households and are used for chopping large foods or clearing vegetation. It looks similar to the Panga but has a blade that swells near the tip to make the machete work better. Bolo is a bit heavy and is a great defensive weapon. Bolo is as well used for coaching reasons in the Philippines native martial arts.
Related: Get a professional butcher knife to cut meat or fish.
Best golok machete
Golok machete – this best machete is almost the same as parang, and it originates from Southeast Asia. Originally, the golok was used for agricultural purposes. It has a short length which makes it to be unsuitable to use as a weapon but great for chopping vegetation. These machetes are made of thick blades and have high-quality primary grind. They are as well normally used to chop green branches and trees.
Best panga machete
Panga – the panga is a common machete in the areas of East and Southern Africa. It is sometimes referred to as Topanga. The panga features a wide blade on the back end and mostly they measure between 16 and 18 inches. It has a deep belly which is good for chopping while its curvature enables simple slicing. The tip-tilted point of the machete is desirable for piercing and stabbing, this is because the full force of the blade can be exerted on just a small place.
Best bowie machete
Bowie Machete – The bowie is the native machete for the United States of America. This knife is based on the popularization of the bowie knife by the American frontiersman known as Jim Bowie. Also, this large bowie knife is a great survival machete and it has a clip-point tip for skinning wild animals caught for the game. This is a great machete and there are numerous bowie machete brands available in the market.
Best parang machete
Parang – the parang has almost the same features as the panga and bolo. It is different from these two in that it comes with a shorter and thick blade. The parang is commonly used in Indonesia and Malaysia. It works best when applied to cut wood or green plants. They're made of a strong grind that keeps the blade from sticking in the wood. Other uses of this machete can be to cut thick vegetation.
Features to look in the best machete
A few common features should look before buying the best machete; like blade types, styles, length, tang, and handle.
Material of the blade & machete blade types
Machetes vary from one another by the different materials the blade is constructed from. There are two commonly used blade materials in the market which are carbon steel, and stainless steel, with additional material the high carbon stainless steel that brings together the advantages of both carbon and stainless steel.  Carbon steel is a hard material, cheaper than stainless steel, and stays sharp for a very long period but is more prone to corrosion. Stainless steel is less rusty and easier to maintain but less tough than carbon steel. The best machete material is high carbon steel which has the rust resistance of stainless steel and the durability of carbon steel. When selecting a blade, choose the one that suits your environment and needs.
There are various types of machetes to pick from. Every blade has its own role that it plays. Some blades are shorter, while others are longer. As well there are thicker, straight, and curved machetes. So, when selecting a machete, ensure it meets your needs sufficiently. Don't ever be fooled that all blades are the same! The different machete blades that we've talked about above are the ones to choose from.
Best Machete Blade Length!
A machete is selected based on its importance to the buyer. If you are interested in a machete that's easy to carry as you go for your picnic or hike, a short machete can serve you better. But if you require a machete that can cut branches and clear large vegetation surroundings, then a longer machete is good for you. On average, a machete measures 18 inches long, but most of the best machete measure from around 10 inches short to 28 inches long. When choosing a machete have in mind what purpose you want to use it for so that you can pick either a short or long machete to serve you better.
The tang is that part of a machete that extends into the grip and adjoins the handle and blade together. When searching for a machete, consider that with a full tang that reaches out into the handle. Such a tang provides great strength and durability to the machete.
A major feature to look out for in a machete is the material its handle is made of. Every handle material has its own importance and shortcomings. Some of the usual machetes handle used are; plastic, wood, and Micarta. Plastic handles are cheap, do not warp or crack, but in wet conditions, they become slippery. A tactical tomahawk can do a similar type of job as a machete do. You can take a look at the comparison between Tomahawk and machete in our previous article.
When it comes to wooden handles, they provide you with a nice grip and maintain warmth, but they can crack when they get in touch with water. Of the three types of machete handles, the Micarta is the best though it's highly-priced. The Micarta contains layers of heat-treated canvas, fiberglass, plastic, paper, and linen. Choose the best handle for your environment.
Style of the machete handle
Another crucial feature to consider when choosing a machete is the style of its handle.
Make sure that the machete you pick out is very comfortable in your hand and secures you from the blade. Fit the handle of the machete you want to buy and ensure that it isn't too small or too large for your hand.
Top 5 Best Machetes Reviewed by Experts
After years of using some of the best machetes in my various activities such as clearing plantations, cutting branches, and digging, here is the best machete to use. They are strong, reliable, have a nice grip, and can be applied for different purposes.
Top Rated machete – Ka bar Kukri Review (Our Top Pick)
The Ka-Bar 2 Kukri machete is one of the best kukris on the market. It is good for chopping weeds and clearing bushes and thickets. As well it's suitable for gatherers and outdoor activities. The Ka-bar kukri has a wonderful ergonomic Kraton G thermoplastic elastomer handle for a greater grip and handling when using the machete. It is tested to ensure that it meets the desired quality and durability in the field. The machete is 100% synthetic and comes with a black leather combination sheath for comfortable handling of the kukri.
Furthermore, it is made of a very strong material which is a carbon steel blade. The black kukri style machete has a blade that measures 11-1/2 inches and weighs 1.7 pounds only. With such great features, this Ka bar kukri is used by every branch of Military and service members. That's why it is rated highly and can be found at a bit higher price which is okay with its top-quality features.

Check Price
Pros:
The machete is of a high quality.
Can be easily strapped on your body.
Has a nice strong grip for holding it.
It's very durable and sharp.
It's great for chopping, cutting and other field roles.
Cons:
Its handle is small in size.
The sheath leather is a bit inconsistent.
Best cheap machete – Gerber machete review
Many machete reviews and users suggest the Gerber bear Grylls parang as being the best machete in the market. The Gerber Grylls machete comes with a strong high carbon steel blade that performs well as a cutting, chopping, and protection weapon. This blade is sturdy, corrosion-resistant, and very easy to sharpen. It is tested and approved for being a top-quality and durable machete. It is also a full tang machete and thus it's very durable.
If you're looking for a tough and rough machete, this is it. It has an ergonomic textured rubber grip that increases comfort and lowers slippage from your hand. In addition, it is lightweight and good for traveling when you go hiking, hunting, or on a picnic. Other great features of the Gerber Bear Grylls include; is a military-grade item and has a lanyard cord that acts like guard protection in order to uplift grip security.

Check Price
Pros:
Its available at a favorable price.
It is comfortable to handle.
Made of military grade and is of a high quality.
It's very durable and easy to sharpen.
It has a strong grip with improved grip security.
Its lightweight and corrosion resistant.
Cons:
Its blade might not be able to cut baton wood as it's a bit thin.
Best survival machete – Condor golok machete review
The Condor tool and knife is one of the best quality machetes in the market. The machete is made of a strong material which is 1075 high carbon steel that is free from corrosion and is very long-lasting. This Condor golok is imported and is 100% leather. The machete has a long and strong blade with a great epoxy black powder coating that makes up its finish.
It comprises a hardwood handle that offers a nice grip and great warmth to the hand when using the machete. In addition, the machete has changeable soft pads and comes with 107 sculpted vents. This Condor golok is one of the top-quality cutlery and tools in the market. It is great for uses like cutting wood, chopping, or even clearing brushes.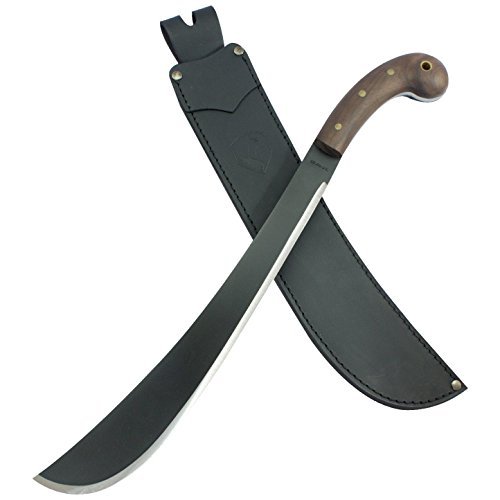 Check Price
Pros:
Made of high carbon steel which is a durable material.
Has a nice handle made out of hardwood.
It is high quality and sturdy.
Its sharp and efficient in use.
Has full tang construction.
Cons:
The handle is a bit heavy.
Its sleeve is a bit loose.
Best Military Ontario machete review
This is a very famous machete in the United States and Canada. The Ontario 6145 is long and nice for cutting. It is made in the US and comes with a blade hardened to 50-55 HRC. With a great black finish, this machete measures 24 inches long and is great for use in clearing bush and a security weapon. It is made of 1095 carbon steel which is a very strong material.
This Ontario 6145 has a carbon steel blade that measures 18 inches and its sheath is sold singly. With such great toughness and durability, the Ontario 6145 is used by the US Armed forces from the beginning of World War II. Lastly, it comes at a great price and it's very effective to use in different areas.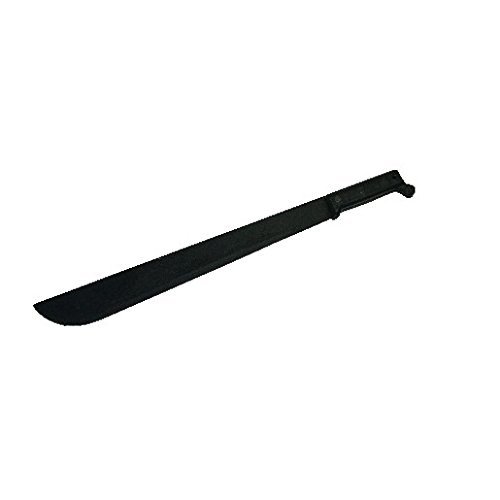 Check Price
Pros:
It is high quality.
It's very durable.
Its comfortable to use.
The machete is designed for toughness or military use.
It's fairly priced.
Cons:
The grip of the handle is not top quality ad it might slip.
You have to purchase the sheath.
Schrade machete review – Best kukri for the money
The Schrade SCHKM1 Kukris machete performs well when it comes to chopping or cutting. This large full tang fixed blade comes with a secure handle with lanyard hole which can be used to wrap around your body when moving around with it.
The machete as well is made of a black powder coated 3Cr13 stainless steel which cannot rust that easily and is durable. In addition, the Shrade has a nice handle and grip with the handle measuring 6.4 inches.

Check Price
Pros:
Does not rust.
Very durable.
Has a good sheath and is comfortable to handle.
It is sharp.
Has a beautiful finish.
Cons:
The blade is of a poor quality.
What's our best machete pick?
From the machetes above, we pick Ka-Bar as the best to use at home and in the wild. It is durable sharp, well designed, has a nice grip and very comfortable to use. When choosing a machete for your trip, don't settle for less as it can as well be your survival weapon out there.
How to Use a Machete?
A machete is a versatile tool that helps gardeners and outdoor enthusiasts like hunters and campers carry out their work easily and effectively. Machetes are utilized for cutting tree branches and dense brush. Also, it can be used to cut vines that would stall a tomahawk. These are just some of the few tasks that a machete can perform. Read the best machete review article if you want to get high quality machete.
But without proper knowledge of using a machete, you might throw it aimlessly and end up hurting your feet or leg or any other part of your body. Acquire a quality machete that measures around 15 to 30 inches long. It should be of the ideal weight so that you can swing it easily and in the right way. The machete should have a good handle with a sheath to keep it.
If it's your first time using a machete and doesn't know how to properly use it, here are the steps to follow in order for you to swing the machete like a local or pro.
Step one: Inspect the machete
The first thing to do before practicing how to use a machete is to inspect it and ensure that it is in great condition. First of all, the machete should be well sharpened and maintained well. You don't want to have a blunt machete as it will only slow you down and make you use extra energy. In addition, ensure that the machete has a nice grip for easy handling of the tool.
Step two: Inspect the area
Make sure that the area you are intending to work on is free of any individual, kids or pets. This is because as you swing the machete, it might hit the individual and harm them. Also, check that the swinging range is free of trees or other obstacles that might interfere or change the way you swing the machete.
Step three: How to hold the machete the right way
Another important thing to check is the grip. When the grip is wrong, the swing will as well be wrong. Furthermore, you need to hold the machete the right way or you will end up with blisters.
To hold the machete the right way, hold it by wrapping your thumb and forefinger around the opposite sides of the handle and pinching them closely together tightly. Then, the other three fingers need to be wrapped loosely around the base of the handle. Avoid holding the handle so tightly. You should allow the machete to wiggle around slightly in your palm.
Step four: How to swing the machete
This is the most important step to master while learning how to swing a machete. For practices like hacking or chopping, you should utilize the broad, heavy, sweet spot of the machete. This will assist create momentum, with the direct force being used against the object you are attempting to chop. To achieve an effective swing, below are a few steps to take:
To begin with, when you swing the machete, commence higher and direct your entire arm in downward guidance to heighten momentum. Also, you will have the weight of the machete and gravity on your side.
In addition, you should bring your shoulder down as you swing the machete. This makes sure that the momentum of your core is actually the main power supply, creating the force that flows through your arm and into the machete.
One important thing to note is that you should allow your elbow to lead the direction of the swing.
On the contact with the object that you are cutting, try to flick your wrist slightly. For instance, woody vegetation needs a downward flick, while grass and leafy growth should be cut with an upward flick.
Step five: The angle of contact
Last but not least, is the angle of contact as you hit the object being cut after having the grip and swing in place. If you master this, you will work efficiently and cut at the desired place without any problem.
The long wait is over; you can now grab your machete and go cut several tree branches in the backyard without the fear of swinging the machete the wrong way. A machete is a sturdy and versatile tool that every home should have. But if used the wrong way, it can be dangerous to the user. With the above steps, you can now easily cut, chop or even split wood with a quality machete.
Summary
Are you going for a picnic, hiking or hunting in the forest or woods? Don't forget to carry a machete with you as it's a very crucial tool that might play different roles for you. Choose the best machete that can perform several functions, is lightweight, durable and very effective in use. When using a machete, ensure that you handle it very well so that it doesn't slip off.
A machete is one of the most versatile tools that you will find on the market. A machete features a blade between 12-inches and 18-inches long. Also, they have a thickness of around 0.1 to 0.2-inches. There are different types of machetes and you have to know which one is ideal for your needs. These include Kukri, Panga, Latin, Bolo, Golok, Bowie machete, Cane, Colima, and Parang. One of the notable features of the machete is its long hand which makes it easier for users to handle the tool as they utilize it.
When selecting a machete, you have to know what you intend to use it for as there is no one size fits all machete. Some machetes are good for survival while others are great for home use. Survival machetes can carry out multiple tasks and are more durable. This tool can be used to cut tall grass, clear out weeds, cut tree branches, and so on.
To make your work easier, we've sorted out the best machetes from the rest of the pack. These are durable, lightweight, sharp, and very reliable.
FAQ
Question: When and where will I use the machete?
Answer: When choosing a machete, you have to first identify what you intend to use it for. Even though it is a versatile tool, some types of machetes are better suited for particular activities. For instance, a cane machete is suitable for cutting sugarcane while a billhook machete is ideal for chopping around curved plant growth. If you're a hunter, hiker, or camper, the best machete for you will be the bush/Latin machete. It is lightweight and can be used to chop, cut, and clear weed.
Question: Which steel is the best for a machete?
Answer: Normally, you will find a machete, either made of stainless steel or carbon steel. But there are some high-end machetes that are made of high-carbon steel. Depending on the use, you can either go for stainless steel or carbon steel machete. Carbon steel is more durable and retains its sharpness for longer when compared to stainless steel. At the same time, stainless steel is easier to maintain and doesn't rust like carbon steel.
Question: Which machete is best suited for clearing brush?
Answer: The machetes that feature a long blade and hold the edges for a long time are the best for clearing brush. The long blades offer you the benefit of reaching the brushes without any difficulty and the good retention edge will keep you from working for a very long time. Also, such machetes usually have a firm and comfortable grip for easy handling of the machete.
Question: Do I need any skills to use a machete?
Answer: Many people think a machete cannot hurt them even if they wield it. This is very wrong, as a machete can be very dangerous when improperly handled. Machetes have to be handled with great care, especially by novices. If you haven't used a machete for long, you need to choose a machete that is less dangerous to use with a firm grip and, if possible, a lanyard hole for extra safety.