Hunters and people who love shooting can testify to the importance of scope. One quality rifle scope can make a huge difference in terms of you hitting your target. It could be the deciding factor between; you will hit the mark or miss the mark. So, what is the best rifle scope for the money?
A scope helps you aim, zoom on the target, and lock at the point where you want the projectile to hit. It might be hard to find the best rifle scope considering the variety that you have today. There are many factors that will guide your choice when choosing a rifle scope, so allow us to guide you through the process of finding the top rifle scope for you.
Our Recommend Top Best Rifle Scope list
Images
Rifle Scope
Feature Includes

(2021's Top Pick)


Check Price
UTG 3-9X32 1" BugBuster Scope
Read Review
Operates in all-weather conditions even in Fog and heavy rain


Emerald coating provides max light transmission


Lens Dia: 32mm


Eye Relief: 3+ inch


Medium price



(Best Lens Choice)


Check Price
BSA Sweet .22 Rifle Scope Matte
Read Review
Comes with camera quality lens with changeable turret system


Maximum magnification is up to 9X


Lens Dia: 40mm


Eye Relief: 3 inch


Medium price

(Affordable Choice)


Check Price
Simmons 511039 .22 Mag(R) Matte Riflescope
Read Review
Fully-coated high-quality optical glass for clear sight


Lens Dia: 32mm


Eye Relief: 3.75 inch


Low price


Why do you need to use best rifle scope?
There are some benefits that you can get from using a rifle scope. To start off with, you get improved accuracy. The scope can help improve your aim and hit the target more often. You have to know that even the best of shooters can sometimes have off days with their shooting. In times like that, a rifle scope can definitely help.
The rifle scope also helps increase the range of your rifle. They tend to have magnified abilities that you can use to your advantage to see far away distances. Using a rifle scope in a way could also help boost your self-confidence. You'll be able to make better and longer shots and you might even hit your target more often than previously. A rifle scope can definitely help you become a better shooter.
What the numbers on the scope mean?
When buying a rifle scope, you'll notice that there are some numbers on the rifle scope. These numbers aren't for show. They are there to help you know some of the specs of the equipment you are about to buy. Let's take an example of a scope with the numbers 4-12X30 scope. The 4-12X is to signify the magnifying power of the scope. It means that the image on the scope will appear somewhere between 4 times closer to 12times closer than when seen with the naked eye.
The numbers indicate that it's a variable scope and that you'll be able to view the image from the scope with a magnifying power of somewhere between 4-12 times. This gives you the ability to stop anywhere between. For instance, you could decide to have the scope of a magnifying power of 8x or 5x, it's all up to you. The 30 signifies the diameter of the objective lens in millimeters. This determines how much light goes through it. Normally, the scopes with higher magnification power also have objective lenses with more diameters as there is a greater need for more light.
---
SAVE TIME: Directly Go Our Recommend Top 5 list
---
Important features of best long range rifle scopes
High-quality scopes glass
As like quality shooting glasses, Always go for high-quality glass when going for a long-range rifle scope. The quality of the glass can be all the difference when using a rifle. A good quality glass will be clear and sharp thus making it good for use with scopes that have lower magnifying powers. They can also help read mirages that allow you to know how the wind behavior is on the target.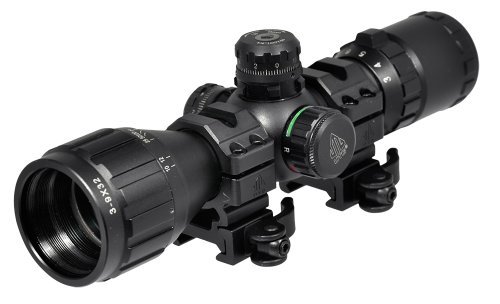 It's important to note that there is no standard for knowing the quality of the glass. Some might point out the light transmission, but even this does not help show the quality of the glass. The best way to know this is through side-by-side comparisons of different scopes. The AR 15 scopes are also known for their good accuracy.
The size of the adjustable objective scope lens
The objective lens helps gather light and thus improves the view from the scope. You need to consider the size of this lens when buying a scope. The best thing to do would be to go for lenses that are bigger in diameter because they can gather more light.
This makes them great for low light conditions such as dusk when many people prefer to hunt. The trade-off for going with the higher sizes of the objective lens has to do with mounting for proper eye alignment. You might need to get a stock with an adjustable cheek rest to help get some good alignment.
This mostly will depend on the purpose of the rifle or why you need a scope. The higher the magnification level the better.


This is true up to a point. A person participating in bench shooting or long-range shooting would benefit from a scope with a high magnification power. Let's say you're a hunter, then high magnification power can leave you at a disadvantage if the game is to come closer than the distance you expected. Your shooting goals will ultimately determine the magnification power of the scope that you get. Red dot sight also important for quick and accurate hunting.
You need to choose the right reticle, especially for long-range shooting. There are many of the out there and they are useful, but the best ones are those that have dots or hash marks horizontally and vertically. These dots are usually separated equally and might use MIL or MOA measurements (more on this later).
The reticle can prove to be useful for those that use holdover when shooting. As a beginner, it might take time to get used to the dots, but they do make things easier once you know how to use them. There is one final thing always ensure that the turrets and reticle match; So if you use MIL dot adjustments, then ensure that the turret adjustment uses the same measurements.
Focal plane – Best first focal plane scope or second focal plane scope?
This falls into two categories that are the front focal plane and the second focal plane. A front focal plane scope has a reticle that changes as the magnification power increases or decreases. The second focal plane optics, has a reticle that remains at the same size as the magnification increases or decreases. This kind of focal plane requires some specific zoom for the dots to be accurate. Many people tend to go for front focal plane scopes as the hash marks never change.


There are many other factors that can also play a role when choosing a long-range rifle scope. The above are what we feel are the main ones to put into consideration.
Measuring scope – MOA Vs MIL
In a way, these two are just measuring units. They are meant to help you when aiming for your target taking into account factors like the wind and more. There have always been intense debates on which one is better with many people claiming one to be superior over the other. Yes, there are trade-offs between the two, but they aren't enough to place one on top of the other. Many experts have stated how both are equally effective
In the end it all boils down to what system you are more familiar with. If you're a fan of MOA, then go with that, and if it's MIL that works for you, then good. The important thing though is that you ensure that you don't mix the reticle and turret. Doing this can limit your ability to quickly make a 2nd round correction when needed.
Our Recommend Top 5 Best Rifle Scope Reviews
Let's move forward and allow us to show you the top rifle scope on the market.
Bushnell rifle scopes reviews – Best compact scope (Our top pick)
To kick off our list, we start with the Bushnell optics that gives you precision and reliability. This particular scope is meant for the AR range of rifles. The scope offers you great optics that give you a good view of your target. This Bushnell UTG has a magnifying power somewhere between 1-4 times and the objective lens size is at 24mm. It employs a BTR-1 First focal plane reticle that makes it great for low light conditions as well as holdovers of up to 500 yards. The scope is built to be sturdy as it uses aluminium alloy and has an anodize-finish to protect it from elements such as fog and water.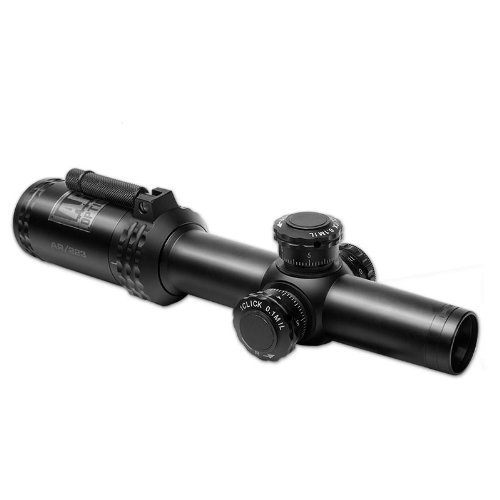 Check Price
Features of Bushnell Optics FFP Illuminated BTR-1 BDC Reticle:

It has a BTR-1 illuminated focal plane reticle
This technology is great as it helps with your aiming and measurements as well. The illuminating reticle feature won't be a bother for your eyes and can increase your vision by up to a distance of 500 yards. It's the reticle that helps increase the accuracy of the measurement.
It has an Exclusive Throw Down PCL (Power Change Lever)
This lever can be found attached to the power adjustment ring. It's meant to help you make quick changes that can make a difference, especially for those that are hunting.
The optics are multi-coated
The coating in the optics of this scope helps increase the brightness thus your vision as well. This is good as it helps you aim better.
It has a sturdy and durable design
The scope is made out of an aluminium alloy and has an anodize-finish to it that helps protect it from the elements. Bushnell is waterproof, fog proof and rust proof as well.
Pros
It's value for money.
It's well built.
The optical glass is of high quality and clear.
Cons
It's a bit heavy probably due to the size of the ocular bell.
You need a tool to reset the turrets to zero, which can be inconvenient.
Verdict
This rifle scope from Bushnell is a good one to start off with. The turrets might be more on the large side and the scope might be heavy, but overall it can provide a good experience for whoever uses it. It's a definitely good value for money.
Simmons scopes reviews – simmons .22 mag scope review of 3-9×32

The next scope on our list has a magnifying power of between 3-9 and an objective lens size of 32 mm which is quite good. On top of that, it also has an adjustable focus and zoom, which is a feature that many take for granted, but you'd be surprised to know that there are some high end scopes that don't have that. The optics are amazing on this scope as they are coated and made out of high quality glass. On top of that, they use hydro shield lens coating that keeps the lens fog free and requires no maintenance.
Check Price
Features of Simmons 511039 Matte Riflescope:

It has a hydro shield lens coating
The hydro shield coating helps protect the lens from fog. The coating is used in many industries as it bonds to the lens and doesn't require maintenance.
The optical glass lenses are fully coated
The optical glasses have a coating on them to ensure that you get the best images as you go about using the scope. It allows for more light, thus making the images you see sharp and bright.
It has sure grip rubber surfaces
The surface of the scope uses sure grip rubber that helps make adjustment easier. The surface allows you to quickly make adjustments even when wearing gloves or no matter the conditions.
It has a QTA eyepieces feature
This feature is also useful as it eases the aiming process for you. The Quick Target Acquisition eyepiece ensures that you have enough eye relief so as to make aiming less stressful. This makes it easier and faster for you to acquire your targets.
Pros
Its build is great.
It allows you to zoom in and focus on the eyepiece for an excellent performance.
It's the best value for the money.
It's lightweight.
Cons
There has been issues with the mounting rings as they aren't compatible with some of the rails.
Verdict
The Simmons scope is definitely worth the money. The build is great, it offers great visuals and is just good quality overall. However, nothing is truly perfect, the mounting rings seem to be an issue for some.
The good news is you can simply buy a different set that will be compatible and keep enjoying the scope.
BSA Scope or BSA sweet .22 Scope Review
Here is a rifle scope that target hunters will enjoy as it uses a trajectory compensation technology that was originally designed for military snipers. The compensation for the trajectory is between 50-175 yards, which translates to better accuracy when shooting targets. The lens is fully multicoated to ensure that you don't get much glare as you take your shot. This BSA sweet scope has a BSA standard reticle as well as an adjustable objective; both combined can give you better accuracy for long-range shots.


Check Price
Features of BSA Sweet .22 3-9 x 40mm Rifle Scope Matte:

The lenses are completely multi coated
For that perfect shot, the lens of this scope is fully multicoated, so you get better visuals of the target.
The scope has eyecups as well as a 3-inch eye relief to allow you to comfortably take aim and measurement for the best shot.
It's shock proof, water proof and fog proof
This has come to be a standard for rifle scopes and this one doesn't fall behind. The rifle scope from the BSA is water, shock and fog proof for clear viewing and aiming.
It has an adjustable parallax setting
Parallax error can be a big problem for users of scopes. This is why this scope has an adjustable objective lens to help curb the problem.
It has a quick change turret system
The turret system in this scope consists of 3 drums for different grain bullets. This helps when fast adjustments are needed.
Pros
It has eye relief setting.
It is very easy to install and dial in.
It's a good build.
It has clear optics.
Cons
The size of the scope is on the large side.
Verdict
The BSA sweet rifle scope is great, especially for the .22 shooter. This rifle scope has brought many features to this range that were previously not available.
You can adjust the objective lens to reduce parallax and the eye cups and eye relief are definitely great. It might be a bit huge, but it will not impair your shooting.
UTG Scope or UTG bug buster Review of 3-9X32
Here's another scope that makes it on our list. This scope offers you a number of applications due to its dual illumination among many other things. It's great for CQB missions as it offers a large field of view and also has good eye relief for comfortable and prolonged aiming. The true strength platform feature ensures that its sturdy as well as fog proof and rain proof. The adjustable objective lens from 3 yards to infinity can be used to help offset any parallax error. For maximum light transmission, the optics on this scope contain emerald coating.

Check Price
Features of UTG BugBuster Scope:

True strength platform feature
This feature has more to do with the construction of the scope. It's the smart spherical structure of the scope that controls the interaction between the inner and outer tubes of the scope. It's through this feature that the scope maintains reliability as well as precision.
It has locking and resetting features for the turret
The turrets are well constructed to ensure that you get consistent and precise wind and elevation adjustments. This scope also has a lock and reset feature on this component to help protect it during use.
It provides a parallax free view
The parallax free view provided by the scope stems from the ability to adjust the objective lens. This view can be obtained from 3 yards all the way to infinity.
It comes with accessories
There are some accessories that are included with the purchase. You can expect to find flip-open lens caps, a 2-inch sunshade, and a pair of heavy-duty rings with the purchase of your scope.
Pros
It's durable.
Its aesthetic.
It's has resetting and locking features.
It's easy to install.
Cons
There have been complaints about the scope rings that come with the purchase.
Verdict
This scope from Leaper is good, but not good enough to take our top spot. Unlike many of the scopes here this one is aesthetic and good to look at.
On top of that, it's also durable and provides a parallax free view that many of the scopes can't rival. The scope rings might be an issue, but it shouldn't deter you from getting it.
Nikon rifle scopes review Or nikon prostaff 4-12×40 bdc review
Here's what we consider to be our best rifle scope. This rifle scope cannot be rivalled by any of the others on this list. First of the brand that makes the scopes are a reliable and trustworthy brand. On top of that, it defines versatility. It has features that enable it to be used in all sorts of environments, making it better for hunters who hunt in diverse conditions. The magnification range of 4-12x also makes it versatile and enables you to get the best shot whilst in your comfort zone.

Check Price
Features of Nikon ProStaff Matte Riflescope:

A fully multi-coated optics system
The fully multicoated optics on the pro staff makes it best for low light conditions. This is because it transmits a large amount of light, thus making it perfect for low light conditions.
The scope can be used in diverse conditions as it contains a nitrogen-filled, O-ring sealed housing that makes it waterproof as well as fog-proof.
It has a zero-reset turret with a spring-loaded adjustment knob
This feature here coupled with the 3-inch eye relief definitely helps make adjustments easier for you. The spring loaded adjustment knob makes it easy for you to rotate to zero and re-engage.
Pros
It offers better eye relief than the ones mentioned on this list.
It offers the best clarity as well.
It's easy to adjust.
It's well-built and sturdy.
Cons
You might experience limited eye relief in the early AM.
Verdict
The Nikon Prostaff is in our opinion the best rifle scope on the market. It offers good clarity and easy adjustment. The eye relief is a plus as it makes aiming easier and comfortable as well. The design and features of this scope make it better for hunters that like or operate in diverse conditions.
Finally
These scopes are what we consider to be some of the best right now. To get the accuracy of your shooting you need a quality scope. As a beginner keeps the pointers in mind to ensure that you get the best rifle scope. There are many other options out there, so feel free to go around and try them out.
A rifle scope is a very essential accessory for a hunter, shooter, or any other marksman. This device helps them to hunt or shoot accurately and it boosts their confidence as well.
Riflescopes were discovered in the 17th century and have undergone a lot of changes to offer what we have today. There are many types of rifle scopes that differ in various ways. This makes choosing the best riflescope to be a bit challenging but you can base on a number of factors such as long range, short range, night/day vision, and tactical use.
With so many rifle scopes on offer, we tested several of them and selected only the best which we're going to discuss as follows.
FAQ
What should I consider before buying a rifle scope?
Answer: If you want to land the best rifle scope, there are various things to consider prior to buying one. These factors will determine what kind of rifle scope is best for you. They include the shooting activities that you engage in. This will determine the type of rifle is best for you for instance short range or long-range scope. What is your budget for the rifle scope? Do you want a low-quality or high-quality scope? Is there a brand in your mind? Also, the type of firearm that you're going to mount your rifle scope is very vital,
What are the advantages of using a rifle scope?
Answer: A rifle scope offers a lot of advantages to its users. First of all, a rifle scope provides improved accuracy. This is very important for varmint hunters and long-range shooters. Secondly, a rifle scope boosts the shooter's confidence as one is able to clearly hit their target even in a competition. Riflescopes are very crucial in long-range shooting as they give you an accuracy that iron sights can't provide.
Do I require a variable or fixed rifle scope?
Answer: Riflescopes usually come with either a variable magnification of a fixed magnification. Whether you choose a fixed or variable rifle scope, each one of them has its own advantages and disadvantages. Variable scopes are more versatile when compared to fixed scopes as they feature a minimum and maximum magnification level and can be utilized to shoot at all magnification levels. This feature enables them to be applied for both short range and long range shooting. On the other hand, fixed scopes are more durable and very easy to use. Beginners prefer these because they don't have to be adjusted.
What type of magnification should I use?
Answer: Different types of rifle scopes come with different magnification capabilities which are suitable for various things. Scopes can as well be equipped with a variable zoom feature that enables the user to change the magnification strength. The magnification strength that you should utilize relies on the activity that you're engaging in. For instance, short range shooting moving targets is best carried out with a low magnification scope. While medium-range shooting and game hunting are excellently done using a medium range scope. And finally, long range shooting is best executed using a high-powered long range scope.
I hope you have gotten your answer after reading this best rifle scope. You can comment below for more information.