If you decide to buy a flashlight, you should always go for the best light unit that you can afford. A quality flashlight from Streamlight brand will not only deliver outstanding illumination but as well as last for many years to come. One of such lights is the Streamlight Protac 2L-X LED flashlight. Read this Streamlight Protac 2L-X Review to know more about this.
Related: Similar Pricing – Streamlight Polytac Review [600 Lumen LED Flashlight]
The Streamlight Protac 2L-X LED tactical flashlight is a compact and durable LED torch. It is neither big nor small, which makes it ideal for daily use. You can also use this flashlight for camping, hunting, dog walking, hiking, and even fishing. Unlike other EDC flashlights, the Protac 2L-X tactical torch delivers an exceptional 500 maximum lumens. Moreover, it can resist both impact and water; hence, you can entirely rely on it to perform in all conditions.
Technical Specifications of the Streamlight 88063 Pro Tac 2L-X Flashlight:
| | |
| --- | --- |
| Features | Streamlight Pro Tac 2LX |
| Lumens: | 500 lm |
| Max Candela: | 6800 |
| Color: | Black |
| Beam Distance: | up to 165 meters |
| Run Time on High: | 3.25 hours |
| Run Time on Low: | 30 hours |
| Batteries: | 2 CR123A batteries required. (included) |
| Dimensions: | 5.1 x 0.9 x 1.1 inches |
| Weight: | 4.5 ounces |
| Warranty: | Limited Lifetime |
| Price: | Check Today's Price |
To help you make an informed choice, we've highlighted its features, pros, and cons. Continue reading to find out.
Streamlight Protac 2L-X Review 2023
Durable construction
The first thing that you should consider when picking a flashlight is its construction. Some flashlights feature flimsy materials, and they don't last long. Ensure that the flashlight you're choosing is made of durable materials that can put up with severe outdoor conditions and even dropping. The Streamlight Protac 2L-X LED tactical torch features 6000 series machined aluminum housing with type II Mil-Spec anodizing. Moreover, it has an AR-coated glass lens, and it is O-ring sealed.
C4 LED technology
Most Streamlight flashlight feature C4 LED technology. Since LED technology was discovered, better and more durable flashlights have been made. The C4 LED technology is impervious to shock and has an excellent lifespan of 50, 000 hours. Besides, it delivers a brilliant, powerful, and blinding light with a maximum of 500 lumens. It has regulated output power for the consistent performance of the torch.
Related: Streamlight 88054 Protac HL USB Flashlight Reviews
3 operating output levels
Another outstanding attribute of the Streamlight Protac 2L-X is that it is versatile. Offering 3 light modes and a strobe output level, this flashlight enables the user to change the light output depending on the task he or she is performing. You can either pick low, high, or strobe mode. Also, you have the option of low/high, high/strobe/low, and high alone.
Tactical tail cap switch
Using the Protac 2l-X flashlight is fun and seamless. It has the ten-tap programming switch that allows you to access high only, high/strobe/low, or low/high output levels. On top of that, the unit offers low, high, and strobe output levels. Apart from that, it has a multi-function, push-button tactical tail switch for one-handed operation of momentary or constant on/off.
Because of its sleek and compact design, handling this flashlight during use won't be an issue at all.
USB rechargeable lithium-ion battery
Unlike some flashlights that only limit you to one battery type, the Streamlight Protac 2L-X tactical flashlight doesn't. You can either use one 18650 lithium-ion rechargeable battery or two CR123A lithium batteries. When you install the 18650 lithium battery, you will have a runtime of 3.25 hours on high output, 30 hours on low output, and 4.5 hours on strobe output. For two CR123A batteries, you will get 30 hours on low output, 2.75 hours on high output, and 3.25 hours on strobe output.
Related: Similar rechargeable flashlight – Streamlight Stylus Pro LED PenLight with Holster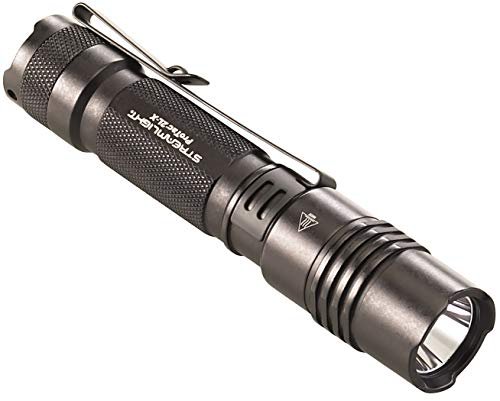 Check Today's Price
On the lowest output level, the light covers up to 49 meters, while it reaches up to 164 meters on the high output mode. So, choose your batteries wisely if you want an extended run time.
Impact and water-resistant
The Streamlight Protac 2L-X LED torch may be a compact and lightweight flashlight, but it can defy all tricky conditions that you might face outdoors. The anodized finish and O-ring sealing ensure that water, dirt, and dust don't find their way into the flashlight. As a result, the unit is waterproof rated to IPX7. Additionally, it is impact resistant up to 2 meters, which means that you can drop it unintentionally, but it will still work exceptionally well.
Removable pocket clip and holster
A perfect flashlight should have a sturdy pocket clip so that you can securely attach your flashlight when not in use. The Protac 2L-X LED torch has a removable pocket clip that you can attach to your shirt collar, cap, or even pocket. Since the clip is removable, storing your flashlight after use is made easy, and it won't take up much space. However, removing the pocket clip may be cumbersome for some as you will have to disassemble the light.
Tactical design
The Protac 2L-X is also suitable for tactical use as it features a strike bezel for hitting attackers. Besides, it has a strobe mode, which can also be utilized for disorienting attackers. Therefore, this flashlight can come to your rescue when you are attacked in the dark.
Related: Streamlight Microstream USB pocket light article
Compact and lightweight
Even with all of these excellent features, this is still a small and lightweight flashlight that won't be a bother as you go camping, fishing, or hiking. It weighs less than 125 g, which means that it is light.
Warranty
Streamlight is not only a re-known brand, but it also creates reliable and long-lasting products. That's why they offer full support to their products. The Streamlight Protac 2L-X torch coms with a limited lifetime warranty.
Related: Similar warranty – Streamlight 44945 Siege Review
Summary: Why buy this Streamlight Protac 2LX USB Flashlight?
Sturdy construction for longevity
3 light outputs and strobe mode
Excellent grip for comfortable handling
O-ring sealed to prevent water and dirt from damaging internal components
Convenient to recharge with the USB port
Removable pocket clip for quick and convenient storage
Impact-resistant up to 2 meters
Waterproof rated to IPX7
Outstanding brightness with a maximum of 500 lumens
Compact and lightweight unit
Anti-roll design to prevent damage during accidental fall
Strike bezel for use as a weapon
Limited lifetime warranty
Cons of Streamlight ProTac 2L-X:
The ten tap programming is quite challenging to use
The flashlight starts to flicker after a few uses, which is annoying to many users
Conclusion
The Streamlight Protac 2l-X EDC flashlight is a reliable torch that you can carry daily to your worksite, camp, picnic, or even for general purpose use. The flashlight is compact and lightweight; thus, it won't be a burden to clip on your pocket or hat as you carry out your activities. Since it has a durable aluminum housing with type II military-spec anodizing, the tactical torch will withstand all harsh outdoor conditions.
Despite its compact design, the device is still versatile as it offers the user with three light outputs and a strobe mode. Get this flashlight if you want a dependable and sturdy flashlight for your lighting needs. I hope, you have gotten a clear idea after reading this Streamlight Protac 2L-X Review post.
FAQs
Question: The batteries in my Streamlight flashlight are moving from side-to-side, is this usual?
Answer: If you're using two CR123A batteries, then you should expect them to be loose and not firm slightly. So, if there is a slight movement, there is nothing to worry about. The batteries will still work correctly, even if they are loose. But if you install 18650 batteries, you won't experience such a thing as they are very stable and firm.
Question: Can I clip this torch on my hat or shirt collar?
Answer: Yes, you can. The clip on the 88063 tactical flashlights is robustly constructed, and it won't fall off. Besides, it also conceals perfectly in the pocket and doesn't stick out like some other clips. Since you can clip this flashlight to your hat or collar, this allows you to operate the flashlights hands-free. This is great in tactical environments.
Still, have questions after reading this Streamlight ProTac 2L-X Review article? Comment below.