Whether you want a hunting light, searchlight, camp light, or just your day-to-day light, choosing either the Fenix UC30 or Fenix UC35 will still be a great idea. Fenix offers some of the best tactical flashlights on the market with the UC series having some amazing flashlight models. In this Fenix UC35 VS UC30 post, we will help you make an easy choice on which flashlight to pick between the two.
Both of these rechargeable flashlights to have some exceptional features and are very durable. They are also very portable and easy to keep when not in use. Continue reading to determine which flashlight meets your needs.
Features Comparison: Fenix UC30 VS UC35 v2.0
| | | |
| --- | --- | --- |
| Features | Fenix UC30 | Fenix UC35 v2.0 |
| Maximum Brightness: | 1000 lumens | 1000 lumens |
| Minimum Brightness: | 5 lumens | 1 lumen |
| Beam Distance: | 253 Meters | 266 Meters |
| Maximum Runtime: | 150 hour (5 lm) | 800 hour (1 lm) |
| Minimum Runtime: | 1h 25min (1000 lm) | 2h 15min (1000 lm) |
| LED: | Cree XP-L HI (V3) | Cree XP-L HI (V3) |
| USB Recharge Option: | Yes | Yes |
| Intensity: | 110cd,840cd,2550cd,6080cd,16000cd | 25cd,1000cd,2400cd,6400cd,17700cd |
| Modes: | 6 | 6 |
| Battery Include: | Yes | Yes |
| Length: | 130 mm | 140 mm |
| Weight: | 77 grams | 89 grams |
| Included: | Lanyard, holster, spare O-ring, and two spare color rubber switch boot | two spare O-rings, Holster, spare rubber switch boot and lanyard |
| Made of: | durable aircraft-grade aluminum | durable high-strength and oxidation-resistance aluminum |
| Switch: | Stainless steel side switch for output selection | Functional side switch for output selection |
| Price: | Check Price | Check Price |
Deails Features of the Fenix uc35 and uc30
Fenix UC35 V2.0 1000 Lumen Tactical Flashlight
The Fenix UC35 V2.0 1000 lumen flashlight is also an upgrade of the UC35. This unit comes with an upgraded CREE XP-L HI V3 LED that produces a maximum output of 1000 Lumens, which is more than the former model which produces 960 Lumens maximum. The brightest mode reaches 73 yards more, making it a wonderful light for those who need very bright light. Just like the previous model, this flashlight comes with 5 light modes and a strobe mode. It is also very simple to use as it has a tailcap switch for turning on the flashlight and a side switch for changing light modes.
Powered by either 1x rechargeable battery or 2x CR123A batteries, this flashlight has an outstanding runtime of up to 800 hours on eco mode. This is amazing for such a flashlight considering it is sturdily made. You can use it for days when out camping and you won't have any light issues. Additionally, it will resist impact or even work perfectly in rain.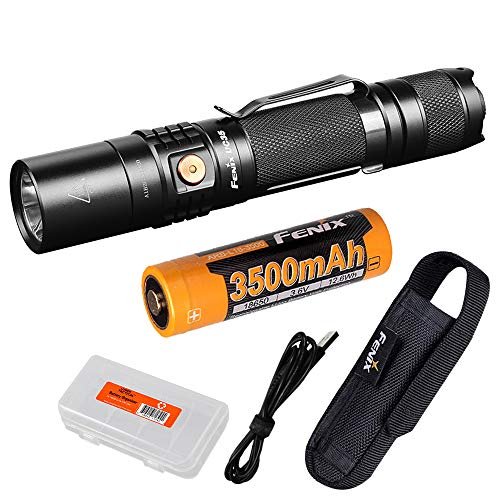 Check Today's Price
Pros:
It is very bright with a maximum Lumens of 1000
It features 5 brightness levels with strobe mode or different uses
It is sturdily made of aluminum for longevity
It has a powerful throw of up to 266 meters
It comes with the indestructible Cree XP-L HI V3 LED bulb
It has a low voltage warning
It is both waterproof and impact resistant
It is easy to charge as it comes with a built-in USB charging port
Cons:
Users have complained that the mode button is not durable as it stops functional as needed after some time of use.
Fenix UC30 USB Rechargeable LED Flashlight
This flashlight may be cheaper than the Fenix UC35 but this doesn't mean that it is cheaply made or not powerful. Actually, this 2017 model is a high-performance upgrade to the Fenix UC30 flashlight. The main change being the upgrade to the premium CREE XP-L HI V3 LED that delivers 1000 Lumen maximum output and covers 50 yards more than the previous model. The flashlight is very easy to use as it has a stainless steel push-button for on/off and a side switch button for hanging to different light modes.
With the USB charging port, recharging the batteries will not be a problem and you won't have to remove them in order to recharge the flashlight. The flashlight also features a low-voltage indicator to let you know when to recharge the flashlight. Other great features include reverse polarity protection, digitally regulated output, and overheat protection.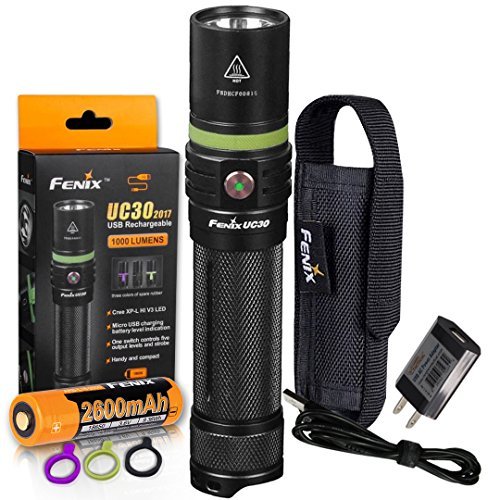 Check Today's Price
Pros:
It is impact resistant
It is waterproof and can be submerged in water for up to 2 meters
It features 5 brightness levels with a strobe mode
It is easy to use with both tail cap and side switch
It is extremely bright
It is easy to handle and store due to its slim design
It has a built-in USB rechargeable for convenient use as you can recharge it from anywhere
The low-voltage indicator lets you know when to recharge the battery
Cons:
The side switch can easily turn on while the flashlight is in the pocket easily
Which is better? Fenix UC30 or UC35?
Getting a reliable and sturdy flashlight that you can rely on all the time can be quite challenging. This is because there are so many brands and flashlight models to pick from which can be so confusing. But with the Fenix UC30 and UC35 flashlights, you can never go wrong. These two USB rechargeable flashlights have all the features that you might desire in a durable EDC or tactical flashlight. From their sturdy construction to their outstanding brightness, and versatility, these are the perfect flashlights for individuals who want a light that never fails when they are in danger or in need of stable light.
Despite sharing a lot of similarities, these two flashlights also have their own differences with the main one being the level of brightness and beam coverage. The UC35 LED light is brighter than the UC30 and it comes more distance as it reaches up to 266 meters when compared to that of UC30 that reaches up to 253 meters. Also, the UC35 has an excellent runtime of 800 hours when compared to that of UC30 of up to 150 hours. But if you want a simple but still powerful light, you can go for the cheaper UC30 flashlight.
Still, have a question after reading this Fenix UC35 VS UC30? Comment below.